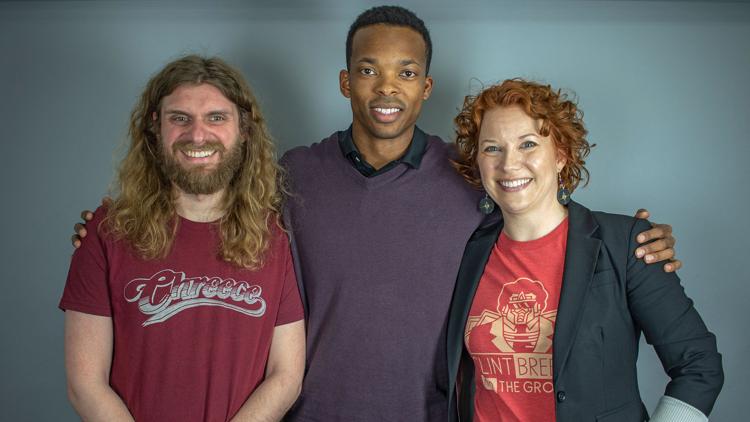 (Stream this curated playlist by Crook and Pitts while you read.)
For decades, jazz has played a role in Indianapolis' musical framework, dating back to the storied days of Indiana Avenue. From Freddie Hubbard to Wes Montgomery, Indy jazz has soaked its way into the Hoosier soil, with cats young and old still proudly carrying its torch today.
With April being Jazz Appreciation Month, NUVO music editor Seth Johnson invited local jazz advocate Amy Crook and local jazz pianist Chris Pitts into the NUVO office for a discussion on Indy jazz then and now. Watch their whole conversation below, or continue scrolling to read it in full.
After you've checked out the interview, we'd also love if you can answer this prompt for us. What questions do you have about Indianapolis jazz and its role in the city's musical framework? Follow this link to submit your response.
SETH JOHNSON: Tell me how jazz became a part of your life and why it's continued to be a part of your life up to now.
CHRIS PITTS: It kind of came out of nowhere I guess. I started very young, listening to classical, and didn't really play. And, then, I kind of grew up on a hip-hop/R&B/oldies diet, like Earth, Wind & Fire and Stevie Wonder. I've always wanted to play piano. I heard this [song] on a TV show or something. It was a blues-type piano thing, and I was like, "Man, I want to play like that."
I got a piano when I was 17 or 18. I was in my last year of high school. I couldn't get up. [laughs] I was [playing] like eight hours a day. Eventually, I got into lessons for a little bit during the summer, and he introduced me to the blues and Chick Corea. And then, from Chick Corea, I found Thelonious Monk and kept diving in deeper and deeper.
I went to college in Georgia at Mercer University, so then I started playing with the jazz program there. I've just never looked back. [laughs] It's really compulsive, and it's something I really enjoy. But I guess [I like] the connectedness to the roots, so real American music and the passion of using things that happen in the moment to tell the story. I love that part about it.
AMY CROOK: I actually worked for NUVO a long time ago, and the Jazz Kitchen was a client of mine selling advertising. I think I was in between jobs and hadn't committed to doing freelance work yet. But the Jazz Kitchen ended up being one of my clients. I worked with them, Crackers Comedy Club, another client from the Kitchen, and small business owners that knew marketing support was important but they couldn't afford to hire someone full-time.
That was right when David Allee, owner of the Jazz Kitchen, and Rob Dixon, a saxophonist in town, took over Indy Jazz Fest. I remember there being some meet-and-greets throughout the community to figure out the future of the festival. While I had the Jazz Kitchen as a client at that time, I was also working with People for Urban Progress. At that time, People for Urban Progress was new and hip. I would say that had my frontal lobe of attention.
I left Indianapolis several years ago and went to Los Angeles for a couple years, and Austin, Texas for a year. When I returned to Indianapolis, I saw David Allee again, and he said, "Hey. I could use some help with some marketing." So I worked with the Jazz Kitchen again. At that time with my career, I knew that I wouldn't have a job without musicians if I was going to work with the Jazz Kitchen. So I just re-immersed myself in the music scene, building stronger relationships with jazz musicians. Through spending time with musicians, [I was] getting a better feel for their wants, needs, and how we could support them in the city. What's working, and what's not working.
About this time last year, Chris Pitts was one of the musicians I was spending time with. We realized that nobody was really doing anything for Jazz Appreciation Month. From a musicians' standpoint, we looked at this as an opportunity to shine a light, take ownership, and celebrate Jazz Appreciation Month. [We wanted to] get some more voices at the table, versus the infrastructure that already existed in the city, which was one collective voice.
PITTS: We just wanted to be a focal point. Things are happening here in Indy. We just need a focal point that's more grassroots-oriented for people to stop and be like, "OK. This is where I start. Now I can branch out."
JOHNSON: With this being said, can you two explain what JAM Indy is to me? How is it part of a larger movement?
PITTS: It started out with what Amy was just talking about. We were just surveying what was out there. We didn't feel like there was enough focus from a musician development perspective about Jazz Appreciation Month in Indy. We came up with the hashtag [#JAMIndy]. Amy got this beautiful logo designed, and we set up a Facebook group. It was like, "Hey. What are you guys doing?" We put together a calendar, and then just invited people and tried to spread the word.
We started out shooting a video in the Indianapolis City Market. That was with our friend Aakash Ravikrishnan. We kind of just asked people, "What is jazz?" And people gave their candid remarks. We edited the footage, and that was the promo. It was like, "Jazz Appreciation Month is here."
CROOK: It's something that everybody can participate in. There are all-ages events at the library, and music venues that are all-ages that you can bring the kids to. [We're] addressing some of those things. Jazz is such a small genre when you're looking at music as a whole. But as I was getting to know people in the city, I didn't realize how many different pockets of the jazz community there are. There are different elements and sub-genres of jazz. We're still working from this day to invite more people from all these communities through.
[We want] folks from Indiana Avenue participating in this celebration. [We want] folks that are kind of visiting Indiana through our music schools to get involved. [We want to] give them a reason to learn Indianapolis' history and maybe stay here and contribute. Or at least swing through and support the scene as they grow through their careers.
JOHNSON: For someone that may not know much about local jazz, can you speak to how much jazz there is in Indy right now? How can people find it?
PITTS: I'd say there's a fair amount. I'd say you can get connected with the music scene any day of the week now. We can highlight the specific jam sessions, where you really work up your chops and develop rapport with other musicians in the city. You want specific days of the week?
JOHNSON: Yeah. Or favorite places.
PITTS: Moving here from Georgia, the first person I ever met was Jared Thompson, and he was playing at Chatterbox Jazz Club. He was playing some cool music, and I was like, "Oh man. This is the spot. I really love that sound." And then, I eventually ventured onto the Jazz Kitchen's Monday night jam session that still happens. I met Clifford Ratliff there. He's Indianapolis history right there. So I learned a lot from him, and I think a lot of people have. From there, I went on to see the Tucker Brothers on Wednesday nights at the Chatterbox. They have a unique, great sound too.
I think the main two spots are Chatterbox and Jazz Kitchen right now, but I've started trying to activate an older space (McGowan Hall) for First Friday after parties. I've been working with that — trying to integrate music with the arts scene a little bit. And then, on Tuesday nights at Mousetrap, you have Rob Dixon, who's "The Mayor." It's an amazing band with an amazing sound, [playing] original music. His sound and his music definitely makes me think of Indy for sure.
CROOK: I'm still surprised with how many people I meet that are both from here and new to here that have not heard of Indiana Avenue. Because a lot of it was demolished and IUPUI came up, we don't have enough physical cues to ask questions. I'm grateful that we've got a mural along Indiana Avenue, but you might have to walk up close to read the plaque on the wall to really get its significance. Indiana Avenue was one of the music capitals of the nation back in the '30s through the '60s.
I also get surprised when I mention some jazz cats (e.g. Wes Montgomery, J.J. Johnson, Freddie Hubbard) to people that are visiting. People here don't even know. We're struggling to get that message out. We had some really fascinating cats that developed their craft here in Indianapolis, and it was a place where touring musicians wanted to stop and play. It was rumored to be the spot that you had to stop and play.
So this idea that the city as a whole is talking about music culture … well, we had it before. There were elements that were lost for sure, and I definitely don't want to speak for anybody that experienced living on Indiana Avenue. But I feel like that's a place to start because we still have some cats that are still alive and with us and still playing. Let's celebrate that. Let's bridge the gap. It's not just new people coming in because music's a hot economic development topic. Let's do it right one conversation at a time, and make sure all the cats are at the table.
JOHNSON: You mentioned the Chatterbox and Jazz Kitchen, and the pillars they are today. How do you feel that Indianapolis today is still carrying on that legacy of Indiana Avenue? Is that something that's still happening?
CROOK: I want to mention a panel discussion [Jazz 101] that we did last year at the Jazz Kitchen with Kyle Long and Cultural Manifesto. What sticks with me is a conversation with Freddie Mendoza. He's a trombone player that moved here from Austin, Texas, and he teaches at Ball State.
When you come to Indianapolis or any city that you're at, there's going to be a book of standards that are typically played there. So part of our book is what was played on Indiana Avenue, just through mentorship. I thought that was interesting, to think on that musical family tree, if you will, for the jazz path.
PITTS: That's true. There's definitely a group of tunes. I think that happens anywhere where there's a culture of musicians. I've definitely learned some Wes tunes and some Freddie tunes that I wasn't playing that much. It's hard for me to tell because I don't specifically know if it was on purpose or just because of the Indiana Avenue history. But I've definitely learned some great Indiana Avenue standards from being here.
CROOK: It's a musician's way of storytelling — keeping those tunes alive without having to have heavy conversations all the time.
PITTS: Exactly, and that's the beauty of it. We're connected through the music.
JOHNSON: You, Chris, talked about going to the Chatterbox and hearing Jared Thompson play. How did you personally get plugged into he local jazz scene playing-wise, and was it difficult at all for you to navigate that?
PITTS: I don't think difficult is the word to describe it. I personally came in through the jazz session scene, just playing with people and meeting people. And eventually, I got a call for a gig, or I started working more and more with certain musicians, and then we developed a rapport. I feel like the music scene here is really open, as far as being inviting. Clifford [Ratliff] is always like, "Go get your horn." He's always inviting you on the stage. I think that kind of describes the culture of Indianapolis music, especially for seasoned players letting in less seasoned players. Developing their talent and developing their skills. I've grown so much since I've been here, just being able to play with some of the talented people that I mentioned earlier, and even more that I didn't mention.
JOHNSON: Why is Jazz Appreciation Month especially significant to Indianapolis?
CROOK: The Smithsonian Museum of American History established Jazz Appreciation Month in 2001 as an avenue to celebrate America's music. The Smithsonian site has a list of resources that's tremendously deep. There are resources on there for free that teachers of all ages of students can use. There are even radio spots with some jazz musicians talking about jazz and educating people. They've created a menu of resources that the nation can use to celebrate.
We also have International Jazz Day, which is an initiative I know Herbie Hancock is really involved in. That takes place every April 30. Last year, the City Market was going to do something with International Jazz Day, so we just caught on with that and partnered with them to celebrate.
As far as Indianapolis, [it's] just knowing the rich history that was here. Like, "Hey, we can create a platform." To be quite frank, it's Black music, and this is an opportunity to promote Black artists in town outside the month of February. Because that's another conversation that happens every February 28. Everybody's like, "Hmm. I wonder how we can hire Black artists throughout the year?" Here's an opportunity.
My personal interest in getting involved is I'd be interested in doubling the amount of gigs that musicians I work with get and increasing the wage that they're actually getting paid. There's a lot of talent here. We can create some more music-minded opportunities for everybody to make some income pursuing their craft.
PITTS: I think it's important that Indianapolis holds onto its history. The musicians here are strong, and they come from a strong lineage. I was influenced by Indianapolis before I even really knew about the Indianapolis scene. My professor in college would play tapes…and one of the ones that was his favorite was J.J. Johnson. Until I got here, I didn't even notice J.J. Johnson and all those guys [were from Indianapolis]. And then, I realized we really need to get the word out about the heritage that Indianapolis jazz has developed.
JOHNSON: Where specifically are some places that people can see you play coming up, Chris?
PITTS: [Mentions performance that happened on Friday, April 5.] I'll play with Clint Breeze and the Groove at Healer on Saturday, April 13, and I'll be with them at the Jazz Kitchen on Saturday, April 27. The calendar is on our #JAMIndy Facebook group. I'll also be at Healer (on April 18). They're starting a new jazz jam session. I'll be with Pat Petrus and Isaac Beaumont.
CROOK: I think this might be a good time to rattle off the [regular] jams. Chris mentioned the Chatterbox and Jazz Kitchen. We've also got folks that are doing things at Coal Yard Coffee. That's another all-ages spot. Healer is starting a new one. Chilly Water is going to launch a jazz night at their new location as well. Square Cat Vinyl has an all-ages jazz jam. I was just talking to Mike Angel, the owner there, and he said it's been going so well that they're thinking about doing it two nights.
So there's definitely a lot of energy. There's a lot of musicians that are interested in being here. We've got folks from Bloomington and Muncie coming here to gig in Indianapolis. It's really an exciting time to get involved and learn.