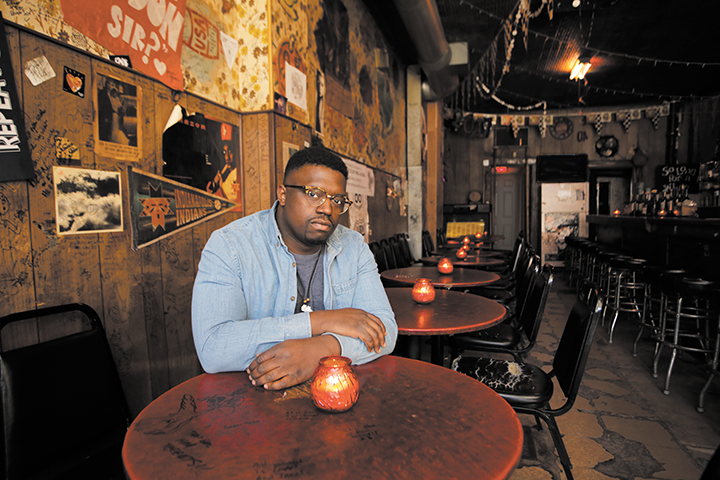 "Timing is everything," Theon Lee tells me.
Theon is frontman for Clint Breeze and The Groove, and he also holds a large role on the Clint Breeze LP Nappy Head, rapping on four of the sprawling set's 20 tracks. 
"[Carrington Clinton] couldn't have picked a better time to release Nappy Head," Lee continues. He cites the album's place within a series of high-profile national releases like D'Angelo's Black Messiah, Janelle Monáe's The Electric Lady and Kendrick Lamar's To Pimp A Butterfly, all works that blend elements of hip-hop, jazz and soul with pointed social commentary. "Clint Breeze was part of that on a local level," Lee says. "The world was going through so many emotions, and the timing of these artists was just right." 
Clint Breeze is the artistic persona of a 26-year-old Indianapolis drummer and beatmaker Clinton. And, like all great drummers, Clinton has impeccable timing. That's why his Clint Breeze project arrived in Indianapolis right on time. 
Clint Breeze was born from an important musical symbiosis: Indianapolis jazz is in the midst of a significant renaissance, while the city's hip-hop scene is currently experiencing an unprecedented period of artistic productivity. With a foot in both these worlds, Clinton's seized an opening to channel the energy of these parallel scenes into his finely tuned artistic vision. 
Clinton's live act Clint Breeze and The Groove features an all-star lineup of Indy jazz players, including Reggie Bishop, Jared Thompson, Joel Tucker, Nick Tucker and Jay Higginson, while his latest album Nappy Head includes contributions from the biggest names in Indianapolis rap, from Oreo Jones, to Drayco, to Flaco, to Sirivs Blvck. Through his own unique alchemical process, Clinton has distilled all these voices and sounds into the singular artistic entity of Clint Breeze.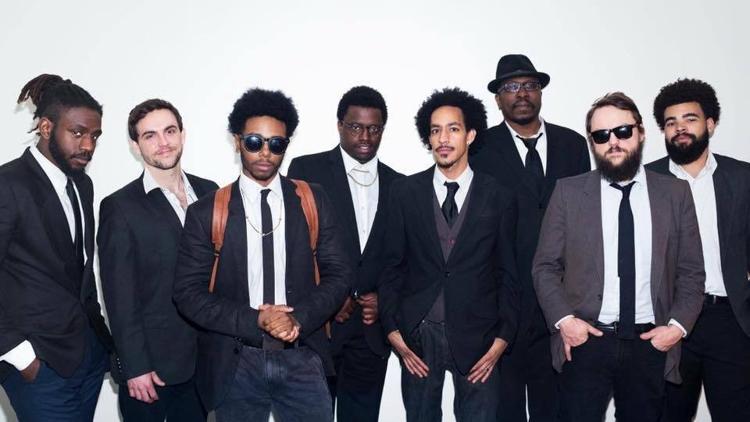 Beyond purely musical concerns, Clinton has also tapped into the frustration and anger of a civil rights movement unified nationally under the banner of organizations like Black Lives Matter. Clinton conceived Nappy Head as a comment on racial oppression in America, but the album is far more than a comment. It's a stinging manifesto featuring the artistic signatures of over two dozen rappers, musicians, singers and poets.
I first wrote about Clinton in late 2015. He'd just finished recording Maisha, his third album as Clint Breeze. Maisha was Clinton's first full-blown hip-hop release. In many ways Maisha was a typical local hip-hop record, but there was something special about the musicality of his beats that transcended the genre. While the record drew some positive notices in the local scene, Clinton remained something of a fringe figure in the world of Indianapolis hip-hop.
I strongly doubt anyone at that time would've anticipated that only a year later Clinton would release the most talked about hip-hop record in 2016, and form one the greatest live bands currently active in our city.
But he did, and my conversations here with Clinton document his emergence as one of the most important artistic voices in Indianapolis. 
A conversation from 2015
Kyle: Did you grow up in Indianapolis?
Carrington: Yes, born and raised here. I mainly grew up on the Eastside, the far Eastside. I went to Lawrence North High School.
Kyle: What kind of music were you hearing at home while growing up?
Carrington: My dad was really into P-Funk and a lot of soul music, stuff like that. I've been heavily influenced by my parent's interests. I grew up in church, and I played drums growing up in church. So that's a heavy influence on the music I make, and the music I like. No matter what the lyrics in gospel music are saying, the music itself feels good. My dad is the first person who saw my love for drums. He got me a drum set when I was around the age of two, or three. 
Kyle: As a teenager, what sort of music did you gravitate towards? 
Carrington: I've always loved jazz, but I listened to everything from heavy metal to Sly and The Family Stone. As a teenager I was kind all over the place, I still kind of am. I listen to a lot of different music and over the years I've been in a lot of different kinds of bands. I was in rock bands and soul bands.
Kyle: You issued Evolve in 2014, and that was your first release as Clint Breeze. There's some really great music on Evolve, like "Twenty Two," which is a really lovely almost Beach Boys-like synth pop tune. Tell us about making Evolve.
Carrington: I really wasn't doing much with my life at that time, I'd gotten back from Ball State and worked some jobs. I worked at Guitar Center, you know, just getting by. But I really wanted to do something creative. I actually went to school for video production and film, but that's a really competitive field to make it in. 
I knew that I was good at music and I'd done the Carebear [a previous project] stuff before. So I kind of just really tuned in and focused on trying to make something really good. So I spent about nine months working on Evolve. I got some people involved with it that I'd made music with before. Evolve got a little tiny buzz and I started making more music and I stated feeling like this is what I really wanted to do. 
"[Carrington] just knew how to make Nappy Head an experience musically. It's an experience, and I think that's what is giving it so much buzz.
Kyle: Evolve had a really fresh sound, and it did pick up some good notices in the local music press. Were you surprised by the positive attention Evolve garnered for you?  
Carrington: It really surprised me. I was just this guy who frequented shows in Fountain Square. No one really knew who I was. But when Evolve came out, random people were like, "I didn't know you made music!" I was like, "I've been here, but I've just been quiet I guess." Yeah, it was surprising. 
Kyle: Evolve had a strong electro-pop sound. How did you transition from the more electronic sound of your early work to the straight up hip-hop music you're making now?
Carrington: Evolve kind of stemmed from my Carebear stuff. But I was getting better at producing and understanding software. From Evolve I did Listen, which didn't get much play. From Evolve to Listen was my experimental electronic sound going more into hip-hop. Then Maisha was straight up hip-hop. I went from pop on Evolve, to a mixture of sounds on Listen. On Maisha I wanted to really hone my skills on being a hip-hop producer. 
Kyle: What have you been listening to that's influencing your growth as a hip-hop producer? 
Carrington: J Dilla is one of my hugest influences as a producer. What I want to do is similar to what he did with the Soulquarians, with Questlove, Common, Erykah Badu, Talib Kweli and all those people. I want to try and capture a real full hip-hop sound. I want to connect a sound from our local community through me and my production.
A conversation from 2016
Kyle: The release of Maisha was really crucial in your development as a player in the Indianapolis hip-hop scene. Maisha featured guest appearances from artists like John Stamps, Flaco, Ace One and Pope Adrian Bless. Tell us how Maisha was received in the local music scene.
Carrington: I was really pleased by the reception of Maisha. I put a lot of work into it. A bunch of people in the hip-hop community were like, "Who is this guy? I like what he's doing and I want to work with him." With that record I got more connections in the hip-hop community, and the arts community in general. I started making more beats and I started connecting with more artists. Since then I've moved deeper into the craft of hip-hop. Now Nappy Head is even more of a hip-hop record. I think I'm coming into my sound as a producer, I think I'm hitting a stride.
"The whole concept of the album was super Afrocentric, and I wanted to convey how happy I am to be Black and that I love Black people and the culture." 
Kyle: What's absolutely remarkable to me is that in a very short period of time you not only recorded Nappy Head, an album featuring some of the greatest hip-hop voices in our community, but you also created Clint Breeze and The Groove, a phenomenal live band featuring some of Indy's most brilliant jazz players. 
The formation of this band is emblematic of a shift in your own music-making. I understand you've been spending a lot more time playing drums in a jazz setting.
Carrington: I have been playing more in the city over the last year, filling in for guys like Sleepy Floyd, Brian Yard, Cassius Goens, Kenny Phelps and different guys around the city. I started making myself more known in the jazz community, and building stronger relationships with guys like Nick Tucker, Joel Tucker and Reggie Bishop. I already had a working relationship with Jared Thompson from playing with Premium Blend. 
So with all that experience I created the band Clint Breeze and The Groove. I didn't want to play live shows by myself as Clint Breeze, I wanted to translate my music with a more emphatic live sound. I asked some of those guys to play with me and they were very willing. We played our first show at State Street Pub for an event I started called Nightly Notables. We played the show as the headliner and we were really well received. We had only rehearsed one-and-a-half times before that show. After the show we were like, "Let's keep doing it." We started doing more shows and that took Clint Breeze to a whole new dynamic being able to perform with a live band of incredible musicians. It's been going well, and I like where it's going.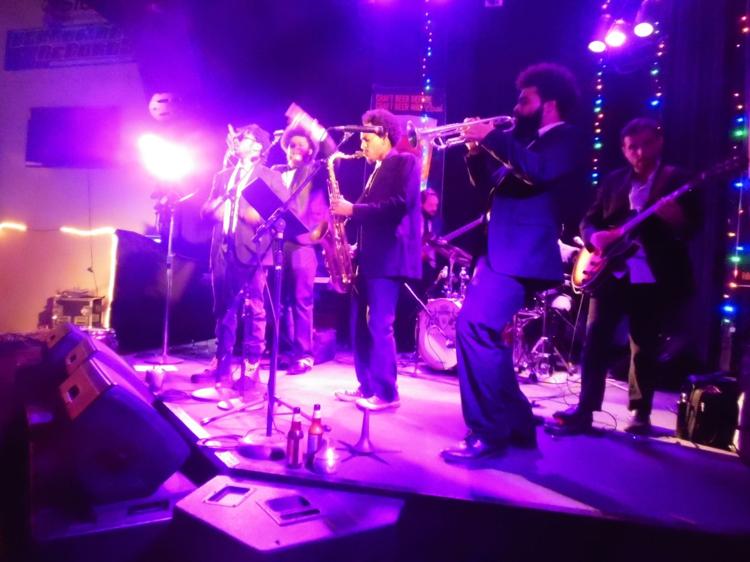 Kyle: The group was very well received right out of the gate. You immediately started getting really sweet gigs. In your first year as a band you played Indy Jazz Fest, the Fountain Square Music Fest, and you headlined a sold-out show at The Vogue. It's an extraordinary band, and that's an extraordinary rise in the music scene. 
Carrington: Thank you so much. I'm pretty blessed to be sharing the stage with guys who are down for the cause of making good music, and who happen to be some of the best musicians in the city. While staying humble, I do kind of view it as a supergroup of musicians. It's kind of crazy, these guys have their own schedules and play quite a bit with their own groups, yet they still want to make time to play with me. I'm forever grateful I have fellow musicians who see my vision and want to take it along with me. 
"I think sometimes people exaggerate that and make it seem like hip-hop was just talking about oppression. It's also about partying and having fun. But even that sense of having fun and sharing community comes out of a sense of activism, because the idea was to give people an opportunity to have fun in a safe space."
Kyle: The mix of jazz and hip-hop in the live show is really impressive. The first Clint Breeze and The Groove show I saw was at State Street Pub, and you did an incredible hip-hop version of John Coltrane's "Giant Steps."
Carrington: I'm glad you noticed that. We based that off a song on Q-Tip's album Amplified. He has a song called "Let's Ride" that samples Joe Pass' version of "Giant Steps." I wanted to do a cover that was representative of jazz, but still hip-hop, so when I heard that I thought, "This is perfect." 
NUVO: I know you've spent a lot of time sitting in with Rob Dixon's group. How has performing with a master musician like Rob influenced your music making? 
Carrington: It's definitely helped me grow and mature. Rob's really good about giving pointers on things that will shape my playing on and off the stage. A lot of times when I play with guys like Rob, the hang is just as important as the playing. Rob tells me stories of how he came up and it's always a treat to pick his brain. 
Playing with Rob and musicians like Steve Jones and Brandon Meeks and others has helped me grow up. It's not that I was particularly immature, but when you play with people at such a high level your own skill and knowledge elevates. It's been good.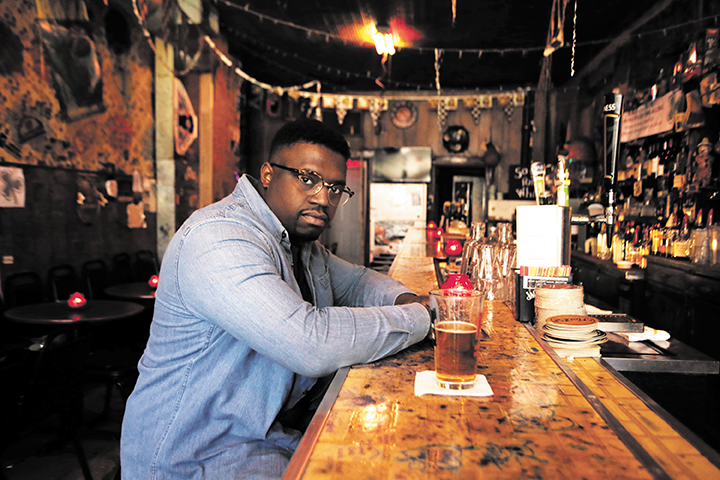 Kyle: I want to move on to the Nappy Head record. Nappy Head is a concept album — tell us about the underlying theme of the album. 
Carrington: It's a social commentary on our times. I wanted to be very particular with my message. The overall theme of the album is to symbolize the oppression of Black people in America. I wanted to symbolize the state of oppression that Black people experience every day. From not getting fair treatment in the justice system, to getting shot and killed by law enforcement, to being unfairly treated in the workforce — you name it. I wanted to make a statement on how we as Black people view this oppressive society that we live in. I also wanted to give a different perspective from white people. I have a couple of my friends who are white on the album speaking about the nature of white privilege. 
It's really incredible that in this day there's still unfair treatment and prejudice against people of color, people who are not white, or middle class, and privileged. On Nappy Head I tried to do my best to let people know how I felt through a large lens of different artists that I collaborated with. I tried to bring some social consciousness, and speak to the reality that we live in. 
Saxophonist Rob Dixon is a titan in the world of Indianapolis jazz. A 2015 inductee into the…
Kyle: This concept is presented very coherently on Nappy Head, which is impressive, as there are around 20 guest contributors featured on the record. As the director of this project, I'm curious if you sat down with each artist and outlined exactly what you were going for.
Carrington: Yeah, I definitely had some chats with some of the artists. I never told anyone to compromise their own artistry, I just gave them a little bit of input and told them to run with the theme. A lot of times when I would send the beats to the artists they'd already be dialed into the social consciousness. That was great and it showed me that music is so powerful you can bring something out of someone without even verbally communicating.  
I wasn't too much of a stickler, I would just give a little input. For example, with Drayco's song, I said, "Be Drayco. But, maybe touch on how it feels to be  young, Black, angsty and an outcast." It's really overjoying to have all these people down with what I want to do. I don't think it's me. It's not about who I am, or my status. It's bigger than that. It's about the music. When the music is good and it connects with artists, that's the most important thing. That was the formula to get all these people to work together. They saw something in the music that I was making, which is bigger than all of us. It's something that's representative of Indianapolis, but also very necessary for these political times.
A conversation from 2017 
Kyle: You made Nappy Head prior to Trump's election. I'm curious if you think Nappy Head speaks to what we're facing now in President Trump's America?
Carrington: I think it's still very relevant. As a president, Trump hasn't done anything to attend to the needs of lower class citizens, middle class citizens, and especially minorities, Black and brown people and women. Here we are a few months into the presidency and Donald Trump has done nothing, and the little he has done hasn't been positive. I think there are things on the album that speak to that. For people who are looking for something to speak to them right now, this album would be good.  
I knew what kind of outlook we should be expecting politically before Donald Trump was president, and it's not too surprising to me that this is still the current state of our political climate now. 
"This is a very pro-Black record, but it's not anti-white, and it doesn't mean that if you're not white you can't get anything from it. It's not an exclusive record. It can be an educational tool for people who are not Black." 
Kyle: When you put out Maisha, I was taken aback, because it was so well made from every angle and it seemed sort of like it came out of nowhere. It was clear from that record that you were an artist of considerable talent. But I would've never imagined a year later you would put together this world class live band, with some of the greatest jazz musicians in the city, and on top of that make this conceptually powerful record coordinating this huge cast of characters. It's all happened so quick, and it's an absolutely astonishing rise. I wonder if you look back on everything you've accomplished over the last year and feel a sense of surprise by what you've been able to accomplish? 
Carrington: When Maisha came out, I'd made a couple records before that, but Maisha was really me coming out to the world and Nappy Head was me saying, "I'm serious about this." So now I'm only trying to get better and trying to contribute good, healing music to the world, and trying to play awesome shows, and touch as many people as I can.
I feel very blessed. I would like to think I've made some progress over the last year-and-a-half or so, and pretty fast progress I think. Everyone's dealt certain cards in life and put in certain situations; I just happened to be talented at playing drums and making music. And I've been connected to great people, like the people in my band and the MCs I associate myself with. It just kind of all happened for a reason. I'm certainly not done yet. I plan to do something great this year. I plan to do many things great this year.
NUVO: In one of our prior interview you mentioned that you studied film in college. As I've listened to Nappy Head over the last few months, the cinematic quality of the album has continued to reveal itself to me. You've coordinated such a large ensemble of characters and cast them in very appropriate places, it feels like you've summoned a really powerful directorial skill to bring your vision into fruition. Do you feel like your music making has been informed by your study of film? 
Carrington: Of course, and I'd still like to do something in film. I kind of jokingly made a commitment to myself that if music takes me to a place of notoriety or financial success, I'd like to get back into film. I'd like to get to a point where I'm doing all this interchangeably, I want to be super multi-faceted. I want to direct music videos. I want to make short films, and feature films. One of my biggest goals in life is to write, direct, score and edit my own film. And maybe even have a cameo. 
Having that kind of push and drive throughout college sort of lingered on post-college, not through film, but in my music. The whole Clint Breeze thing, from the albums to the band to the live shows, all that is super calculated. I do a lot of thinking and sometimes I become introverted just thinking about what I can do next. It takes a lot of calculation for sure. 
I love concepts. It would be cool to do a project where there's no concept. I'm thinking about that right now, just doing something really fun. Sometimes people need that too. So I'm debating whether I do something socio-political, or talk about love, or talk about hardship. I don't know where to go next, but I'm leaning toward a concept of some sort. I think that's challenging. 
Kyle: To me it looks like you're sitting in a really incredible place artistically. You have some of the greatest MCs and musicians in the city at your disposal. That's a great set of tools to create with. Have you decided what your next move will be? Is the next record going to feature more of the live band, or return to your work as a producer? Are you making plans to expand outside of Indy?
Carrington: I don't have any answers, but those are good questions. I don't know if people want more live instrumentation on record or not. But I definitely think the live band elevated me as an artist. I do like the tracks on Nappy Head, where it goes into live instrumentation. But studios cost money and that's something I think about. I love making beats. So I'm not sure. I kind of like the idea of Clint Breeze being the beatmaker, and The Groove being the live representation of what I've created digitally. That's what it's been so far, but maybe Clint Breeze can evolve into just me being a composer and everything merges to become one. I don't know. The next record will dictate that.
We're trying to be conscious of playing too many shows in Indianapolis because we want to hit the road. The best part of this band is that I have a personal relationships with each individual person and that strengthens our bond. The bonds we've formed help our chemistry on and off the stage. It shows that we all want to grow together, and that's key to being in a band together.