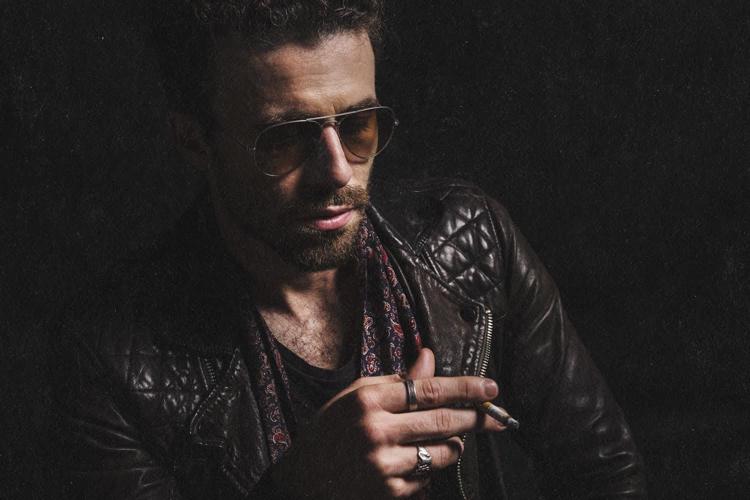 Almost ten years ago, we ran an extensive profile on then-Indy resident Brandon Whyde. Wade Coggeshall wrote, "The Beech Grove-based singer/songwriter has been hired to open for Boston's archetypal roots artist Eilen Jewell. He's warming up a crowd that, other than his mom, sister and co-worker, doesn't seem to know who he is. His only weapons are an acoustic guitar, mouth harp and singing voice lauded by seemingly everyone who has ever heard it."
Oh, how times have changed. In the decade following, that then-rising star has relocated to Nashville, held a residence at Rockwood Music Hall in NYC, opened for a slew of country heavy-hitters, and dropped his third album Silver Apples of the Moon, recorded at Muscle Shoals.
But it always comes back to Indiana, doesn't it? Whyde returned for a set at Fountain Square Music Fest — see sidebar for a bit more on that — and a headlining set at the Hi-Fi with a ton of locals who have played a role in his music-making life. In between the two shows, Whyde made time to chat with us once again about his newest release and his Indiana home.
Katherine Coplen: Could you lay out your relationship with each of the musicians who appeared at your show at the Hi-Fi? What do you admire about their music, and how do they fit into yours?
After a few strums, Whyde launches into the spare original
"
Paper Ghosts.
"
Suddenly, it's as if the shy man in the black suit and hat with piercing blue eyes and curly locks is experiencing an exorcism within himself.
Brandon Whyde: James LeBlanc is a long-time friend of Jimmy Nutt. They both moved from Louisiana to Muscle Shoals around the same time, and started cutting their teeth at FAME Studios, James as a writer and Jimmy as an engineer. By the way, Jimmy Nutt produced my album, and he plays bass for James.
I've known Landon Keller for years. We played a gig in Broad Ripple together and were fast friends ever since. When he brought Kara Cole into the fold, I instantly regarded her as a kindred spirit and confidante. I met Cory Williams at Warm Fest whenever that was; haven't been able to get rid of him since. He's a dear friend and one of the funniest guys I know.
Jennie Devoe. I had never met Jennie Devoe, but, of course, I knew of her and her music. Well, she ended up doing some work with my keyboardist, Mina Keohane, and stumbling upon my song "Self-Medicated." Long story short, she loved my song and came to a gig to meet me and asked if she could record it. I was extremely flattered and honored. She's yet to record it, but she has plans to do so. I can't wait to hear it. She's a legend.
Charlie Ballantine is just a guitarist around town whom I've admired ever since I heard him a year or two ago. He plays with the most delicate intentionality. He can, also, melt your face. Jesse Wade and Amanda Gardier are friends and cohorts of Mina's. I'm excited to meet them. I wanted some horns for the show to replace the choir harmonies on a couple of tunes and Mina took care of it. She's good at that. Taking care of things.
Katherine: Tell me about recording I — over what period of time did these songs come together? What's the oldest song on the record? Which one came together fastest?
Brandon: A lot of these songs started evolving over about a two-year period. Then, a couple months before the first day of recording I finished two or three to round out the album. I think "Ain't I a Man" existed first and determined the direction of the project initially. That song informed me I wanted to make an album with some country leanings. The song that came together the quickest in the studio, hands down, was "Come to Jesus." That track is all one take and live. We had Spooner Oldham in the room with us and everybody was feeling like they needed to be "on." Spooner Oldham wields a big stick. He's played on monster tracks for monster artists. You've heard him your whole life and may not have known it.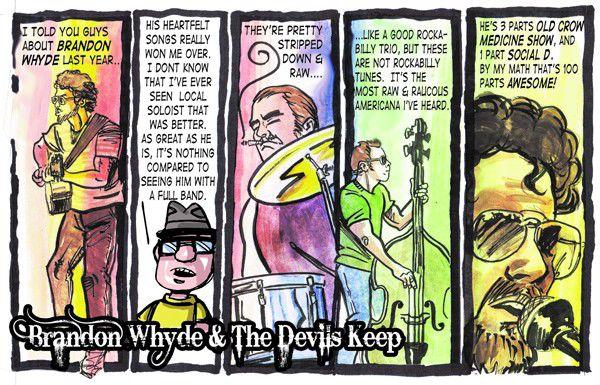 Katherine: Muscle Shoals is such a historically important place to record. What was your experience like working in that area? Anything unexpected?
Brandon: A lot of soulful music came out of The Shoals. You can't understand why when you first arrive. Nothing particularly outstanding grabs your attention immediately. Then, you start speaking with the people inhabiting the area. Things start to make sense. The people from that area are special. They are thoughtful, intelligent, progressive and music-loving. A strong sense of community exists there, and I was welcomed into it immediately. That place feels like a home.
Katherine: What's the significance of the album title? Does it take inspiration from the classic synth album by Morton Subotnick?
Brandon: No, it doesn't, but I did look it up to see if it had been used before and discovered that album. I actually gleaned it from a W.B. Yeats poem, which, Subotnick, surely did, as well. The poem is "The Song of Wandering Aengus." I am interested in a particular esoteric system of knowledge based on the deck of cards that gives an interesting meaning to the moon, as well. The symbology of silver and its implications of two or second place intrigued me as well. I don't want to assemble all the pieces of the puzzle as to why I chose that particular album title, but suffice it to say it is multi-layered.
Katherine: How does returning to Indy for a set of shows feel? What does playing at home remind you of?
Brandon: I love Indianapolis. It still mostly feels like home. At least, when I know I get to leave it. I don't dislike anything about Indy. I am just very restless when it comes to being in any one particular city too long. Being home now during the fall is beautiful. Reminds me of going back to school or eating dinner while watching reruns of Seinfeld on cable television.