In front of a packed IU auditorium, Bob Dylan's Never Ending Tour took audiences back in time to the 1960s and back to the present with covers from the Great American Songbook.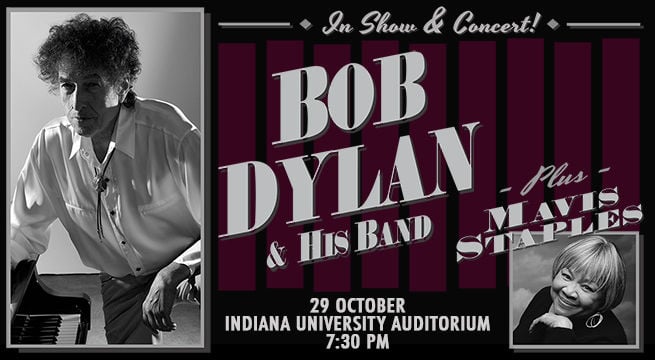 Before Dylan and his band took the stage, veteran performer Mavis Staples warmed up the crowd, something that she has a knack for. Whether she's singing a cover of "For What It's Worth" by Buffalo Springfield, or "Build A Bridge," a song from her upcoming album If All I Was Was Black, catching a Mavis Staples set always feels like you're sitting in church. That's not to say she's preachy -- she's just incredibly moving. At 78 years old, Staples' music transcends generational gaps. By the time she closed her set with the 1972 Staples Singers hit  "I'll Take You There," everyone in the audience was singing along.
Dylan opened his set with the 2006 track "Things Have Changed," with the singer accompanying his band on piano. From there, he rolled right into the classic hits "It Ain't Me, Babe" and "Highway 61 Revisited." Throughout the course of the evening, Dylan revisited "Tangled Up in Blue" and "Blowing In the Wind," the latter of which was orchestrated beautifully to accommodate a voice affected by decades of smoking. "Tangled Up in Blue," off the of the 1975 album Blood on the Tracks, however, was slowed and muddled beyond recognition.
Dylan's rendition of "Tangled" is a good enough argument for his transition into the Great American Songbook. While he may have difficulties singing his old work, his cover of Cy Coleman's "Why Try to Change Me Now" and his Sinatra-inspired track "Trying to Get to Heaven" were two highlights of the show. Not only did they prove that Dylan has capabilities as a vocalist, the latter showed his talent as a pianist. Sitting behind the keyboard, Dylan's energy and dedication to his work was palpable.
With the stage lights fading to black after every song, Dylan was starting up a new song just seconds later, running through a 20-song set in around two hours. His band, particularly drummer George Receli, never missed a beat.
By the end of the performance after an encore of "Blowing in the Wind" and "Ballad of a Thin Man," Dylan left the stage without uttering a word to the audience, but he really said quite a lot. With a crowd full of people who have followed his career from the beginning to people who heard his music through their grandparents records singing along throughout the night, the concert reflected Dylan's career: a couple lows, but certainly a lot of highs.