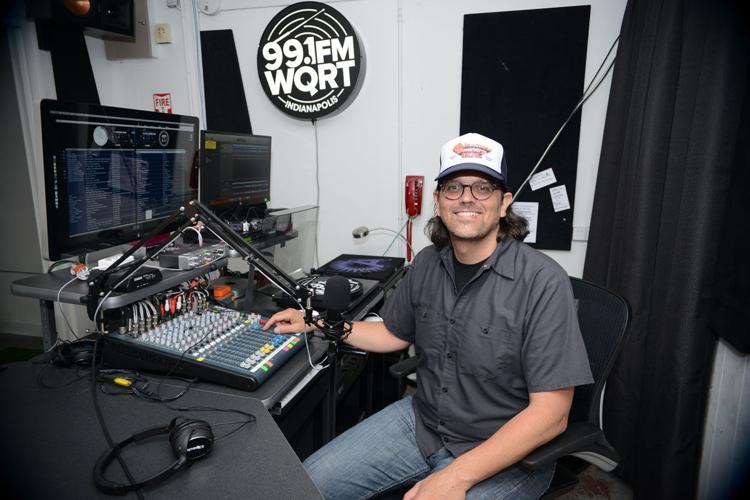 WQRT 99.1 FM has a new weekly country music show called Misery and Jim. The show is hosted by Jim Walker, CEO of the nonprofit arts organization Big Car Collaborative that runs WQRT.
The title of the show, Misery and Jim, is a play on the Merle Haggard tune "Misery and Gin." It was thought up by Walker's wife Shauta. But Walker's far from miserable in his newfound role. On the contrary, he seems to be having a great time hosting this new, old-school country music radio show.
"Part of the goal for the station is for us to not duplicate other things," says Walker. "It has kind of always been the Big Car approach. At least in this town, there's no place to find this kind of classic country music."
Misery and Jim takes the station's "Rhinestone Country" format up a notch. Expanding the previous DJ-less old-school classic programming with Walker as host and curator.
Big Car runs the radio station out of a walk-in-closet-sized space at Listen Hear at 2620 Shelby St. And Walker, a big fan of country music, is responsible for putting many of the 1,500 selections on the playlist.
In talking to Walker, you might get the sense that he is rebelling not just against the extremely limited playlists of country music stations but also against much of the music he grew up with.
"I'm from Kokomo, and when I was a kid, there was a country band that practiced across the street in their garage," recalls Walker. "On the other side of the neighborhood, there was another band that played new wave music. I remember them repeatedly rehearsing that song 'Don't You Want Me' [by the Human League]. That was one end of the neighborhood, and the other end of the neighborhood was country. And it was old-school stuff back then."
Each approximately three-hour-long show is organized around a theme. During the first Misery and Jim on May 22, listeners heard a list of songs that Walker picked about trains, trucks, and prison. These were themes touched on in the satirical country music song "You Never Even Called Me by My Name," which might be described as an "everything but the kitchen sink" approach to country music songwriting. It was written and recorded by Steve Goodman and John Prine and was covered by David Allan Coe.
The songs on the subsequent week's show (May 29) were organized around the last theme mentioned in that song: getting drunk. As in the previous show, Walker introduced the blocks of songs that he curated and gave some background for each one.
Among the selections were "Six Pack of Trouble" by O.B. McClinton and then the No. 4 hit in 1975 by Tom T. Hall "I Like Beer," and "Shut Up and Drink Your Beer" by Merle Travis.
But, as Walker points out, not all country musicians stay in their lanes, as it were.
"In the '70s especially there were those who were considered soul musicians like Bobby Womack and Tina Turner and Ray Charles," says Walker. "They did country albums. They did crossover work. People like Buck Owens, Charley Pride, and there was a whole slew of stuff from the '70s that was probably psychedelic [such as] Cody and Lost Planet Airmen."
And there are even the odd songs that you can hear on Rhinestone Country that are impossible to classify, such as Sturgill Simpson's cover of Nirvana's "In Bloom."
The WQRT broadcast can be heard in most of Indianapolis, but chances are that its biggest audience is Southside Indy.  
And chances are that the clientele for Duke's Indy, a new honky-tonk venue located at 2352 S. West St., would be amenable to the WQRT playlist on their overhead. So it's hardly surprising that Duke's and WQRT are collaborating.  
"They decided to be an underwriter," Walker says. "And we're doing a partnership with them where we're promoting shows and presenting shows, and they're underwriting my show...So that's how we're going to sustain the station is [by] having partners like that."