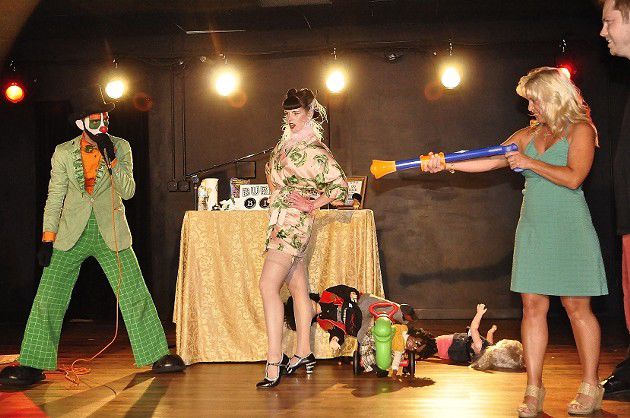 Editor's note: Your regularly scheduled Soundcheck will return in the Jan. 3 issue. All events listed are for December 31, and all prices are available via individual venue websites. Honestly, these changin' early bird and bottle specials are too hard to keep track of.
Vogue 40th Anniversary Party
9 p.m., Vogue, 21+
A huge happy anniversary to the Vogue, which is marking 40 years as a live music venue this year. Their party features a cash balloon drop, drink specials from every decade, tunes from DJ Marcus and pyrotechnics.
Big-Ass Burlesque Bingo Bango Show
9 p.m., White Rabbit Cabaret, 21+
You can play bingo on any day of the year, but boobalicious burlesque bingo as the ball(s) drop is our favorite pick.
New Year's Eve Yoga
10:30 p.m., Invoke Downtown, 21+
Just 20 bucks gets you a slot at the most zen way to ring in the New Year in 2017, plus some champagne and light snacks.
The Strokes Tribute
8 p.m., Radio Radio, 21+
The "Strokes" will play through all of Is This It and Room On Fire. (Members of "The Strokes" include the same locals that were "Weezer" last year.)
Ciroc the New Year Carnival 2018
8 p.m., Regions Tower, 21+
Party on top of a very tall building at one of the swankier spots in town, with sultry sounds from DJs Action Jackson, Indiana Jones and Gabby Love, plus carnival dancers.
Downtown Indy Inc.'s New Year's Eve
9 p.m., Georgia Street, All-ages
This all-ages, totally free party features DJ GNO, Hugh Jeffner and Slater Hogan, plus full bars, food trucks, and a hoisted IndyCar and fireworks.
New Year's Eve with The Doo
8 p.m., The Rathskeller, 21+
The Rathskeller's perfect twinkly lights, huge steins and preponderance of mounted trophy heads are the perfect NYE complement.
Mardi Gras NYE
9 p.m., Tiki Bob's Cantina, 21+
Oh, you can bet there will be beads.
Richard Edwards and His Nuclear So and So's,
8 p.m., The Hi-Fi, 21+
This star-studded show is sadly sold out, but on the off chance you can swindle a ticket from some poor sap, you'll see Jomberfox and Heidi Lynne Gluck open.
New Year's Eve Masquerade Ball
9 p.m., Union Station, 21+
Grab those masks, friends, cause it's time to go Phantom of the Opera up in this high-class event.
New Year's Eve Party
7 p.m., Indiana Roof Ballroom, 21+
Roof party! Roof party!
The Fountain Square NYE Silent Party
9 p.m., Pioneer, 21+
Okay, this one needs a little explanation: DJs Cleopatrah, Stylistic, Sounds by Todd, Echo Dub, Ras Tuli, Rasul, Dezzy Dezz, Sir Doug and Iron Lion will spin in three separate parties you can pick from on your headphones. Dance away – silently, kind of.
A Punk Rock New Year's Eve
8:30 p.m, Melody Inn, 21+
Nobody parties harder and more consistently than the PBR-fueled punks at the Mel every Saturday night.
Reverend Peyton's Big Damn Band
7 p.m., The Bluebird, 21+
The Rev and his Big Damn Band are always a great option for a holiday hoe-down – even one that necessitate a trip down to B-Town.
New Year's Eve Party
11 a.m., Sinking Ship, 21+
On deck: Free champagne, and some "fancy-ass beers."
Pat McAfee and Friends
8:30 p.m., Old National Centre, all-ages
The Punter Who Went Funny does another standup sesh at ONC.
Tini New Year's Bash
4 p.m., Tini, 21+
KLAXON, KLAXON: It's black tie optional free party with DJ Knayte. Black. Tie. Optional. Free.
Ike and Jonesy's NYE
6:30 p.m., Ike and Jonesy's, 21+
It's $50 - $100 entry for dinner and drinking all the way until 1 a.m.
New Year's Eve,
4 p.m., Greg's, 21+
The best bar on 16th Street is also the best place on the Old Northside to celebrate New Year's Eve.
Hyryder's Grateful New Year Pt. 2
9 p.m., Mousetrap, 21+
Dead your way all the way into 2018.
New Year's Eve
9 p.m., State Street Pub, 21+
Michael Raintree, Total Disgust, Sirius Blvck and DJ 1790, plus $7 sake shots. Yum-o!
New Year's Eve with Max Allen Band and The Trip
8:30 p.m., Fountain Square Brewing Co., 21+
We'll take a Hop for Teacher, please.
The Why Store, Doug Henthorn, Travis Feaster
7 p.m., Slippery Noodle Inn, 21+
Get some nachos, watch one of Indy's longest-running rock bands.
Social's Bangin' New Year's
9 p.m., Social, 21+
DJ John Larner anchors this Miller High Life-toasting party, with a $20 cover.
A Night at the Moulin Rouge
9 p.m., The Pavilion, 21+
This party – featuring Las Vegas' DJ Shai Peri, Sinclar Wheeler and others – sounds dope.
Audiodacity
10 p.m., Union 50, 21+
One of Indy's favorite bands plays one of Mass Ave's largest live music venue, with delicious foods to boot.
New Year's Eve Extravaganza
9 p.m., The Palladium, 21+
This multi-venue party features lots of spaces and places to hang, chat and sip.
Peter White
6 p.m., 9:45 p.m., The Jazz Kitchen, 21+
There's two shows for acoustic guitarist White at this NYE show.
A New Angle on New Year's
10 p.m., Forty Five Degrees, all-ages
No cover, babes.
Your House
Your time, your couch, all-ages
Just stay home and snuggle a dog, why don't you?
My House
My time, my couch, all-ages
We've got eggnog and a bulldog.