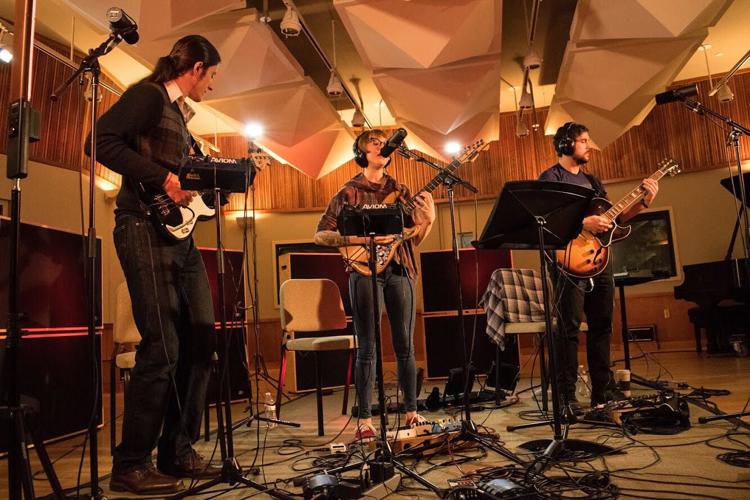 Every November, thousands flock to Fountain Square for Tonic Ball, an event supporting hunger relief in Central Indiana that also provides audiences a night of locally inspired cover songs. But now, for the first time ever, the magic of this much-loved evening in Indy will live on throughout the year via a record label that's also helping students at Ball State University gain music-industry chops.
The brainchild of Ball State instructor Daniel Porter, Beneficence Records is a student-run, not-for-profit record label that promotes Indiana music while also supporting statewide causes through its distribution. For the label's first release, Records for a Reason: Vol. 1, Second Helpings will receive 90 percent of net profits from digital/physical sales and streaming. For the album, Beneficence Records teamed up with Tonic Ball, asking artists from last year's lineup to record covers of Dolly Parton, James Brown, Simon and Garfunkel, Wilco, and The Cure. This Saturday, April 28, the label will hold a free album-release party at the Grove Haus in Fountain Square, complete with live music, free food, and much more. At the party, attendees will be able to preorder vinyl copies of the album, which they can then pick up later on in the year at the 2018 Tonic Ball.
Also on the Tonic Ball committee, Porter acted as the A&R rep of sorts for Beneficence Records, scouting out performers at last year's Tonic Ball to invite to be a part of the album. After narrowing down his list and working through logistics, Porter then handed off the artists to his team of students, who work as the staff of Beneficence Records.
"The students were all recruited from different areas," Porter says of his team. "Some are music students. Some are recording engineers. Some are video students. Some are sales students. Some are public relations. Some are magazine editorial staff. They are all receiving credit for their actual degree programs based on the job they're assigned."
Several notable Indiana acts will be featured on this first installment of Records for a Reason, including Birdmen of Alcatraz, Caleb McCoach, Flatland Harmony Experiment, and Sarah Grain & the Billions of Stars. Artists that participated in the project recorded their own unique cover song for the album. As an added bonus, the Beneficence Records team also recorded audio and video of the band playing one of their own original tunes, giving them complete ownership of the recordings as a thank you for their contribution to Records for a Reason.
"We're helping out the local scene, [and] the local scene is helping us out; and we're helping feed people. I don't know how it gets much cooler than that," Porter says. "We're just fully throwing it at a cause. The benefits are great for Second Helpings and for all the artists, who are happy to be a part of it because it helps their career in the long run."
Local clarinet extraordinaire Eric Salazar is one of these elated artists. A member of the Indianapolis chamber music group Forward Motion, Salazar recorded his own version of Simon and Garfunkel's "Bridge Over Troubled Water" for Records for a Reason: Volume 1.
"I was instantly drawn to this project because the strategy is to have art be the catalyst that brings in resources which are invested in a nonprofit that fights to end hunger in our community," Salazar says. "I take so much pride in how much work went into this album from the artists, engineers, technicians, producers, and everyone else. Thanks to Beneficence Records, I've found myself saying to people, 'My art has changed peoples' lives, and literally fed the hungry. What do you do for a living again?'"
Kara Tucker, lead vocalist of local progressive-rock four-piece Eliot Bigger, also echoes this sentiment. Tucker's band put their own spin on "Play for Today," a track from The Cure's 1980 album Seventeen Seconds.
"We as a band were able to explore and get creative with a new sound, while most importantly supporting an amazing event and project that impacts the Indianapolis community in a very positive way," Tucker says.
When he was approached by Porter to team up with Beneficence Records, Tonic Ball founder Ken Honeywell says the partnership was a no-brainer. "It's a logical extension of everything we were trying to do when we started Tonic Ball: bring more exposure to local bands, encourage musical collaboration, and support a great cause," Honeywell says. Ultimately, he looks forward to the label's future, even if they move on to work with other causes.
"Obviously, Tonic Ball was a great starting place for Beneficence because Tonic Ball is a music event," Honeywell concludes. "But it's equally exciting that Beneficence Records is going to support other causes too. I hope it just continues to grow."
Financial and technical support for the label's debut album is being provided by an immersive learning fellowship through the Virginia B. Ball Center for Creative Inquiry.