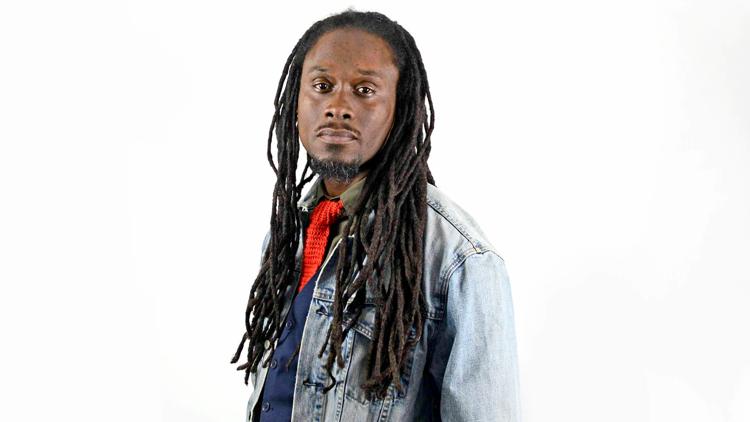 When Bashiri Asad first got involved with the local music scene, the Indy soul standout chose to do it the old-fashioned way.
"I did it old school," he says. "I actually opened up a NUVO and started looking for places where people were performing. I would pop up at these places — open mics and things like that.
"Anywhere that anybody had a stage, I was looking to get on and do something. It's an experience I don't forget, and I had a blast doing it. I went to some places I never thought I'd go here in the city, just looking for the opportunity."
Having now been active in Indy's music community for a decade, Asad regularly plays at venues of note all around town. This past weekend, in fact, he and his band, Be On It, celebrated the release of their new album, The Way We Are, with two headlining shows at the Jazz Kitchen.
Originally from Indianapolis, Asad grew up in Indy's South Broad Ripple neighborhood before eventually heading on to Central State University for college. Even as a youngster, he remembers being drawn to soul music.
"I grew up a classic soul head," he says. "Curtis Mayfield, Donny Hathaway, and Stevie Wonder are three of my favorite songwriters in history."
While at Central State, Asad was a member of the University Chorus. Following graduation, however, he admits that his pursuit of music fell off for a while.
"Years after I was done in school, I started doing some open mics in the Denver area [while working with AmeriCorps]," Asad says. "I didn't take it seriously."
In the coming years, Asad shifted his attention to family matters, before eventually receiving a nudge from his wife to really pursue music.
"I got married and started to have children," Asad says. "I was 30 years old, and my wife suggested to me that I give it a shot. That was just over 10 years ago, so I've been doing this for 10 years now."
Asad first started out going to poetry-oriented open mics, where he began to blossom as a performer.
"I started on the poetry circuit, singing there and gaining confidence," he says. "Then, when I started writing, I was just attempting songs that way."
Asad eventually got his first opportunity performing with the party band Blue Soul. From here, however, he decided to get out and try his own thing, thanks to the urging of Blue Soul bandleader Vincent Howard.
"He's since moved on to do great things in Orlando, but he was a big part of me branching out and doing my own thing," Asad says of Howard. "If it was something I wanted to do, he said I should do it."
With his latest album, The Way We Are, Asad has continued following his dreams.
"Some of my favorite bands are Mint Condition, Earth, Wind & Fire, and more recently, D'Angelo," Asad says. "Acts like those put together these albums, and you get the live band feel. I wanted to get that across."
To accomplish this, Asad teamed up with a group by the name of Be On it, which features C.J. Garfield on keys, Jesse Thompson on bass, Terry Adams on auxiliary keys/organ, and Joe Elliot III on drums. After years of working together, Asad and Be On It began piecing together an album of original works, which would later become The Way We Are.
"We came together and said, 'This is what we're gonna do. Let's go ahead and put an album out,'" Asad says. "It came about organically. It started in conversation, and it grew from there."
Like all of Asad's previous studio offerings, The Way We Are is a heartfelt soul record.
"The album is my contribution to our life and times," Asad says. "Particularly as a Black man, I think it's important to do my part to uplift."
"There's a lot of toxic music out here, and people put the music that they listen to as part of the soundtrack to whatever it is they have going on," Asad continues. "We as musicians provide a soundtrack for life, and I can only speak from the perspective of a married Black man living in Indianapolis. This is my soundtrack for life here in Indianapolis and for life in general."
Having now been on the scene for a long time, Asad couldn't be more excited about the current state of Indianapolis music.
"Being a musician in Indy at this time and age is a good time," Asad says. "We have great artists on the scene. There is a renaissance happening here, and I'm glad to be a part of it."