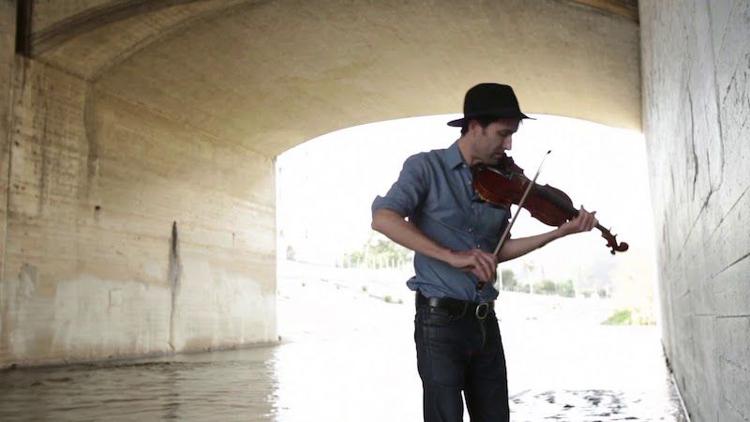 For decades, Andrew Bird has traveled around the world, playing his own songs for fans far and wide. But while it may surprise some people, the virtuosic indie-rock violinist will play his songs with an orchestra for the first time on Wednesday, Sept. 26 when he visits the Hilbert Circle Theatre for a rare performance with the Indianapolis Symphony Orchestra.
"There's been talk of doing it for years," Bird says. "I just kept balking at it when it was proposed. I either wasn't ready, or I was perfectly happy to go on playing solo or with my band the way I have been."
An idea that was initially proposed to him by the Los Angeles Philharmonic, Bird teamed up with musician, composer, and orchestrator Gabriel Kahane to re-imagine orchestrations of his tunes. Now, the 45-year-old is set to perform the program with four orchestras around the country, including the Indianapolis Symphony Orchestra (Sept. 26), the Kansas City Symphony (Sept. 29), the L.A. Phil (Oct. 11), and the National Symphony Orchestra (Oct. 26-27).
Having played violin since the age of 4, Bird was trained in the Suzuki method, which means he learned completely by ear. "I didn't play in orchestras until I was in high school, and I did all that through conservatory," he recalls. "I was not what you'd call a model student. I had good tone and decent technique, but I was playing classical music like it was folk music in a way." After moving on from music school, Bird evolved into the "one-man orchestra" that many know today, perfecting his work as a solo artist.
"When I left music school, that's when I started getting in a van and driving around the country to play rock clubs," Bird says. "I've really had no contact with the classical world for the last 23 years. That being said, it is my roots. It's what I grew up listening to and playing, so it's kind of a big deal to come back to it in that way."
When he began working with Kahane to put together the show, Bird emphasized that he didn't want to simply create a "cinematic" presentation of his music.
"What I didn't want to do is a romantic underscoring of my songs," Bird says. "I wanted it to feel like I'm the violin soloist coming up there to do the concerto. But instead of the concerto, I sing, play, and improvise with the orchestra."
Fans can expect to hear music from Bird's entire catalog woven throughout the performance. For example, one suite is titled "Time Is A Crooked Bow," and it features "Armchairs," "Scythian Empire," "Roma Fade," "Weather Systems," and a new song called "Archipelago."
"We took songs that are familiar to people to some degree, along with some new songs, and we put them together," Bird says. "You'll recognize the songs if you're familiar with my catalog, but they're pretty dense and pretty out there."
A regular guest with the ISO (especially with their Happy Hour concerts), Steve Hackman will be conducting Bird and the symphony for this very special performance. According to Hackman, putting together a program like this is rather challenging. "If this was easy, everyone would do it," Hackman says. "Translating 'popular music' to an orchestral form in a meaningful, engaging, and exciting way is extremely difficult." This being said, he thinks Bird's performance is one not to miss. "This is such a honor," he says. "I think the audience is in for quite a night."
Considering the small number of shows that Bird will be performing with orchestras in the U.S., his decision to perform with the ISO is certainly worth noting.
"There needed to be a certain amount of flexibility and open-mindedness," Bird says of the orchestras he chose. "Indy and Kansas City have a good reputation with that. It's just known amongst arrangers what orchestras are amenable to what I'm trying to do."
As for his upcoming run of dates, Bird admits he will be nervous upon arriving in Indianapolis for his first orchestral performance in decades.
"The first day I walk into the concert hall with the Indianapolis Symphony, I will not have heard how these sound with an orchestra," Bird says. "I'm going to kind of be a basket case, but I think it's going to be really cool."