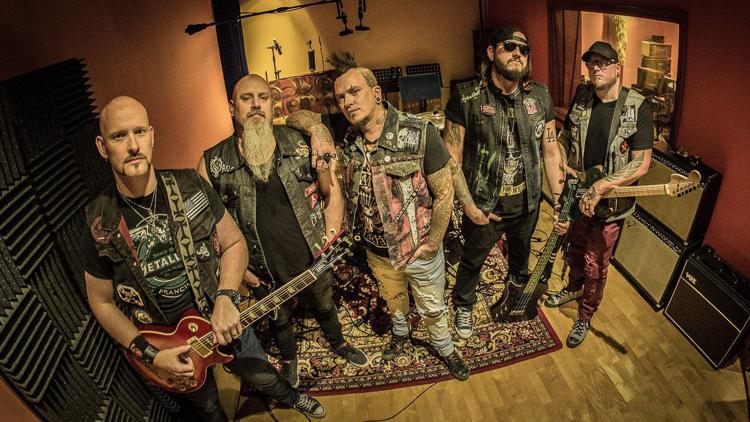 Forget about the frills. Indianapolis band American Bombshell is dedicated to making no-nonsense rock 'n' roll.
"We know we're not reinventing the wheel, but goddamnit, if we're not making people remember the wheel," says lead singer Jay Cee. "We're adding some new spokes into the rim."
After releasing their debut album in 2016, American Bombshell returns on Saturday, March 23 with their latest full-length titled Tattooed 'n Bruised, celebrating with a hometown release show at Radio Radio that same day. Recorded with Eric and Marc Johnson at Indy-based studio The Pop Machine, Tattooed 'n Bruised features 12 gut-punching tracks, with guest contributions from Junkyard vocalist Dave Roach and Guns N' Rose guitarist Richard Fortus.
After all previously playing together in various other groups, American Bombshell formed when the band's current members started casually writing some songs together.
"We kind of just cherry-picked and got the five guys that get along the best, and we went on from there," says lead guitarist Andy Nixon.
While they all came from slightly different backgrounds, there was one sound that all five members could settle on.
"The band was kind of built to fill a gap of just straight-up rock 'n' roll," says drummer Jason Carr. "Everybody has got their genres they're trying to fill. But when the five of us first got together, it was like, 'Fuck it. If it's cool, let's play it and get back to the basics.'"
Having played music in the Indy area for a while now, the members of American Bombshell believe there's a bit of a gap that needs to be filled.
"I think everybody wants that new hard rock band because all the mega bands are in their 50s and 60s now," Nixon says. "You can't tell me the demand isn't there when there were 18,000 people at Metallica." (That performance recently broke a Bankers Life Fieldhouse concert attendance record.)
American Bombshell are also well on their way to the next level, regularly performing all over the Midwest. Additionally, the band received a Grammy Amplifier award in 2016, beating out thousands of other contestants.
"There were three grand prizes," Carr explains. "One was a video, one was recording with a Grammy producer, and one was a mini-tour."
Much to their delight, American Bombshell was granted the opportunity to record with Grammy award-winning producer Mike Clink, who has worked as a producer and engineer with bands like Guns N' Roses, Megadeth, and Metallica over the years.
"They had come and asked us individually what our top five rock 'n' roll albums were," Jay Cee says. "In their top five, everybody put Appetite for Destruction by Guns N' Roses."
With this in mind, the opportunity to record a song with Clink was a once-in-a-lifetime experience for all five members of American Bombshell. "When we walked into East West Studios in Hollywood, we were speechless," Carr says. It didn't take them long to witness Clink's genius in action either.
"His job is to get the best out of you that he can get," Jay Cee says. "But the process of getting the best out of you also involves breaking you down and making you feel like you suck."
"It was an amazing experience to know where the bar is for what to try and get to," Carr adds. "When I now sit down at the drum set in the studio, Mike is still in my head."
To compliment the song they made with Clink ("My Drug"), American Bombshell also recorded a B-side, "Saving Me," with the Johnson brothers at The Pop Machine. After a good first experience at the studio, the band decided to record their second full-length there as well.
"Since they got to know us with doing the 'Saving Me' single, they really understood what we were looking for," says Carr, of the Johnson brothers. "The great thing about those guys is they're not afraid to produce."
On the strength of Tattooed 'N Bruised, American Bombshell hopes to continue reaching larger and larger audiences with their relentless brand of rock 'n' roll.
"I'm 100 percent convinced that all this band needs to attain that next level is to get in front of as many people as possible and just grow organically," Nixon says. "Every time we play to a room, we win over that room. Like I said before, the demand is out there."