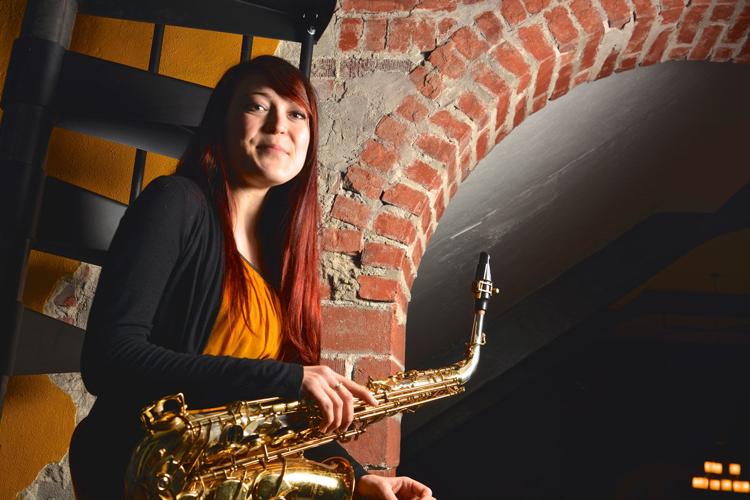 For some time now, Amanda Gardier has drawn positive notice for her bright melodic alto sax work with guitarist Charlie Ballantine. She performs frequently around Indianapolis as a member of Ballantine's quartet and has played on all four of the guitarist's studio recordings.
In the midst of all that activity, Gardier has also carved out time to write and record Empathy, her first outing as a leader. Empathy is a superb debut and will no doubt raise Gardier's profile as a uniquely talented jazz composer and soloist.
You'll have a few opportunities to hear for yourself in the coming weeks. Gardier has a pair of release parties planned for the record, including an August 25 date at the Jazz Kitchen and a September 8 performance at Chatterbox. You can also catch Gardier opening for Anat Cohen on September 16 at The Cabaret as part of Indy Jazz Fest.
Jazz music entered Gardier's life at an early age while growing up in St. Charles, Ill.
"I started saxophone in fifth grade," she says. "We got to choose our band instruments, and I was drawn to the saxophone. I started jazz band in sixth grade and had private lessons right away."
Jazz immediately resonated with Gardier, and from that point on, the music would play a pivotal role in her life decisions.
"Coming out of high school, I was trying to decide what I wanted to do with my life, and I almost went into the medical field," Gardier recalls. "But I went to this camp in Wisconsin called Birch Creek—I actually teach there now. It's a great two-week long camp where the kids and the faculty perform four to five nights a week. It was the first time in my life where I was totally focused on music. I was performing every night, and I realized I really liked the lifestyle."
From here, Gardier decided to pursue music at Indiana University, where she met Charlie Ballantine. The two musicians hit it off and began performing together, which eventually led the saxophonist to Indianapolis. "Charlie finished up at IU a little before me, and he'd already started playing in Indy," Gardier says. The fruits of their collaboration now extend beyond the bandstand as Gardier and Ballantine are currently engaged to be married. Gardier credits their contrasting backgrounds as a source of influence on her musical development. "Charlie grew up listening to the Beach Boys, and Jimi Hendrix, while I grew up listening to more jazz or metal," Gardier says. "We have totally different perspectives, and he's brought out a different side of my playing."
Ballantine's guitar is featured throughout Empathy as part of Gardier's core band, which also includes Clay Wulbrecht on piano, Jesse Wittman on bass, and Chris Parker on drums. Empathy also features a pair of notable guest spots from vocalist Mina Keohane and the standard-bearer of Indianapolis jazz Rob Dixon.
"When I realized I wanted a tenor sax on this record I had to ask Rob," Gardier says. "I was so glad he was able to perform with us. I just love his playing. He's got a great sound on alto and tenor, and he makes every group he plays with better." Dixon is featured on five of the album's tracks, including a memorable take on Björk's "Joga." "On Björk's original the chorus is looped at the end, and I thought it would be so fun if both Rob and I soloed at the same time," Gardier reflects.
Aside from the aforementioned Björk cover, Gardier composed the remainder of the disc's nine tracks. Clocking in at around an hour in length, Empathy is packed with standout moments. Highlights include the haunting "Smoke," which features ethereal wordless vocals from Keohane, and the lovely duet playing between Gardier and Dixon on "Revolving Door."
Throughout Empathy, Gardier is generous in sharing solo time with her fellow musicians, and she's equally generous in sharing praise. Gardier credits her Indianapolis jazz peers with providing the inspiration for this project.
"I'm influenced by the current scene of musicians here," Gardier says. "I am inspired by the musicians who've came out of Indy, like Wes Montgomery and Freddie Hubbard. They've inspired me in creating my own project, and I'm proud when I tell people that all the musicians on this record are Indianapolis musicians. There's great stuff coming from Indy, and I'm inspired to share that."