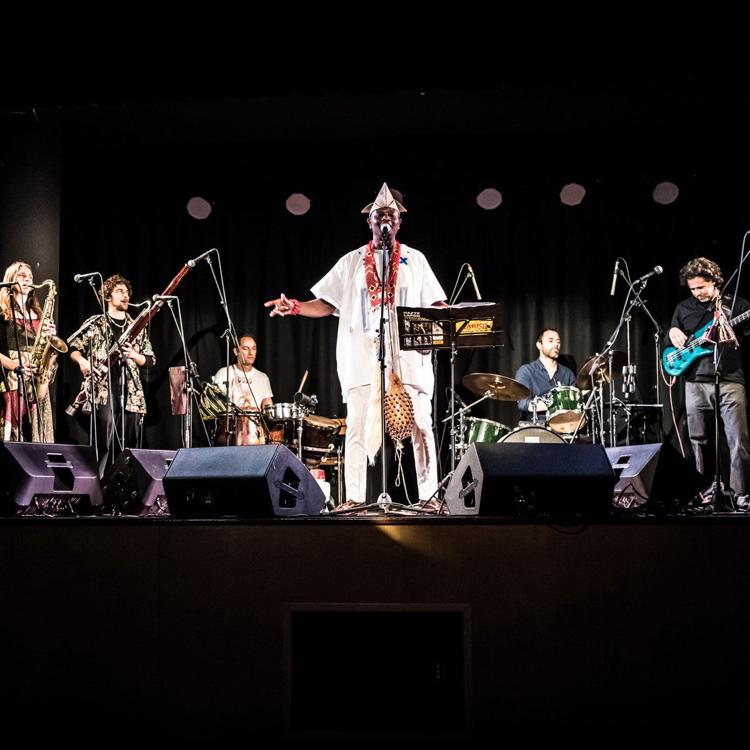 Guitarist Aaron Feder founded Alma Afrobeat Ensemble in Champaign-Urbana, Illinois, in 2003. When Feder left the Midwest for Barcelona, Spain, in 2006, he carried the Alma concept along. Alma Afrobeat Ensemble has flourished on the Iberian Peninsula, releasing three excellent LPs and assembling a formidable live ensemble. Alma's 2018 U.S. tour will bring the group to Pioneer on Friday, July 20 in support of their upcoming fourth album, Monkey See, Monkey Do. I spoke with Feder via Skype in advance of the date.
Feder told me that Paul Simon's 1986 album Graceland provided an important early touchstone for African music. Moving beyond the South African styles represented on Graceland, Feder took an interest in the guitar-heavy chimurenga sound of Zimbabwean artists like Thomas Mapfumo and Oliver Mtukudzi.
"African music is the best music for guitar in my opinion," Feder shared. "Whether you're talking about the desert blues, or highlife, or soukous—for me, it's amazing."
But it was the music of afrobeat pioneer Fela Kuti that sealed Feder's fate. Feder told me he was deeply impressed by Fela's ability to bridge the gap between social protest and party music. "It really caught my attention, and in college, I started playing around with that sound," he said. Fifteen years later, Feder is still deeply committed to the afrobeat sound. Read on to learn more about his approach to afrobeat and head to PioneerIndy.com to purchase an advance discount ticket for Alma's July 20 Indianapolis date.
NUVO: When you formed Alma in 2003, afrobeat music had a very small following here in the U.S. Since that time, afrobeat has exploded in a huge way, even hitting the mainstream in 2008 with the arrival of the Fela musical on Broadway. What do you make of the growth of afrobeat music over the last decade or so?
Aaron Feder: From my point of view, so much of that growth is due to Martín Perna from Antibalas and Ray Lugo from Kokolo Afrobeat Orchestra. These are the people who were almost single-handedly responsible for the revival of afrobeat. During the '90s, Ray had King Changó, which was part of this punk and world music crossover that was going on in New York. That's very similar to what happened in Barcelona with Manu Chao—he'd been doing a punk thing with his previous band Mano Negra. So there was a surprising crossover happening where punk and hardcore moved over into this world music thing. That kind of makes sense if you think about the history of ska and reggae with bands like The Clash. I think Antibalas and Kokolo really started this resurgence or at least opened people's eyes to afrobeat.
NUVO: When I think about the elements that define afrobeat, there are a lot of important musical characteristics, but I also think about lyrics. For me, political commentary and lyrics representing the worldwide struggle for justice are an essential part of the afrobeat aesthetic. Tell me about the role of political commentary in Alma's music.
Feder: I completely agree with what you're saying. Afrobeat music is not about getting laid, partying, and jumping in a hot tub. This music comes from a desire for social change, and that's reflected in our music. We try to address modern issues. On our new album Monkey See, Monkey Do, a lot of the tunes address the same concept. That expression "monkey see, monkey do" is usually used when people are doing ridiculous things that they shouldn't be doing. I feel like this is quite representative of the U.S. at this point—and perhaps the whole world. The demagoguery seems to have taken over, and we're so willing to go along with what somebody says because we want to follow them. I find it hard to believe that people really believe in all the crap that's happening these days. I just believe they've been misled. This idea permeates the whole album. But I think it's important to say that we are not a political band. We're not in support of one politician or another. We're in support of people thinking for themselves and listening to their conscience.