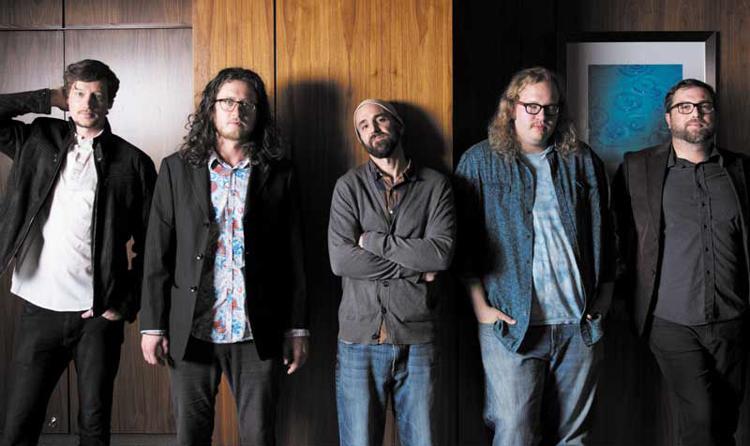 ByBye celebrates the release of their new album, Metamorphasize, this Fri., Feb. 16 at The Hi-Fi.
The Indianapolis quintet have good reason to celebrate — Metamorphasize is a gem, overflowing with rich sonic textures, and compelling songwriting. With a musical foundation rooted in deep organic soul, the new record exudes warmth even while drifting into ambient psychedelic atmospheres.
Metamorphasize is ByBye's second long-player since forming in 2014, and it's the band's first official studio recording. While the core of Metamorphasize was produced by Tyler Watkins and Alex Kerchaval at Postal Recordings, significant post-production elements were added later. That includes the appearance of My Morning Jacket's Carl Broemel on lap steel, and mixing from Louisville-based producer Kevin Ratterman, known for his work with Ray Lamontagne, Jim James, and My Morning Jacket.
According to ByBye's lead vocalist/organist, Marty Green, Musical Family Tree founder Jeb Banner played a pivotal role in the LP's birth. Green shared some of the early Metamorphasize sessions with Banner who was impressed with the results. "Jeb really liked the music and he said he'd foot the bill to put us back in the studio to record more," Green tells me.
ByBye drummer Paul Symons credits Banner for recruiting Carl Broemel on the project. "Jeb reached out to Carl from My Morning Jacket," Symons recalls. "We're all definitely influenced by the music of My Morning Jacket. So it was really cool when Carl's first message back was, 'This is rad. Would you be interested in hearing me record some pedal steel on this track?'"
ByBye was thrilled with the result. Green credits Broemel's performance on three of the LP's tracks for crystallizing the album's sound. "It was like a magic glue," Green says.
Despite the outside assistance from Broemel and Ratterman, the real magic on ByBye's Metamorphasize is manifested by Marty Green. Initially coming to prominence with the '90s era band Sardina, Green is something of an underground legend in the Indianapolis rock music scene.
Green functions as the chief songwriter, organist, and lead vocalist for ByBye. His instrumental credits on Metamorphasize range from Wurlitzer electric piano, to Steinway upright, to Hammond organ. But Green credits his vintage 1969 Gibson G201 organ for providing the soul of ByBye's sound. "It has its own unique sound, and it's very warm and rich. Sometimes I try to make it sound like a buzzsaw, sometimes I like to make it sound like a Hammond if I can," says Green.
Green says the Gibson G201 "has a lot to do with our sound at this time." He emphasizes the organ's role in shaping ByBye's music. "Sometimes I think of playing the organ as being the symphony behind the band. You know where a symphony will swath the strings behind a melody? Well the organ can kind of do that itself."
Another notable element of the Metamorphasize sound is the inclusion of Indianapolis jazz saxophonist Jared Thompson, who is featured on two of the LP's tracks. Green vividly recalls his introduction to Thompson's work. "I spent decades going to the Chatterbox, I'd watch all the old guys down there like Jimmy Coe, Claude Sifferlen, and Dick Dickinson. I'd specifically find the nights they were playing.
"But one night I was in there and I heard this young guy playing saxophone and he sounded fucking amazing. That was Jared Thompson."
ByBye have an ambitious promotional schedule planned for Metamorphasize, that includes an SXSW stop and a European tour later this fall. But Green's expectations for the LP are relatively modest," Green said. "I just want people to hear it. It would be nice for this album not to sit in the dustbin."