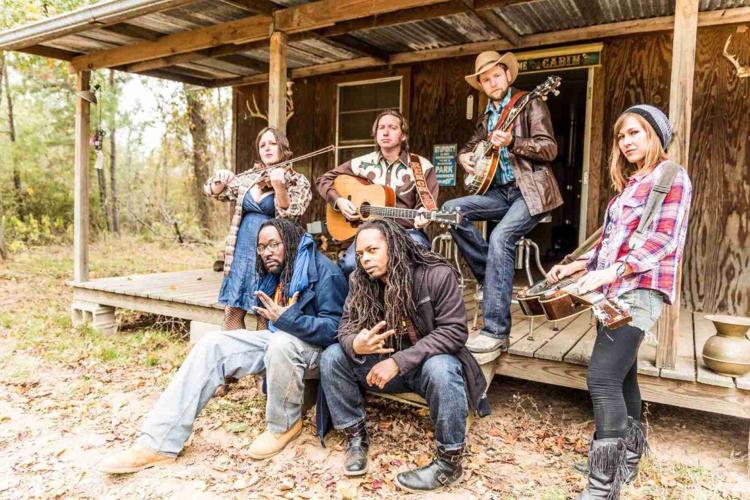 At this point in my life, I should've learned to always abide by the old adage "never judge a book by its cover." But I admit when I heard the name Gangstagrass, I immediately wrote the band off as a novelty act without hearing one note of their music. I'm pleased to report that I was mistaken. Gangstagrass is a serious and sincere exploration of the meeting point between bluegrass and rap music. 
The band's roots stretch back to the early 2000s when Gangstagrass founder Rench began mixing honky-tonk country tunes over hip-hop beats. For Rench, it was a natural fusion. He'd grown up listening to hip-hop with his friends at school by day and digging his dad's George Jones and Buck Owens albums at home by night. 
After releasing a handful of countrified hip-hop projects under the name Rench, adding bluegrass to the mix seemed like a natural progression. Rench vividly recalls the moment when inspiration struck. "I was walking around Brooklyn with my headphones on, listening to Ralph Stanley and the Clinch Mountain Boys. Because bluegrass traditionally didn't have drums, I could hear how open it was to add beats. The instruments were really tight rhythmically, so you could easily add a beat with somebody rapping on top." From that musical epiphany, Gangstagrass was born in 2007. Today the band includes banjo, dobro, guitar, multiple vocalists, and Rench on beats.
I caught up with Rench via phone in advance of Gangstagrass' upcoming March 17 appearance at The Hi-Fi.
NUVO: There are many commonalities between rap and Appalachian music. For example, both have roots in West African music traditions, and both celebrate outlaw culture in their lyrics. You've been making music with Gangstagrass for over 10 years now. What have you learned about the relationship between hip-hop and Appalachian music during that time?
Rench: I've learned so much since I've been doing this project. I've come across so many stories about musicians who've always been crossing these streams and cross-pollinating musical styles.
People tend to think of country music as a traditional, white music, but country singers were learning their techniques from Black musicians, and Black musicians were learning things from white musicians. There was all this intermixing happening despite the conception we have of these separate marketplaces and separate demographics. Much of that was created by the record industry. The industry created separate record labels and separate radio stations from the beginning.
I'll share one thing I've learned by tracing the roots of the music, and this goes back to the 1920s before bluegrass. When record companies first took recording equipment outside of the cities to the rural places and began making the first recordings featuring banjo, fiddle, and guitar, there wasn't much of a distinction between the Black players and the white players.
But the record labels were thinking about the music from a marketing standpoint and how they were going to sell it. So they created two categories; the stuff for white audiences was called hillbilly music, and the stuff for Black audiences was called race music or race records. There were instances where the same band's music was put out under both these labels, under different names, and marketed as two separate things. So I've definitely opened my eyes a lot on this journey about how much all of this music goes back to the same place.
One thing I'd really recommend for anybody interested in this is to check out the Grammy winning old-time folk musician Rhiannon Giddens. She was recently the keynote speaker at a bluegrass conference called IBMA where she really laid out how bluegrass has mixed roots. A lot of people don't know that the banjo was an African instrument. The tradition of creating instruments from a gourd with strings on a stick was brought over to the United States from Africa during the slave trade, and the banjo was developed from that. Little facts like that really reshape how you think about music and the idea of genre itself.
NUVO: I don't mean this to sound disrespectful, but when I first heard the name Gangstagrass I was very skeptical. It was your version of the traditional folk music staple "John Henry" that changed my mind. I was really impressed by your interpretation, which synthesizes over 150 years of American music-making in a very unique way. There are literally hundreds of versions of "John Henry" out there, why did you decide to take on this folk music classic?
Rench: There's a really cool story behind that. We met the rapper Soul Khan at a show, started talking, and hit it off. He pulled up his sleeve and he's got a tattoo of John Henry, with a line from the song's lyrics. That's the moment I decided we were going to record a "John Henry" cover and that Soul Khan was going to rap on it. Soul Khan approached the concept with an understanding of both labor history and the cross-racial solidarity within the folk tradition. He just nailed it on that track and we were really blown away the result.
NUVO: If any rap fans doubt the hip-hop credibility of Gangstagrass, I want to mention a few of the MCs you've worked with. That list includes iconic hip-hop names such as Smif-n-Wessun, Dead Prez, and Kool Keith. I'm curious how an artist such as Kool Keith reacts when you call him up and ask, "Hey, do you want to jump on this bluegrass track with us?"
Rench: I find that a lot of hip-hop artists and a lot of hip-hop audiences are very open to these collaborations because hip-hop has always been about crossing different streams together. If you go back to the early days in the Bronx, hip-hop was created by cutting together records from pop bands and disco bands with Kraftwerk and all kinds of things that DJs started cutting together.
So most MCs don't bat an eye when I bring the idea to them. It's totally fine by them. In fact, Smif-n-Wessun were really into it and were really amazing to work with. They keep in touch with us and check in to ask about new projects. That's why they've ended up being featured on a couple albums in a row.
NUVO: Gangstagrass is performing at The HI-FI on March 17. I understand this show will be unique, as you're recording the performance for an upcoming live LP.
Rench: The HI-FI in Indy is one of the venues where we're going to be recording our show. The live album we're putting out later this year is going to be sort-of a highlight reel from the tour we're on. Indy is a place where we're definitely looking forward to recording, we've had such a good time at the HI-FI with the amazing crowd in Indianapolis