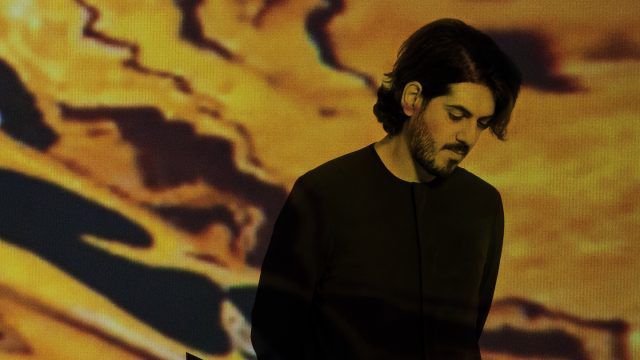 As South By Southwest continues in Austin this week, Bloomington-based global music PR firm Rock Paper Scissors joined forces with a handful of like-minded U.S. music organizations as a co-sponsor for ContraBanned: #MusicUnites. The showcase features music from nations targeted in Donald Trump's executive order travel ban. 
The roster of artists featured on the ContraBanned bill represent a diverse array of musical styles. Indiana music fans will be pleased to see the inclusion of the brilliant Iraqi-American multi-instrumentalist Dena El Saffar, best known locally as the leader of Bloomington's Salaam. Other notable ContraBanned performers include the legendary Iranian singer-songwriter Mohsen Namjoo, Somali-Canadian pop duo Faarrow, Sudanese hip-hop artist Emmanuel Jal, and the Iranian electronic music producer/composer Ash Koosha among many others.
Rock Paper Scissor's Tristra Newyear Yeager gave insight into ContraBanned and how Trump's travel ban might affect the music scene here in the states. 
Kyle: Rock Paper Scissors is one of the co-sponsors of the ContraBanned showcase at SXSW. Tell us how RPS came to be involved with ContraBanned? 
Tristra: The organizers of ContraBanned come from a core group of people that have been advocating for international artists here in the U.S. There's globalFEST which is a springboard organization that's really trying to support more global music infiltrating mainstream audiences and venues. They're helping to bring sounds from all over the world to places that normally don't get to hear them live.
There's also Tamizdat, which is a legal firm that supports visa applications. So if you're an attendee of the Lotus music festival in Bloomington, you've benefitted from some of the work Tamizdat had done on behalf of artists. 
The visa application for most artists in the world music field is pretty complicated. It really requires some expert guidance to get it done efficiently, or to get it done at all. So Tamizdat and Matthew Covey, who is the lead guy there, have been really instrumental in this showcase. They really want to highlight how the travel ban affects individual people and how it affects what American audiences get to hear and see, and how it affects our freedom to enjoy and understand art, and the world around us. 
There are some other independent producers and arts advocates involved as well. If you want to get a full breakdown of what's going on you can go toContraBanned.org to get to know some of the artists and organizers.
Rock Paper Scissors has worked with these people a lot and we really admire their work. So when they told us they were going to do this crazy thing at SXSW we chimed in and said we can help support with some of the press, and that's what we've been doing. It's been quite an adventure.
Kyle: Speaking of press, Rock Paper Scissors has picked up some incredible press for this showcase. ContraBanned has been featured at Pitchfork, The Fader, Spin, and on the infamous Breitbart.com site of all places.
Tristra: Yes, we got Breitbart and Teen Vogue on the same day. [laughs] It's kind of interesting how the coverage has spanned all the perspectives active online right now. 
Kyle: Aside from all of the troubling humanitarian concerns, I would imagine Trump's travel ban will also have serious ramifications on the work Rock Paper Scissors is doing here in Indiana. How is the travel ban affecting your ability to do your job? 
Tristra: That's a really great question. There have been some statistics and reports that have just come out demonstrating how the travel ban has had a chilling effect on people considering the United States as a business or travel destination. 
I think it's important to remember that artists are business people as well as crazy creative souls that inspire us. So when you're an artist looking at a business plan, and you see that a particular country has a lot of uncertainty, and perhaps additional expenses, and perhaps extreme inconveniences like being detained - and even if you're detained for just a few hours that can make a big difference if you miss a flight and have to buy a new one that adds thousands of dollars in expenses - taking all that in consideration you get a general feeling of why bother?
The U.S. is almost always a loss making market for many international artists who are not huge pop stars. When you add up the transport and visa fees, a five piece band coming to the U.S. can start out with a $10,000 deficit going into a tour, and that was prior to these changes. 
These bans really add a burden of expense to artists. So the thought of coming here is less attractive. Therefore we are kind of looking at this situation and thinking we're not going to see as many international artists who are going to be willing to come to the States. 
There have been a lot of reports in the international press about folks coming into the U.S. from places that are not on the list of six restricted countries who are being detained - even with valid visas. That's a very disturbing thing to hear as an artist who perhaps prizes his or her ability to speak freely and move within legal channels to promote their work. So I think we're looking at a very sad time where there's going to be a lot of restrictions on what U.S. audiences get to hear.
Kyle: I recently performed at a fundraiser for Exodus Refugee that Rock Paper Scissors hosted in Bloomington. The event featured a live performance from the incredible East African group The Nile Project, and it's my understanding this was the first public event RPS has hosted in the company's history. Within the period of a month RPS hosted this event in Bloomington, and is now co-sponsoring this SXSW showcase. What's motivating RPS to take this more public role in speaking out right now? 
Tristra: We work with people from all over the world on a daily basis. These people are our friends and colleagues, and people we respect and love very dearly. Sometimes it feels like there's a limited set of perspectives about what's going on right now. We see that there's a lot of misunderstanding and misinformation about many sides of this issue. 
So as a company we felt compelled to open up our world a little bit and create an event where people could come in and get a sense of what our world is like, which seems to be very different from many Americans who haven't had a chance to really interact with people from the Middle East, or Muslim majority countries, or even people who are refugees from other parts of the world - be they from Guatemala, or the Congo, or other places. 
So our hope for creating the event in Bloomington was not only to bring people together who feel some kindred concern about the way refugees are being portrayed and discussed, but also to say "Hey, there's a different way to look at this. We don't have to slice this problem this way. There are other values that we can also talk about in relation to immigrants and refugees. "
My hope is that Indiana can acknowledge its global connections, and feel more compassionate, interested and curious about other parts of the world. I think that's a key consideration for our economic development as well. 
That event was really about bringing together some of our close friends and colleagues from The Nile Project and give anyone from our community in Bloomington an opportunity to hear them. I heard there was quite a moment when the power went out in the middle of the concert due to a storm here in Bloomington, but the band kept playing. I think that's a great example of what many people around the world are trying to do. When the lights go out they don't stop making something beautiful. They don't lose their hope. They don't lose their direction or their drive. They keep going. That's my hope for our country, that we can continue to go forward. Even if we feel like we are in a period of darkness or confusion, we can move forward knowing that there is always a light and a way. I guess that's one of the messages we wanted to convey and natural circumstances conveyed it really poetically that night.
Kyle: Finally Tristra, I want to ask you a question I've asked nearly everyone I've interviewed this year. What role do you think music can have in affecting change during these tense political times? 
Tristra: Music like any medium can be used in a variety of ways. At a time when everyone is perhaps feeling rubbed raw, music can soothe and keep us energized. Music can get us to dance and move our bodies and let go of some of our anxiety and stress.
I think it's very difficult to hate someone who just made you shake your booty, it's possible and America shows it's possible with the history of African-American music. But if you consider seriously that there's another human being making the sounds that are touching your heart or getting you on the dance floor, once you've made that connection it's really hard to break it in your mind. 
I think music has a definite role to play, not only in forging communities, but also in raising spirits and presenting alternative perspectives. Music is a very emotional art form, it can touch the heartstrings in a powerful way. I think there are a lot of people out there who haven't maybe considered these issues deeply, and who haven't had a chance to really engage - maybe they're afraid to engage. But being moved is one of the first steps to reconsidering a problem that perhaps seems so thorny or remote that you don't want to have to deal with it. My hope is that music can really shift the conversation in its own small and gradual, but potent way.