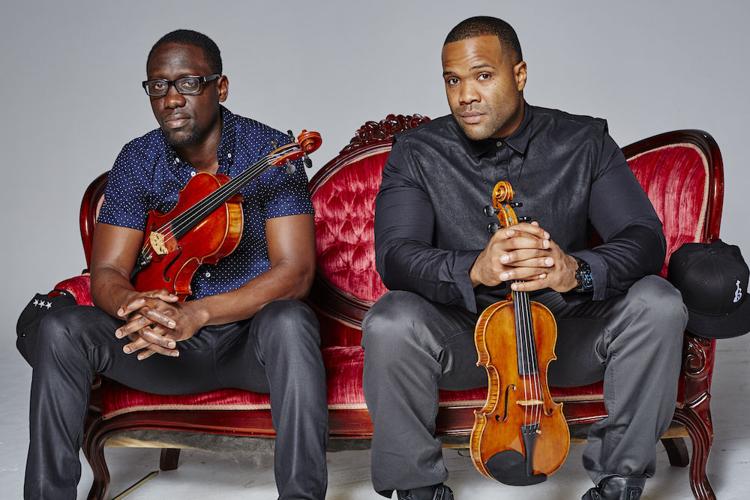 Black Violin have been perfecting their blend of hip-hop beats, with classical music instrumentation for ever a decade, but the group's founding members go back even further. Violist Wil B met violinist Kev Marcus while both were attending the Dillard High School of Performing Arts in Fort Lauderdale, Florida. The pair's unique musical bond has been growing exponentially over the years. To date Black Violin have racked up three album releases, and collaborations with artists ranging from Kanye West to Alicia Keys. 
Beyond purely musical concerns, Black Violin are on a mission to amend misguided stereotypes about classical music, hip-hop and race. That agenda has pushed the group into a heavy schedule of educational outreach, and Black Violin have performed for more than 100,000 students in North America and Europe over the past twelve months. And it's educational outreach that brings Black Violin to Indiana this summer, they'll be performing Thursday, June 29th at Muncie's Emens Auditorium for the Music for All Summer Symposium. Tickets are available at camp.musicforall.org/concerts or the Emens Auditorium ticket office.
I spoke to Black Violin's Wil B via phone in advance of that Muncie date.
Kyle: I've read that you and Kev named the group after the 1965 album Black Violin by the great jazz violinist Stuff Smith. I'm a fan of his, and that album contains some exceptionally beautiful music. I'm curious what it was particularly about that record that moved you so deeply?
Wil B: Before we heard that album we'd always done classical music. We were dabbling with other forms of music, you know, if we heard something on the radio we'd try to play out for fun. But we thought of the violin as being a classical music instrument. So when we heard that album, it kind of opened our mind to using the instrument in other ways. That album broadened our minds a bit. 
I remember Kev calling me and saying, "I want you to listen to this album." I was at Florida State at the time, and I listened to it, and it just kind of opened my mind. It was the way he was moving around on the strings and sliding. His whole approach was very different. It's a very soulful album. It was a sound we'd never heard before, so that inspired us and really made us think that we could do something different with that instrument. 
Kyle: Was that experience of discovering that Stuff Smith record something that inspired you to dig deeper into the history of the violin in the United States? There was a time when the violin had a significant role in black popular music, from string bands like the Mississippi Sheiks in the early 20th Century, up to the 1960s and '70s with jazz musician like Billy Bang or Michael White.
Will B: Absolutely, that was important for us to know, and helped us confirm some things we'd always thought. Listening to Stuff Smith, and some of those other artists, inspired us to be ourselves on an instrument that's often been perceived as being for just one particular type of style. 
Kyle: Black Violin's most recent LP is Stereotypes, which came out in 2015. The album's title track is an important commentary on cultural stereotypes about race and music, particularly I think classical music. You've been touring on this record for a couple of years now, and I wondered what kind of reaction you've been getting to opening up dialogue on this subject?
Wil B: The reaction has been pretty good, and pretty inviting. If you come to a Black Violin concert you'll see all types of people in the building just listening to great music. It's a group of people that probably wouldn't be in the same room together unless they were at a baseball game. That's amazing to see, and when everybody is there we have an opportunity to engage with people, and open up the conversation a little bit. We're not onstage literally having a conversation with the audience, but for instance, we have a song called "Invisible" where Kev does a monologue about how we came up with the song, and its purpose, which is to tell people that you're not invisible. If there's anything that you feel strongly about, you've got to scream out, and be loud. We have moments like that during the show. Our show is just very inclusive, all types of people are there having a good time. So I think the message has been received very well. 
Kyle: Classical music is so entrenched in tradition, in both positive and negative ways. Have you found the influential figures in that world are receptive to having these conversations about representation, and stereotypes in classical music? 
Wil B: I haven't had a lot of conversations with the prominent figures. I have a lot of conversations with the teachers and radio personalities. Everyone that I speak to that's at the forefront of trying to resuscitate classical music — and honestly it's kind of fading away around the country — the conversation is always, 'How do we engage kids? How do we engage people in this art form?' I think one of the main things we do is bridge that gap between these different worlds. You know, a kid that's eight-years-old coming to our concert will now be open to listening to a Beethoven symphony, where he may never have been inclined to do so before. 
It works in the reverse way with hip-hop also. There's stigma and very negative opinions attached to hip-hop. We're showing people that this art form is incredible, it's beautiful, it's about love, and expression and being yourself. It's about loving who you are. 
The worlds of classical music and hip-hop are very different, but it's always interesting having this conversation, because, at the end of the day, we need to be able to educate listeners. We need to be able to educate the kids, and show them how beautiful the art form is, and that they can truly be themselves with the art form. 
Kyle: I'm a DJ, and one of the things about Black Violin's sound that struck me was how perfectly the sound of the DJ scratching meshed together with the intense riffs, and shredding from your viola and Kev's violin. After hearing your music, it sounded like those two voices were meant to be together. Could you talk a bit about the role of the turntable in your music, and do you also feel like these two sounds blend together perfectly somehow?
Wil B: They do, and I think a lot of that has to do with our upbringing being immersed in hip-hop, and also happening to play the violin and viola. When you think of hip-hop, you think of a DJ. So for us, having a DJ in our group had to happen. It's amazing taking these sounds from two different worlds and putting them together in a way that is seamless. We're not necessarily forcing anything, it really comes naturally, it's organic because of our upbringing. 
Kyle: And DJ SPS is still the turntablist for Black Violin?
Wil B: Yes, it's still SPS. He's amazing. He's a battle DJ. He's someone you can call a true DJ. 
Kyle: We have we have an extraordinary turntablist here in Indianapolis. His name is DJ Topspeed, and he's a real local legend. I always cite Topspeed as one of my favorite musicians, and that statement has generated a lot of arguments, and conversations about whether a DJ can be even classified as a musician. You're obviously a very highly trained musician who has devoted his life to studying music, and performing music. What are your thoughts on this question: is a DJ a musician?
Wil B: Absolutely, a DJ is a musician. Absolutely. People who argue that just don't understand. They don't understand the creativity of the art and expression. You take DJ SPS for instance, he'll start scratching a saxophone melody on top of a beat, and it just makes sense. I can't do that! I can't play that instrument the way SPS does. He's a musician. It's funny, because I tell him that all the time. He could pick up any instrument and be successful, but he just loves DJing. 
Kyle: I know you and Kev both grew up in Florida. Florida has a very unique tradition of hip-hop music, as does the South as a whole, obviously. On that subject, I believe one of Black Violin's first appearances on record was a 2005 single by the Georgia rapper Bone Crusher, the track was "Wood Grippin'" featuring the Youngbloodz. Is there a strong influence from Southern hip-hop on Black Violin? 
Wil B: That's right. [laughs] That's funny. Yeah, we were in the studio with Jim Johnson, and at that time we really hungry trying get into the scene. The thing about us is that when you put us in the booth, we just orchestrate right then and there. So a lot of producers love that. 
Our influence with Southern hip-hop just comes from growing up in the South. I mean granted, South Florida isn't particularly the true south, but it still has that Southern twang nonetheless. Growing up we were listening to Outkast and Trick Daddy, and all those Southern groups. The influence is definitely there, and if you hear our first album there are a lot Southern influences. 
Kyle: One of the things I love about Black Violin, is that in true hip-hop fashion, you've released a couple mixtapes. Black Violin issued the two volume Unleashed mixtape series, in 2006, and 2009 respectively. Do you have any plans on returning to the mixtape format, or are you more focused on issuing official albums the days? 
Wil B: That's funny because Kev and I had a conversation about that like a month ago. We should go back to releasing mixtapes. It was fun doing it. I think we'll do that. With the mixtapes there's less politics, you're free, and you can just throw anything on there and see what happens. I think that's something we need to go back to doing. It's funny you ask that, because I was trying to listen to some of these old mixes online and I couldn't find anything, which is hilarious. I need to go back, and really research, and see if I can find something in one the boxes in my house. 
Kyle: The pianist Robert Glasper appeared on Black Violin's Stereotypes album. Glasper has done a lot of amazing work blending hip-hop with jazz, and he's part of a much larger movement of contemporary artists, from Flying Lotus to Kendrick Lamar, who are working to expand the boundaries of hip-hop. Black Violin's work certainly falls into that category as well, and I'm curious if you have any thoughts on the future of hip-hop you'd want to share? 
Wil B: I'm optimistic in terms of hip-hop. To me, if we can get back to the true essence of the art form, and the expression, then hip-hop will be in a good place. You just mentioned some amazing artists, and Kendrick Lamar is one of them that I think embodies what it means to be an artist. I feel like in his albums, you really get a good understanding of who he is. He's not trying to be anybody he's not. He's not trying to do something that is unnatural. So I'm optimistic about where hip-hop is going.