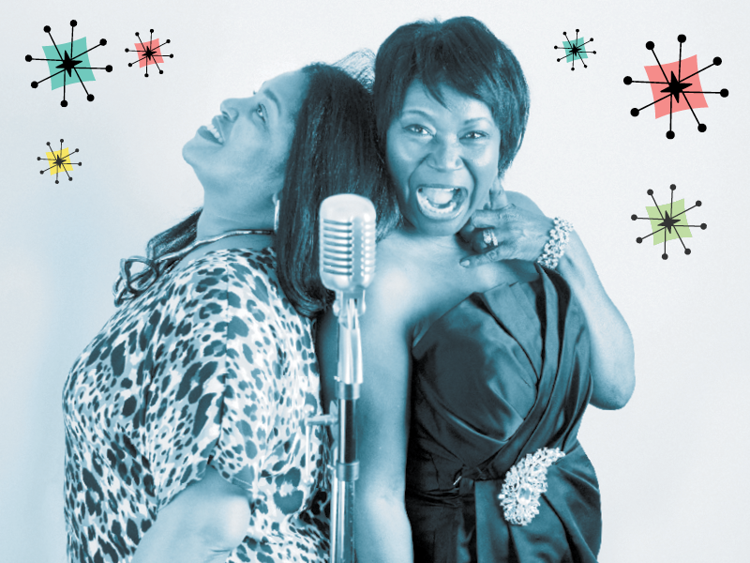 Read more about Indy Jazz Fest 2017 here. 
Yvonne Allu says, "Ella Fitzgerald is the template and footprint I go to when I approach, research, present a song. The quality of her voice and true melody — not so much how it's sung for any song, but for bringing out the story.
"She was the first lady of song; her music is beyond jazz. This is a tribute to the woman who represented so many styles. As a group we will cover that broadness and depth. She was not afraid to step out of being 'queen of jazz;' she nailed that and explored other genres; she explored fully."
Brenda Williams and Yvonne Allu are part of the foursome, with the IJF Band, bringing forward interpretations of the songs most associated with the artistry of Ella Fitzgerald.
The 4:15-5:30 p.m. set on Sept. 23 is at the Jazz Kitchen. I spoke with Brenda and Yvonne on the phone, on Sept. 15, to learn how they have been preparing for the tribute.
"We have already done the groundwork for this tribute, following in her footsteps from the start of our careers," said Brenda Williams. "From Ella, I learned how to command my audience; it has been my role not only to honor it but pass it on. Ella shed her shyness and fears when she stepped on stage. The audience fed her. The more you feed, the more energy comes forth.
"I am living the life she led as a performer, to hold you and tell a story. Her abilities as a storyteller are at the forefront. Audience members have told me, 'When you sang that song I've heard for years, a new aspect of the story came out.'"
Williams added, "We all chose our songs, researched them and have our personal stories to tell about why we chose that song and how we put our own personal stamp on it."
At the Sept. 14 program IJF 2017 kickoff, Allu presented Fitzgerald's iconic "Summertime" with the IJF Band, particularly partnering with Ernest Stewart on trombone.
"Ernest thought it was magical; I thought it was magical," confessed Allu, "An audience member told me, 'I heard you sing in a way I never heard before.' It was everything I wanted to represent about Ella. She was not just upfront, she was part of the weaving on stage with all the players; she was part of the music with each player, feeding each other."
"Ella is essential to my own artistry; women performing in this world of mostly male musicians have to take on a certain quality," said Williams. "I wake up in the middle of the night and think about how I presented a song and how I can do more with it. I'm a performing artist, not just a singer standing in front of a band. I can walk out on any stage with any band, with a rehearsal or not, [like Ella] I'm making everyone comfortable."
"We all bring something different to the program; we bring something different every time we step out on stage. I'm learning every time I work; I'm a student of the work," added Allu.
"I just would like everyone to come out and experience us doing Ella in our own way; discover something about being Ella at different points in your life," Williams says. "It's a privilege to be part of working with all the players [of the IJF Band]."