After pouring himself into 2017 album Black, Indy alt-pop artist Wolfi wanted the project's follow-up to continue down the same heartfelt path but with a slightly brighter lens.
"I think one of the defining characteristics of Black was that it was so personal and honest," says Wolfi, whose real name is Emerson Vernon. "I'd been writing a lot of songs these last two years. But if they didn't make me cry or feel something, I didn't want to put them on the album [White]."
On Jan. 1, Wolfi unveiled White to the world, starting off 2020 fresh. Having found a great deal of success on streaming sites in recent years, Wolfi continues this trend with White, seeing as several songs from the album already have well over 100,000 plays on Spotify in under a week.
Prior to the release of White, our Seth Johnson caught up with Wolfi for an in-depth interview, discussing all that led up to this point in the artist's career. Read the full conversation below.
SETH JOHNSON: I always like getting a little bit of background on artists to get things started. Tell me a little bit about where you grew up and how you first got into music.
WOLFI: I grew up in Indianapolis. My parents were really musical. My mom was an opera singer. She studied voice at IU, and she still teaches music at a middle school. My dad played classical guitar. He got me into that at a young age, so I learned "classical music," I suppose.
As I grew up, I always wanted to get into music, but I didn't think I was very good at singing. So I started out producing. I was really more of an EDM artist, and that's how I got into the scene. I played a showcase at Old National Centre and met a lot of hip-hop artists there. I met Mula Kkhan, Fazle, and some other guys.
At that point, I went by the name Young Luv, and I thought I was going to be a rapper. But then, I released my album Black. It started to get some traction, and I didn't see myself pursuing rap very seriously. So I changed my name to Wolfi about two years ago.
JOHNSON: Your exploration of different genres is very interesting to me. I'm particularly curious to hear how you went from a classical upbringing to EDM production
WOLFI: I saw Jesse McCartney on the Disney Channel when I was like 7, and I told my dad I wanted to play guitar. He was like, "Okay great. We'll hook you up." But he hooked me up with classical lessons, and I wasn't into it. Nowadays, I actually kind of am because my taste has matured.
I was just always really into music. I formed a band out of my high school drumline mates, but we just weren't very good. My parents hated it, so I basically was forced to quit.
After that, I was like, "I still want to do music. I've gotta figure out something." I found Skrillex and was like, "He does this all on a computer? That's crazy. I can do that." So that's how I started. I was like, "I can just do this by myself," and that's how I've always kind of been. I started doing that but aged out of EDM. It just kind of got stale to me and I really grew to love other genres.
JOHNSON: You mentioned some of the rappers you linked up with at that Old National Centre show. Tell me about some of the other people who have helped in your growth as an artist leading up to this point.
WOLFI: My first song as a singer featured Ejaaz, which I thought was really cool. At that time, Chreece 2 had just happened. I was watching the recap, saw Ejaaz, and was like, "This guy is crazy." So I reached out and asked him for a feature. I thought that was really cool.
I have these albums Black and White, but I also have a third one called Grey I released under Young Luv and that had so much Indianapolis talent on it. I had Scotty Apex, Mark Battles, Poindexter, Fazle, and a couple other people. I just love incorporating rap. And to be honest, I kind of went and found these people myself.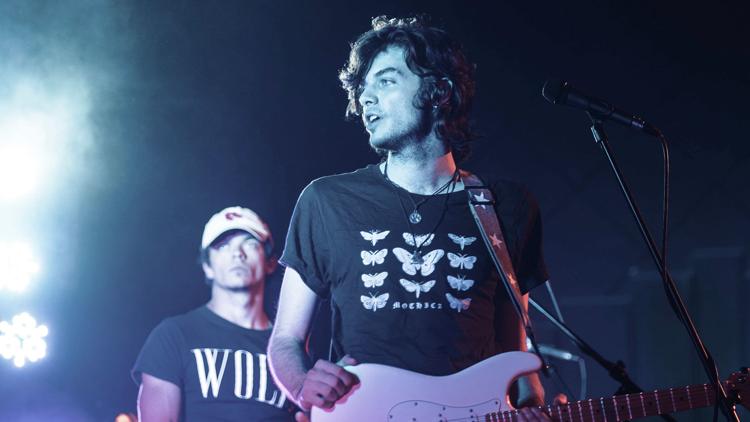 JOHNSON: This is a bit of a side note, but what about Indy's hip-hop scene excites you at the moment?
WOLFI: I don't know if I can describe it. I just think it's really cool that other people here make music. I could never find a pop scene, and I didn't quite fit into the alternative scene. I really love hip-hop, so I guess that's just what I connected to the most. StoneTree Studios [where Wolfi works as an engineer] was the artist VIP lounge for Chreece this year, and it was like Christmas.
JOHNSON: Your latest album, White, came out on Jan. 1. Tell me about the process that went into it.
WOLFI: I made Black two years ago, and it got some traction. I was like, "I have Grey and Black, so I really want to make White." The hardest part about it was just figuring out what "white" meant. On Black, I was feeling really lost and sad. So I was like, "If I write this album, I want to make sure I'm in a good state."
I started writing it in November 2017. There are 12 songs on Black and 12 songs on White, and every song on White is inspired by something from Black. I wanted it to be a literal sequel. I would take the themes from Black, and I would ask myself, "What can I show growth on?"
JOHNSON: You mentioned how the songs on Black and White reflect on each other. Can you give me an example of that?
WOLFI: I like to focus on what saves people. [I think] different things save people at different points in their life. My favorite song I've ever written is "This Guitar Saved My Life." That was on Black, so I wrote a song called "faith" [for White]. My dog's name is Faith, and she gets really scared during thunderstorms. So I'd play that song for her on the ukulele in the bathroom. [laughs]
But I think I definitely found a lot of faith in everything: in people, in myself and in God. So the lyrics are, "If faith can make amends and save mankind from impermanence, then maybe it can save the two of us." So that's just one example. Music used to save me, but now I've found a broader radius of things that do.
JOHNSON: Last but not least, I guess I should ask you the significance of your artist name. Why do you go by Wolfi?
WOLFI: There are a lot of things that go into it. But at the end of the day, it's really a gut thing that I just wanted to be called. I wanted a name I could be easily addressed by. Before I even started making music under Emosahn [a former EDM moniker], I had a very, very short time period where I went by The Howl. I used to even carry around a stuffed wolf in school, so I just always liked wolves.
I also like the concept that wolves are sonically connected. If one howls, the other howls with it. I do basically everything by myself too, which goes toward the whole "lone wolf" factor. I just think it's a cool name.