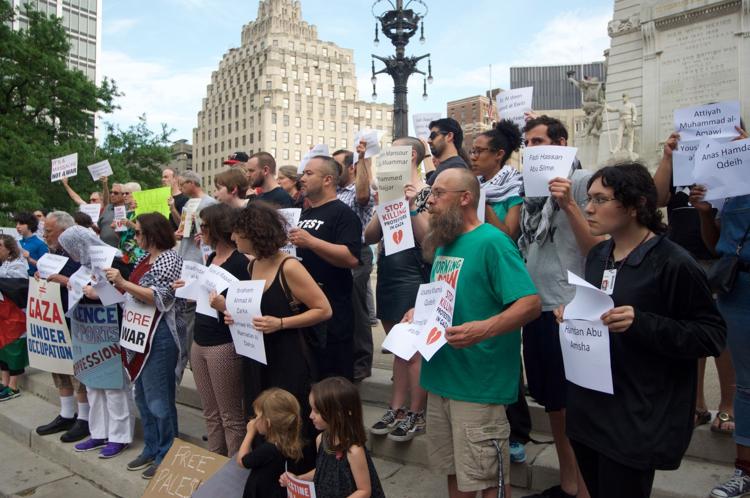 During the early evening of May 15, some 50 Hoosiers gathered at Monument Circle to observe Nakba Day. The vigil was organized by the Muslim Youth Collective, American Friends Service Committee, Jewish Voices for Peace, and Students for Justice in Palestine.  
Nakba Day marks the displacement of 750,000 Palestinians from Israel during the 1948 Arab-Israeli War. It is generally observed on May 15, the day after Israeli Independence Day. (Nakba is an Arabic word for catastrophe.)
The day previous, an American delegation including Ivanka Trump and Jared Kushner opened the brand new U.S. Embassy in Jerusalem. It was no coincidence that the embassy opening took place on Israel's 70th anniversary. May 14 was also the day that Israeli Defense Forces opened fire and fired tear gas from Israel across the border fence at protesting Palestinians in Gaza, killing 58 and injuring at least 1,200. Among the dead are five minors and a paramedic, according to The Guardian.
When Umaymah Mohammad, a vigil organizer, began to speak, she began by referencing the violence in Gaza, but quickly segued to the desire of the Palestinians to return to Israel.  
"It's hard to describe what my heart feels, to describe what it's like to wake up every few days with another list of Palestinian, unarmed dead Palestinians and watch the world ignore [while] people suffer," she said, her voice amplified by a megaphone. "But I'll do my best to leave you and my Palestinian siblings with something to take home. Today is a day of rage. Today millions of Palestinians in the diaspora are waiting to come home."
While Palestinian citizens of Israel make up roughly 20 percent of Israel's population—not including Palestinians in the West Bank and the Gaza Strip— the number of Palestinians in the diaspora numbers more than 6 million. These diaspora Palestinians include many of the descendants of those made refugees by the 1948 Arab-Israeli War. Israel bars all diaspora Palestinians from returning and taking up residence within Israel, including those from the adjacent West Bank and Gaza.  
The vigil on Monument Circle included other speakers including Umaymah Mohammad's 16-year-old sister Salma, a student in Hamilton Southeastern High School. She read a poem called "White Noise." The subject of the poem, she said, was about how news about Palestine, and Palestinians, tends to get drowned out. "Even when there is media coverage on Palestine we often ignore it," she said.  
A young boy, 11-year-old Yanya, (who preferred not to give his last name), also spoke.  
 "There are so many people who don't even care that these things are happening," he said. "But when you ask people, they'll be like 'I don't even care.' These people will be worried about Kim Kardashian and all that stuff."
In between speeches and poems, there were chants from those at the vigil of "long live Palestine," and "down with Israel."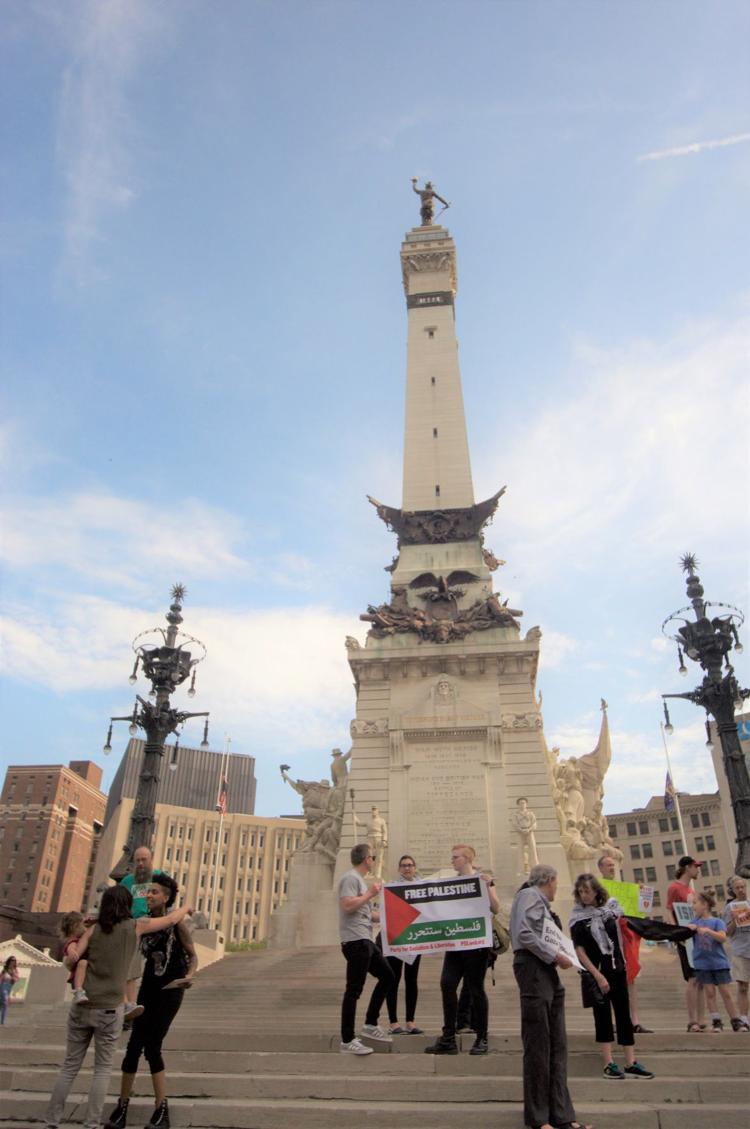 Many of those standing on the steps of the Monument Circle held placards with the names of people killed during protests along in Gaza along the fence separating it from Israel.
After the speeches were over there was a ten minute stretch of silence for those who died, and then the protest was over.
We had no other choice
On May 16, the Israeli government's Deputy Minister for Public Diplomacy Michael Oren, in an interview with NPR laid the blame on the recent deaths in Gaza at the feet of Hamas, the organization that has been in control of Gaza for the past 12 years.  
In response NPR's Ari Shapiro asked if he thought the Israeli military's response was proportionate and justifiable.
Oren replied with the following:   
"I think it was inescapable. I think we had no other choice. We had 40,000 people coming toward our border. On the other side of the border is our civilians. This is not a peaceful protest. According to the organizers, according to Hamas, the protest was designed to break through the border, to kill Israelis and destroy our country. So it's not the image of, you know, the civil rights movement here."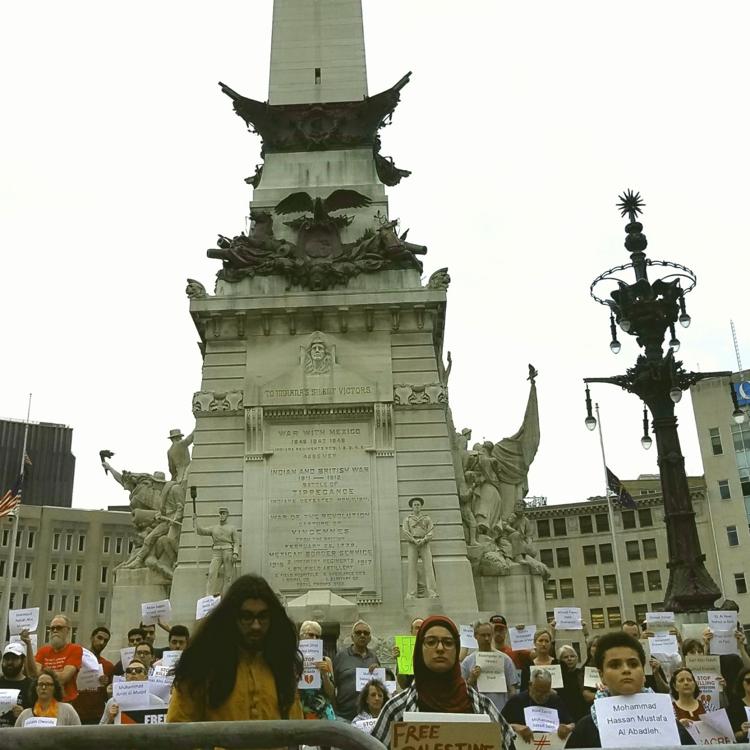 According to Hamas, the protesters who were killed were unarmed, a point that Shapiro noted during the Q&A. Oren disputed this point. What is indisputable is the fact that no Israelis have been been killed during these border incidents.
Also not a subject of debate are the goals of the participants in the Great March of Return protests along the Gaza fence, protests which started two months ago. The demands of the marchers are not only an end of the blockade on Gaza but a Palestinian right-of-return to Israel.
To be Jewish does not mean to be Zionist
Not all American Jews agree with the ongoing blockade of Gaza by Israel, a result of which has been shortages in building materials, general infrastructure, electricity, medical supplies and food. The blockade has been in place since Hamas—designated by many countries as a terrorist organization—came to power in 2007.  
Malkah Bird, 39, a chapter leaders for Jewish Voices for Peace, opposes the blockade. She was on hand for the vigil.
"To be Jewish does not mean to be Zionist and to be Zionist does not mean to be Jewish as we know," she said. "There are Christian Zionists who spoke yesterday at the embassy opening. Jewish values tell us that we are supposed to seek justice... heal the world, tikkun olam, and so its not only in spite of being Jewish that we believe in this but because we're Jewish that we support this cause…  These killings are being done supposedly in our name but we don't agree with it at all."
Tatjana Rebelle, 38, a member of the the American Friends Service Committee, was also in attendance. "My main goal is to also link to what's happening in Palestine to communities of color here in the United States... with Ferguson and Baltimore," she said.