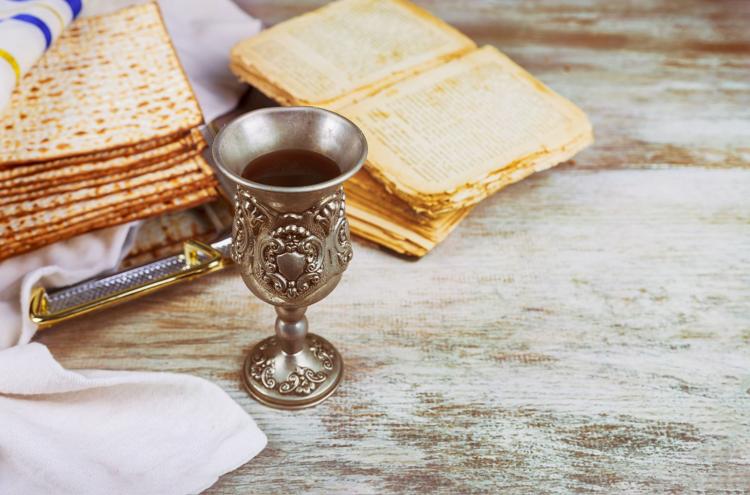 Last Friday I was invited by Mark Sniderman, a chapter leader of Jewish Voices for Peace Indiana, to a Passover Seder on the first night of the holiday. I brought my former wife, Katya, our daughter, Naomi, and her son, Yoel. Despite Katya's committed Christian Zionist beliefs, she seemed OK with going to what I described to her as, essentially, a non-Zionist Seder.
I was more than OK with the idea. I was excited to participate in a Passover Seder, as I have fallen off with most Jewish observance in the past few decades.
The story of Passover with all of its drama, with Moses leading his people from slavery in Egypt  — as visualized in the film, The Ten Commandments — resonated with me from an early age. I have to admit, though, that the Charlton Heston vehicle wasn't quite up there with Star Wars, for me.
I also like the fact that the observance takes place around a dinner table, and not in a synagogue. Passover has, in fact, always been my favorite holiday. This, despite the fact that my family traditionally celebrated the holiday in an abbreviated — almost perfunctory — fashion. My father's preference was to speed through selected portions of the Haggadah to get to dinner faster. One of the four questions was frowned upon even to ask: It was the one about why we recline in our chairs during the Seder. The one where we recall our slavery in Egypt and appreciate the fact that we are now free. But we were never free in the Grossman household to slouch at the dinner table.
As I grew older, I saw how the story of liberation was appealing not just for Jews but also for African Americans in their struggles with slavery and Jim Crow. The story of Exodus is, of course, referenced in the speeches of Martin Luther King Jr. Both Jews and African Americans have partaken of both the bread of affliction and bitter tears, symbolized on the Seder plate by matzah, bitter herbs, and salt water.
In a 2014 article in The Atlantic, "Passover, the Jewish Holiday for Gentiles", Lauren Davidson writes the Christian appreciation for the holiday's resonances. The Christian communion, after all, describes Jesus' last Seder.
But the story of Passover transcends religious affiliation; accordingly, a number of Seders that I've experienced had a healthy presence of non-Jews.
The story of Passover in America is also the story of assimilation. It's common for American Jews to invite the non-Jewish friends to their Seders. And then, as many American Jews are intermarried, their in-laws wind up at the Seder table as well.
My most memorable Seder happened abroad.
It took place in Niger, West Africa during my Peace Corps service, in a town called Malbaza which was the home of the country's only cement factory.
I should say that Niger is a predominantly Muslim country without a single synagogue.
The Seder was at the home of a fellow Jewish volunteer. One of the guests was a local government functionary, who at one point in the Seder, looked at the red wine we were all drinking and said, "It's blood water."
One of the Jewish guests took offense when he said this. She compared the remark to the historic blood libel that Jews had suffered through the ages, when surrounding gentiles falsely accused Jews of using the blood of local children to make their matzah.
I thought this guest was overreacting. I didn't see it as anything more than an off-color joke that had more to do with his unease in an unfamiliar situation, and I told this woman as much. (I eventually wrote a prose poem based on the experience.)
As a volunteer, I was initially hesitant to mention my Jewish background to my host family. But before I went to this Seder, I told my landlord, Halilou, where I was going and why. Halilou, who was a devout Muslim, seemed delighted that I wasn't (entirely) a heathen, and that I was going to a Passover Pesach: he was familiar with the term.  
I had discovered pretty early-on that the Israeli-Palestinian conflict was not an issue that most people thought about in Niger.
I should also say that he early '90s, when I was a volunteer, was a much more hopeful time in the Middle East. Twenty-five years on, the politics in Israel have swung way to the right —  consider the recent passage of the discriminatory Nation State Law — and it seems, way past the point of return in terms of any hope for a Palestinian state side-by-side with Israel.
Most Palestinians long ago lost all faith with the peace process and with the notion that the U.S. might be a neutral arbiter between the parties. What may be more surprising though, from an outsider's perspective, is the rift that has opened up between American and Israeli Jews.
It may be simplistic to say that all Israeli Jews love Trump, but his move of the American embassy from Tel Aviv to Jerusalem was widely celebrated in Israel. 
It may also be simplistic to say that the majority of American Jews hate him. But it's definitely beyond debate that the majority of American Jews hate his scapegoating politics. That is, Trump's "very fine people on both sides" remark in the wake of Charlottesville upset many American Jews who don't consider Neo-Nazis chanting "Jews will not replace us" to be very fine people.
The rift is bound to get worse, according to the Jerusalem Post's Gil Hoffman, who gave remarks at press luncheon I attended last November.
"The gap between Israelis and Americans in general and Israelis and American Jews in particular is only going to widen as long as Trump is president," he said. "Any efforts to heal that rift will fail right now. Why? Because he's a divisive figure and he's in charge and Israelis will continue liking him."
According to a CNN exit poll taken after the 2018 midterm election, 76 percent of American Jews voted for Democrats, while 17 percent voted for Republicans. 
The leftward-most American Jews on the spectrum are represented by Jewish Voices for Peace. They have thrown their support behind the Palestinian-led Boycott, Divest, Sanctions Movement against Israel.  
The goal of BDS is to inflict various forms of boycott against Israel until it ends its occupation of Arab lands, grants equal rights to Arab-Palestinian citizens of Israel, dismantles the separation wall, and allows Palestinian refugees to return to their homes in Israel.  
Which brings us back to the Passover Seder at the Snidermans. Mark Sniderman, as I mention in my article, "The Politics of Hummus," has had a leftward journey politically over the past 10 years, spurred on by Operation Protective Edge (in 2014) and other Israeli incursions into Gaza, and his loss of faith that there was any hope left for a two-state solution.
Yet, the Passover Seder we experienced there was, in some respects, very traditional. The particular Haggadah that we passed around the table, featured snippets of the Exodus narrative, prayers in Hebrew, and the four questions like any Passover Haggadah.  
The text, however, transitioned somewhat as we moved through it. We began reciting passages that were less about Pharaoh and more about how Palestinians were tasting the bread of affliction and tasting bitter tears. At one point we dipped our fingers in the wine and tapped them on their plates to symbolize 10 plagues experienced by the Palestinians since 1948. That was the year of what the Israelis call the War of Independence and Palestinians call the Nakba, when 700,000 Palestinians fled or were expelled from their homes by the nascent Israeli Defense Forces.
Having visited Israel in 1994 and 2003, I have some sense of the situation on the ground there. While I've become disillusioned with Israeli politics, and sickened by the ongoing indignities, displacement, and death caused by the occupation of the West Bank and the repeated incursions into the Gaza Strip, I can't say that I find myself all the way in the JVP camp.
As for Katya, it was fortunate that she didn't have her reading glasses with her on the second go around of the Haggadah readings, when it was her turn, because she was experiencing a little bit of cognitive dissonance. Aside from her belief that Israel is the Jewish promised land, her mom has lived in Israel since 1996. So Katya passed over the reading portion, as it were, to the person sitting to the left of her.  
The Seder ended with the traditional call "Next Year in Jerusalem."
This call was not just for Jews but for Palestinians as well, especially those who want to return from their exodus to an unoccupied promised land.