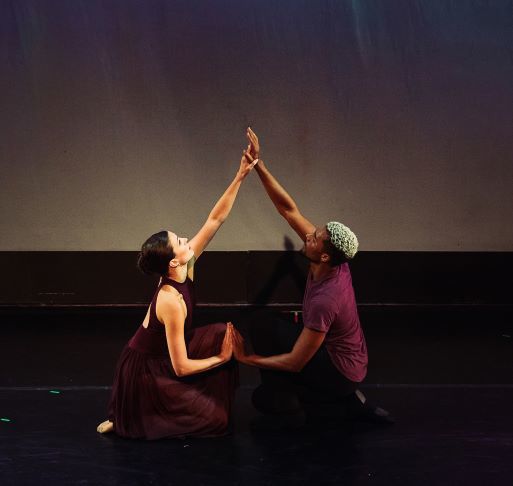 This mixed bag of dance—including tango, contemporary numbers, and duets—serves as a great introduction to Indianapolis Ballet, starting its first full season this fall.
The first performance "Kalimba" is a solidly contemporary piece featuring six of the company's male ballet dancers. You might think this piece aggressively masculine by the virtue of it being all male, or you might just think it a great contemporary piece that flows as smoothly as the music by "Mr. Scruff" to which it's choreographed. Either way, it's good to see dudes, lots of dudes, doing ballet as naturally as linebackers running down the field in your typical Colts game.
One of three dances choreographed by founding artistic director Victoria Lyras is to the tune of "Milonga en el Viento" by Pablo Ziegler. It's from his album Tango Meets Jazz. This dance could have just as easily been called Tango Meets Jazz Meets Ballet. The six pairs of sleek, stone-faced dancers moving across stage certainly seemed to combine all those influences. Rumor has it that Lyras wasn't going to include this particular piece in the program until she was cajoled by her friend IndyFringe Director Pauline Moffat to include a tango-flavored piece.   
Anyway for me, my favorite pieces were the duets; "Le Corsaire" featured Indianapolis ballet notables Chris Lingner and Yoshiko Kamikusa. Lingner's performance was particularly athletic. He radiated an intense glow of confidence while Kamikusa moved with such skill and grace that her feet seemed barely to touch the stage floor.
"The Path is Seldom Straight"—choreographed by Dance Kaleidoscope's Mariel Greenlee— didn't have the acrobats of "Le Corsaire." The duet, featuring Kristin Toner and Khris Santos, was a quieter piece. The dancers radiated genuine emotion, conveying the fraught negotiations that come with any loving relationship.
Beyond Ballet takes its audience into the realm of contemporary dance, but it also makes the case for traditional ballet as a vital component of the Circle City's art scene.