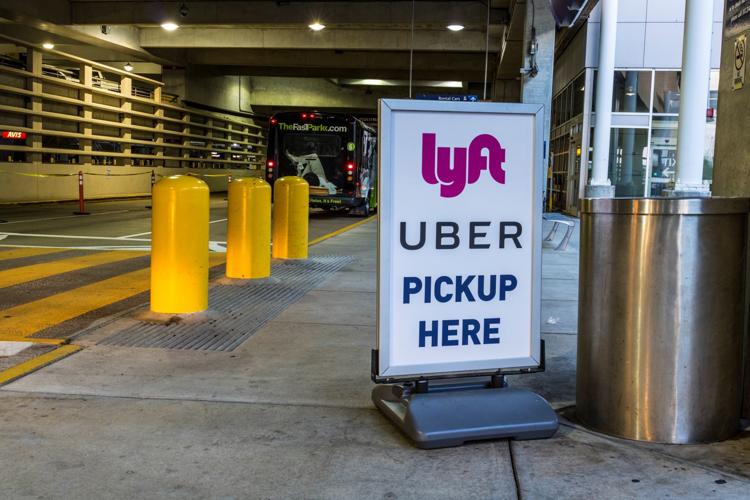 I first started driving Uber in the summer of 2016. At that time, I had just lost a job and was desperate for any source of income. Uber gave me the ability to get on the road and start making money almost immediately. That's a powerful incentive, with enormous appeal.
Considering the appeal to riders, as well — anyone with an app can summon a ride, often within minutes — and considering its enormous growth over the past decade, it might not surprise you that, when Uber went public Friday, May 10, it did so with a valuation of $82 billion. This monetary figure, however, has more to do with the ubiquity and popularity of Uber than it does with its potential for long-term profitability.
I wasn't too fixated on Uber's long-term profitability when I scored my first ride as an Uber driver. I picked up a suited dude and his friend outside Scotty's on Main Street in Carmel. I drove them a couple miles to the Renaissance North Hotel. They were pleasant enough. The dude who paid for the ride worked for Erie Insurance, he said, and his company sold rideshare insurance, and recommended that I buy such a policy because Uber's supplemental coverage only goes so far. (It's a good idea, but I was covered by another insurance company that didn't offer this add-on coverage at the time.)  
After they left my vehicle, I looked down at my app and was confronted with the cold, hard rideshare reality: I hadn't even cleared $3 for the trip.
But the worst part of it: they didn't tip me — considering their choice of hotel they clearly could have afforded it — and neither did the vast majority of my riders going forward from that point. Tipping, I soon discovered, wasn't even an option in the Uber app.  
If you were an Uber rider and wanted to tip your driver at that time, you had to have cash. And, who carries around wads of cash these days?
Uber began as a tip-less culture, focusing on the needs of riders, not the drivers. Just consider that, before adding the tip app, Uber had this copy posted on their website: "No cash, no tip no hassle … When you arrive at your destination, just hop out — we'll automatically charge the credit card on file. And there's no need to tip."
Uber's largest competitor Lyft added a tip option to their app immediately after their launch in 2012. Uber didn't add a tipping function until July 2017, after the departure of its co-founder Travis Kalanick.
And yet, Uber's position on tips is still, in my view, problematic. They see tipping, along with the ability to give your driver a five-star rating, as one of "many ways to express your gratitude" and to "show your appreciation … for their excellent work, and it's always optional."
Except it's not optional, not from your driver's perspective. Your driver may be struggling with a mortgage payment or a medical bill at the same time he's needing to repair his brakes that squeal like Barry Gibb hitting a high note. Which one do you think he's going to make his priority? Do you really want to be part of the reason why he has to choose?  
Beyond the safety issue (and it's a BIG safety issue considering that neither Uber nor the state of Indiana require annual vehicle inspections) there's simple common decency. Your drivers are providing you a service at considerable risk to their well being. If they get you from point A to point B without incident, you should tip them just as you (I assume) tip your server in a restaurant, whose job is considerably less hazardous than that of a ride-share driver.
Let's just state the obvious: your driver isn't making much money doing ride-share. There are competing analyses on how lucrative Uber and Lyft driving can be. It depends on a number of factors including on where you live and what level(s) of service you provide as a driver. The surveys I've seen range widely.  
The best one I've seen so far is Ridester's 2018 Independent Driver Earnings Survey. Taken between May and July 2018, it drew on responses from 2625 American Uber (as well as a small percentage of Lyft) drivers. It found that the average driver take-home pay for UberX drivers, including tips, was $14.73 per hour. Indianapolis is the fifth worst city in the U.S. for Uber drivers in terms of compensation: drivers in the Circle City make an average of $9.04. Keep in mind, this take home pay does not factor in expenses, including insurance, gas, and wear and tear.
For the next couple of weeks, I'll be driving Uber almost full-time to fill in the gap between jobs. I'm just hoping I won't have too many drunk riders, scammers, and jerks to contend with. Not to mention the people who want you to do illegal shit like transport their toddlers without a car seat. (I cancel these rides without exception.) I've certainly had my fill of bad trips.
While there are things I like about Uber — the sense of being your own CEO is kind of intoxicating at times and I like meeting all different kinds of people — I don't consider Ubering any more than a payday loan type of solution to the long-term problem of my chronic underemployment.
I know that my gig economy dilemma is not unique, and neither are my feelings about rideshare compensation. The countrywide Uber strike on May 8 put a spotlight on the large commissions and fees taken out of drivers' compensation by the ride-share companies. If you take the Uber prospectus at its word — and, considering their $1.8 billion loss in 2018 — it's likely that the company will attempt to squeeze drivers even more in coming years as it attempts to achieve profitability.
In light of declining potential for decent driver compensation, tipping becomes even more important source of driver revenue. But, in convincing riders that they didn't have to tip for service, Uber did drivers an enormous disservice. In fact, by spreading the lie that not tipping isn't a slap in the face, Uber committed the original sin of the gig economy.
(For those who need Uber and truly cannot afford to tip, I have more sympathy.)
And yet, it's also true that tipping will not solve the systemic abuses in the American winner-take-all economy. I'm with Barbara Ehrenreich, author of Nickel & Dimed, whose advice is to "tip till it hurts …  Just don't feel too smug about it. By tipping you are acceding to an economic arrangement based on severe inequality. In fact you are subsidizing a company that profits from and perpetuates this inequality."
In this 2014 opinion piece from Time, Ehrenreich was talking about the service economy in general. Uber's historical stance towards tipping, from Ehrenreich's perspective, might be seen simply as an extension of this inequality. But Uberization isn't exclusive to rideshare, or even the sharing economy in general. It is, in fact, just one aspect of the digital economy that has given consumers new ways to get access to services and products without paying the full price for them.
This is a widespread problem. If you know anything about the five-alarm fire that is the journalism industry these days, you know we're not immune either. (Full disclosure: My full-time gig was as arts editor at NUVO, and I'm now down to part-time.)
Tipping your rideshare driver might seem like an insignificant act in the face of all of this, but that's no excuse to not do it.