In the aftermath of a campaign that often got ugly, Indiana's first openly transgender elected official turns her attention to the job before her.
The eastern zone of Greencastle's third ward flanks the city like a remote Canadian province. Almost as large as all the other wards combined, it encompasses everything from the town's sports park to the four factory floors that employ the lion's share of its citizens. As it moves west it narrows, wedging itself into the belly of the city like a dovetail joint.
When Veronica Pejril assumes her duties next month as the ward's representative on Greencastle's Common Council, she will speak for arguably the city's most eclectic district. To the west, college professors live in 100-year-old bungalows. Some manicure their lawns in perfect right angles. Others let their side yards grow into forests because it's a natural deterrent to dandelions.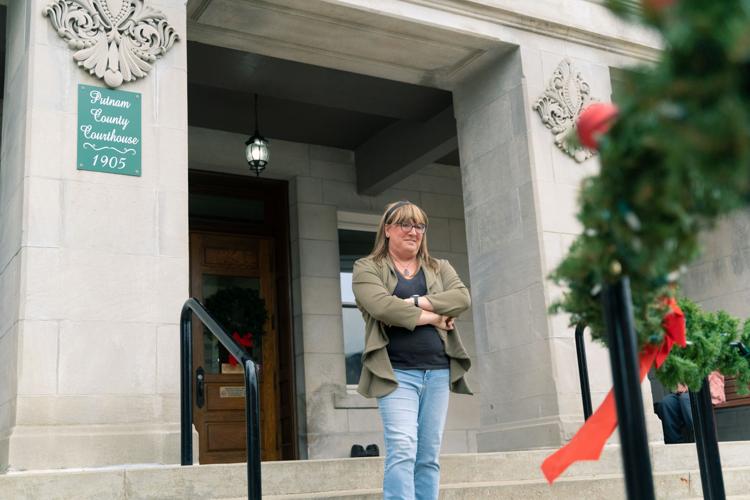 To the east, blue-collar workers carve out their lives in The Avenues, a low-rent district where retirees (who maintain cute, pristine ranch houses with gleaming vinyl siding and bright windmill daisies in their flower beds) share the street with dilapidated homes sporting sagging soffits and blue tarpaulins.
"There's a lot of folks who shower before they go to work," Pejril tells me. "And there's many more who shower when they get home. It's important that we honor everyone's work in our community."
This is what Pejril really wants to talk about. The social and economic realities people bring home and take to work are points of obsession for the newly elected politician. And hers is not a simple agenda, either. From the gargantuan task of paying city employees enough to stay in Greencastle, to the growing concerns of food insecurity, to the persistent problem of available housing, Pejril stands at the mouth of the cave ready to fight the socio-economic beast that lurks within.
This, however, is not the first time she has stared down a dragon.
"It's part of my story," she says matter-of-factly.
Pejril's story begins in Chicago, where she grew up in the Park Ridge suburb and attended Hillary Clinton's high school. When she approached her band director, she harbored hopes of playing something cool, like the saxophone, in her high school jazz band. But when he told her he already had too many saxes, he put her in front of a piano keyboard instead.
"Reluctantly," as she puts it, she took up the keys, learned under "the most amazing teacher who inspired [her] to do incredible things," and parlayed her talents as a musician into a bachelor's degree from The University of Illinois. Her skills would send her to grad school in Princeton and a teaching gig at DePauw University. As proud as she is of her work in Ivy League circles, she speaks most lovingly of undergraduate work in Champaign.
At the U of I, Pejril enjoyed what she called the "golden age of synthesizers and pre-MIDI" music tech.
"This was analog equipment and reel-to-reel tape recorders," she explains. By her sophomore year, she had earned what amounted to free rein of the school of music's fifth floor, a spot dedicated to experimental music.
There's a happiness in Pejril's voice when she talks about her first four years of college. It's a subtle joy, for sure. To know Pejril is to know that her mood-needle never wavers — a 4.8 when she's down. When she's elated? I'll spot her a 5.1. But as the conversation turns to Princeton, to grad school, to her early struggles with gender dysphoria. … That's when the needle dips a bit, maybe to a low 4.
"That's when the dragon started haunting me," she says, her voice trailing the slightest bit.
"I tried to 'slay that dragon,' so to speak. But I ran out of money, ran out of support, and. …"  
Again, she pauses.  
"Well … 1988 wasn't a good time for me to slay that dragon..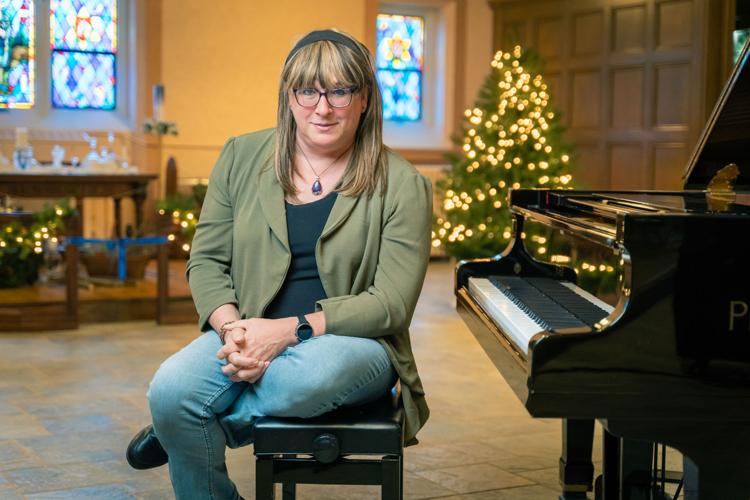 "The queer support at Princeton was what they called 'GALA,' for 'Gay and Lesbian Alliance.' There was no 'B' in there, let alone a 'T.' When I started talking to those folks, [they said to me], 'Well, you better teach us because we have no idea what the hell you're talking about.'"  
She laughs a little when she says this. Call it the benefits of being in a good place on a lot of levels.
Even though that good place — that "good, soft landing into our current worlds," as she calls it — didn't happen without pain, Pejril doesn't want to go into the specifics of her transition. What matters to her is that her relationship with her adult twin sons is strong, her work brings her happiness, and her musical friendships (she's currently an active member of a talented local band dubbed Lincoln Street) brings her meaning and purpose.
"I began living life as my most authentic self," she says.
Hers is a contagious authenticity. When she says she was ready to tackle the ugliness that running for office would bring, it's easy to believe her. And while many of us were equally happy to see that campaign end as it did, when that end arrived, those of us living in or near Greencastle knew a little more about the types of people seeking power in the community.
"If someone's crazy uncle is going to post hateful things about Muslim folks, that's their business … until someone's crazy uncle decides to run for office and represent their community on the city council," Pejril says, explaining her decision to engage with and call out her opponent.
Knowing that her GOP rival would delete his Facebook account once called out, Pejril began the screenshot process, collecting a trove of the virulent racist and sexist memes dotting his wall.  After laying the first dozen or so on a separate website she moderated (one she headlined with the famous Louis Brandeis quote, "Sunlight is said to be the best of disinfectants"), she let the community know whom she was running against.
The response was predictable. First her opponent "deadnamed" her (a sophomoric taunt, referring to her by using her pre-transition name). Then, as the comments on his own posts grew, the homophobia followed. Shortly thereafter he deactivated his Facebook presence. A little while after that, his wall reappeared. Some folks just can't walk away from their own slow-motion train wrecks.
Meanwhile, Pejril remained largely in control of the narrative. For those of us on the left who've watched Democrat after Democrat succumb to awkward defensive posturing as they fended off one GOP attack after another, Pejril's campaign proved one of those rare moments when the political tables had been turned. And when the vitriolic pushback became especially ugly, she merely shrugged her shoulders and conducted more opposition research.
"If someone says something really stupid about me online … that speaks more about who they are than who I am," she explains. "So, I tend to keep my knee from jerking because I've been there and done that and maybe learned those lessons from a couple decades ago."
Here, Pejril speaks of her unique and early introduction to the world of online conversation,  when she and her ex-spouse — they met in an online chatroom in the days of the internet's infancy — were running a regional dating chatroom out of their Chicago apartment.
"We expanded into a behemoth social service that predated things like Match.com. Before it all went bust with the collapse of the internet boom, we were running 32 phone lines into a two-bedroom apartment, running software (which we wrote together) on a small mainframe computer the size of a dishwasher.
"I was the moderator. I was the one who deleted the shitty posts," she says, laughing.
"I've been around the block," Pejril continues. "I've seen hatred, and I've got a lot of experience being an online diplomat. I would like to think that it might have informed me in the way that I handle myself."
That ability to handle herself is one that she, as well as all of her friends and supporters, will need to keep in reserve as the next four years progress. When a mutual friend and fellow community member shared a recent experience on Facebook, the reality sunk in that the struggle is not over:
"That moment when you're trying to enjoy your lunch but a local realtor and their table is sitting behind you proclaiming how 'afraid' they are that the city council has two members of the LGBTQ community joining next year."
Her election behind her, Pejril now begins the next phase: prepping for the work ahead of her and continuing a happy life that has been well-earned. 
At one point in our chat, Pejril stated in point-blank fashion: "The dragon is slain."  
In many ways, one could argue that's quite true. And as much as we want to collectively savor this moment, we all know that Pejril's work — very hard things to do that have only just begun — are not battles she needs to fight alone. 
In our mythology, the dragons are killed by the lone, brave hero. In real life no one saves the world by themself. Pejril has championed her cause. She's charged into the dungeon. Now it's up to the community she leads to pick up a shield and dagger, throw on a helmet, and follow her into her fight for affordable housing, food security, and all the benefits that come with life in a just and equitable society.