School 43 has gone through at least five leaders in five years. But its latest principal, Lauren Johnson, wants parents and neighbors to know that she's here to stay.
"I have yet to run away from a school in less than a year. It's not how I roll. It's not how I do business," said Johnson, a veteran Indianapolis Public Schools principal who led her prior campus for 7 years. "My commitment to this district is strong."
Johnson joined Indianapolis Public Schools Superintendent Aleesia Johnson and School Board Member Evan Hawkins Monday night for a discussion about the future of School 43 — a campus that has been roiled by instability and continues to face steep challenges. Chalkbeat Indiana moderated the event, which was hosted by the Butler Tarkington Neighborhood Association at the Martin Luther King Community Center.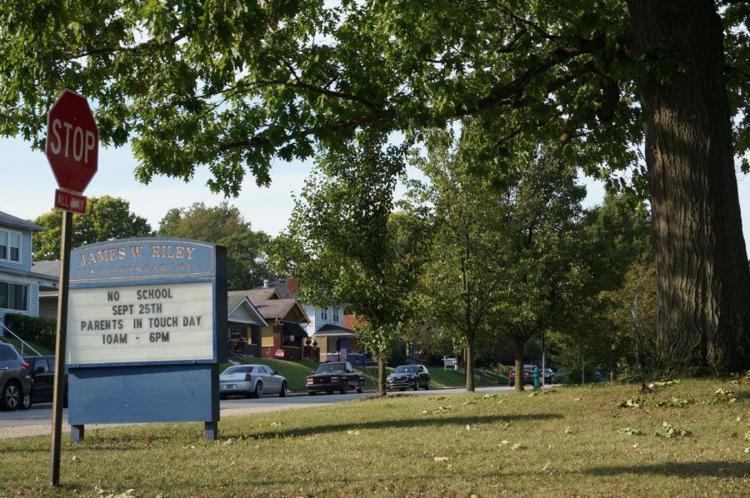 Also known as James Whitcomb Riley, the northside school enrolls about 450 students in preschool through 8th grade. More than 92% of School 43 students are children of color, and about 67% of them are eligible for free or reduced-price meals. School 43 has posted some of the district's lowest passing rates on state tests, and during a meeting last school year after another principal left, parents and teachers raised concerns about discipline problems and said the school was short-staffed.
On Monday, Principal Johnson, who took over this school year, laid out the steps she is already taking to make the school culture more upbeat and support teachers. She introduced positive routines, such as morning meetings, shout outs to classes that are doing well, and "chill out" spaces. She has monthly meetings with new teachers, and she makes herself available to work with teachers before or after school, and on weekends.
"We are all working on this together," Principal Johnson said. "They see that their principal is a visible leader. They see me in their classrooms. They see that I have their back."
The district is relying on the new principal to help turn the school around, said Superintendent Aleesia Johnson, but others also have a role to play. District leaders will do what they can to ensure the principal has "what she needs to be successful," she said.