Paula Phelan remembers when she and her husband first learned about Footlite Musicals, back in 1975.
"We saw an ad in the newspaper for auditions, and he said, 'I've always wanted to do that,'" Phelan recalls. "So we auditioned, and we both got cast in the show [Hello, Dolly!]."
After eventually moving away from Indy, Phelan was drawn back to Indy, where she promptly linked back up with Footlite Musicals. This time, though, the circumstances were different.
"He [my husband] died, but I came back here. One of the reasons was for Footlite," Phelan says. "People I hadn't seen in 18 years reached out to me and said, 'We want to do this for you,' and they dedicated their show to my husband.
"I was back where I needed to be."
From Sept. 27 through Oct. 13, Phelan will direct the Footlite Musicals rendition of Ragtime. Originally premiered in 1996, Ragtime is based on a 1975 novel by E.L. Doctorow. Although it's more than two decades old, Phelan says the show reflects the political climate of today.
Footlite Musicals started out in 1955 as a traveling troupe that did shows at venues in the Indy area. After years of working in this capacity, the organization found its permanent home at 1847 N. Alabama Street in August 1974.
"There's a lot of history in this building," says Lauren Laski, vice president of the Footlite Musicals board. "It's a Footlite tradition for people to sign their names on the wall, so there are names of people who have been here since the '70s."
Since the beginning, Footlite Musicals has been a volunteer organization, with volunteers filling each and every theater role before, during, and after production.
"Whatever interests you have personally can be turned into something that we need," says Footlite Musicals board member Bob Harbin. "From collecting props, if you're a good shopper. To costume crews, if you know how to sew. There are just all kinds of things."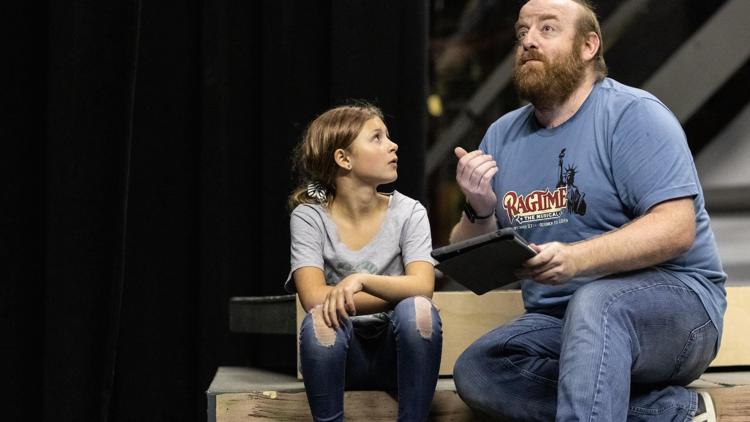 With Footlite Musicals being completely volunteer-based, Laski believes the organization can offer theater newbies with some excellent hands-on experience.
"I'm sure you learn a lot if you go to a professional theater and do an apprenticeship, but you're not going to get as much hands-on, practical learning knowledge as you will at a place like this," Laski says.
In addition to gaining skills, volunteers at Footlite Musicals also can take pride in being part of a team where all parts are needed.
"When you're doing theater, everyone gravitates to being on stage and in front of the spotlight," Harbin says. "Then there's that next echelon of the ensemble people, who are just in the chorus and backstage."
Harbin continues: "It's so important that we all learn how each one of those is interdependent upon the other. Without the people who aren't in the spotlight, we could not do a show."
Following the Footlite Musicals run of Ragtime shows, up next is its Cinderella production, opening Nov. 22.
For those looking to give theater a try, Laski recommends either auditioning or reaching out to the board with an email highlighting personal interests.
"The theater has transformed and grown," says Laski. "But really the feeling and mission of Footlite has kind of stayed the same. It's really a labor of love."
Note to Readers: The idea for this story came to writer Seth Johnson via a previous NUVO reader's poll asking for input on local music organizations that do great work.