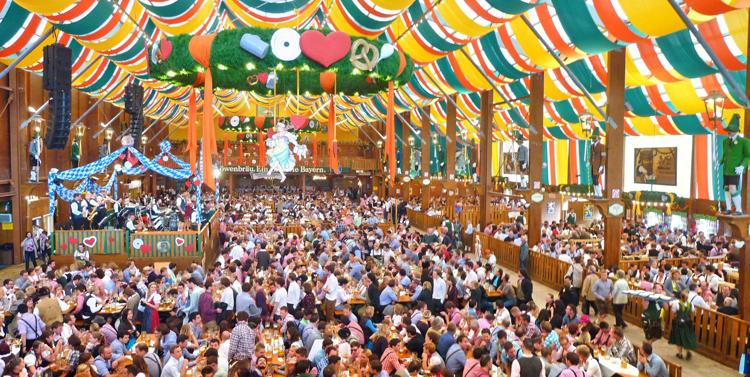 Read more about Oktoberfest in Indy here. 
On Sept. 7 at 7 p.m. Thr3e Wise Men is tapping a return of Antonious 1742 Oktoberfest [5.5% ABV]. A Gold Medal Winner at the 2013 2013 Indiana State Fair Brewers Cup and Silver Medal winner at the 2015 Great American Beer Festival, it's a Marzen-style beer layered with toasty malt up front leading to crisp dryness at the close. Toast the season with complimentary beer samples and appetizers; $3 pints.
Chilly Water launched Oktoberfest Lager and four food specials to run through Sept and October. Skip DuVall says it's "deep-golden, full-bodied with a bready and slightly toasty malt character and finishes clean and crisp but not too dry." The Oktoberfest Stew is made with the Lager, Claus' mettwurst, ham, carrots, potatoes, cabbage, onions and turnips; served with marbled rye bread. Fair Oaks Farms muenster, cheddar and cream cheese anchors the beer cheese spread scooped up with rye crostini and Pat's Philly Pretzel custom-made pretzel. The Brewer's Plate loads on Claus' meats and Fair Oaks Farm's cheese. The Mettwust Panini is a 4-tier conception of all of the above. Head over on Sept. 7 for the tapping of Harvest Moon Autumn Ale with hints of vanilla and cinnamon.
Mad Anthony's Oktoberfest beer is a traditional German Lager, "amber in color and slightly sweet with a crisp hop bitterness.
Broad Ripple Brew Pub Brewer Jonathon Mullens will be tapping Oktoberfest beer the week of September 18. "A traditional "festbier" brewed to the tradition of being an amber colored lager with a rich balanced malt and hop profile that provides a crisp clean finish, with 6.5%ABV and 25.1 IBUs. It will be on through October.
General Manager Billy Hannan reports the food special is "a crock bowl full of savory spiced red cabbage, granny smith apples, onion" as the base. Smoked sausage is added for meat lovers, the vegetarian version swaps portabellas for the smoked sausage. Both are topped with mashed potatoes and scallions.
You can also attend the 3rd Annual Indy Eleven Oktoberfest presented by Kroger, Sept. 23 at The Carroll Stadium at IUPUI, precedes Indy Eleven vs. Puerto Rico FC at 7:30 p.m.
"Fans 21-and-over, don your lederhosen and get out to The Mike to participate in this year's $35 all-inclusive package including: one Brickyard Battalion/Endline game ticket and one entry for the Oktoberfest pre-game festival on the stadium's East Lawn from 5-7 p.m.," invites spokesperson Katie Donnar.
You'll get samplings of Oktoberfest selections and other German-style brews features People's, Urban Chestnut, Upland, Sun King and many more (while supplies last) and a commemorative Indy Eleven "mini-stein" to hold your tasting samples. Events include: a stein-holding contest and other friendly beer-based competitions, a Wiener Dog parade and even more German-themed activities!
Daredevil Oktoberfest Festival is Sep. 30, 6-11 p.m. The event includes a roster of German style Ales & Lagers, live music by Alpine Express and food options including pretzels, authentic Claus' Sausages and more. Daredevil's Oktoberfest is brewed in the "festbier style and is an authentic German lager true to the classic style that delivers a clean, rich, toasty and bready malt flavor with light bitterness for a refreshing crisp and dry finish," according to spokesperson Shane Pearson. "For the first time this year we are also releasing our Daredevil Oktoberfest in cans. Look for draft and cans by mid-September. "
On October 14, Wabash Brewing is celebrating their 1st Oktoberfest, Oktoberfest for Charity, from noon to 9 p.m. The event serves as a fund raiser for diabetes and cancer research. Wabash is part of the 503 Artisan Project including Between Brews and Liberation Roasting Co. It's a family and pet-friendly event including team games, live music, prizes for best outfits, and craft making.