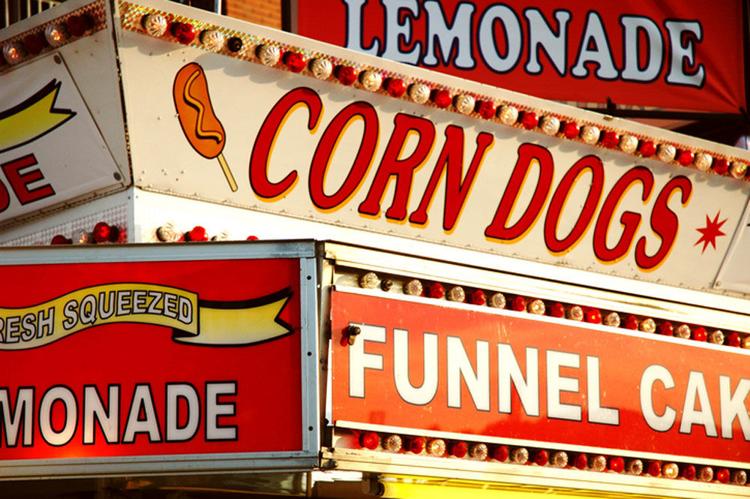 The Indiana State Fair has released a list of new food items to be featured at this year's annual event and trust me, it's as tempting as ever (not to mention artery clogging).
According to Fair officials, 100,000 ears of corn and nearly 65,000 milkshakes were served up last year. While all the favorites like giant tenderloin sandwiches, roasted corm, lemon shake ups, elephant ears and cotton candy will still be available--fairgoers will also have the chance to try some truly unique and imaginative culinary treats in 2018.
In the meat department, you can try a deep-fried chicken and waffle sandwich: fried chicken strips stuffed inside a waffle and then topped with maple syrup and powdered sugar. There are also BBQ pork potachoes are also debuting this year. In this case, your taste buds will be delighted by BBQ pulled pork on top of seasoned pit potatoes and topped with cheese and sour cream. For the beef lover in your dining party, there will also be hatch green chili meatballs. Vegetarian? Don't miss the "inside out grilled cheese"
Once you've got the main course out of the way, it's time to concentrate on desert. Adding to the legendary deep-fried Twinkie and deep-fried Oreo tradition, this year sees the addition of deep-fried sugar cream pie.
Let me repeat that. Deep. Fried. Sugar. Cream. Pie. That's a slice of sugar cream pie smothered in funnel cake batter and then deep fried to golden brown. A flourish of chocolate sauce and powdered sugar.
(Learn the origins of "Hoosier Pie" aka sugar cream pie)
Not dead yet? Then save room for a caramel apple elephant ear, birthday cake milkshake, and/or a peach cider slushie,
If you're looking for a good deal, don't miss $2 Tuesdays during the State Fair. All food stands offer a $2 option, fair admission is only $2 per person and Midway rides are only $2!
Visit indianastatefair.com for all the latest in ticket info and options.
Related: Indiana State Fair announces Free Stage concert lineup for 2018