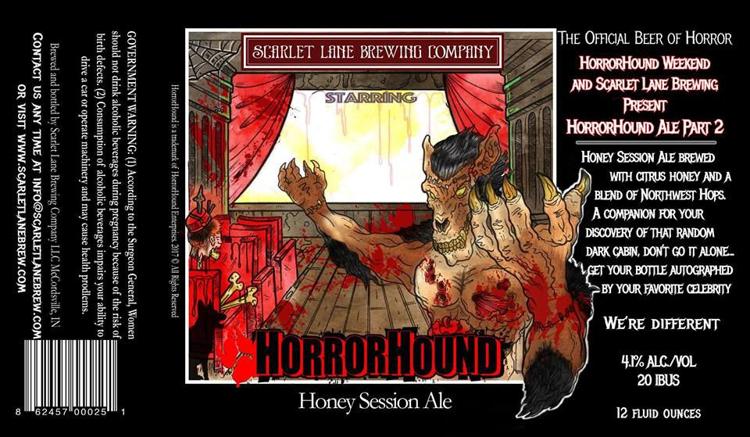 With all that tension built up from watching all those horror movies, and from the anticipation of meeting your favorite horror film celebrities, you'll definitely need to wind down with a beer or two during HorrorHound Weekend. 
Enter Scarlet Lane's HorrorHound Ale Part 2.
"The Official Beer of Horror, HorrorHound Ale, is a yearly collaboration between Scarlet Lane Brewing and HorrorHound and HorrorHound Weekend," says Nick Servies, the marketing and branding guy for Scarlet Lane Brewing in McCordsville. 
Last year was the first year for the collaboration. That beer was simply named HorrorHound Ale, and it was a Northwest-style pale ale with the addition of sweet cherries, which led to a bloody delicious brew. 
 "The recipe changes with the yearly Indianapolis convention schedule. Part 2 of HorrorHound Ale is a Honey Session Ale made with a blend of Northwest hops and citrus honey coming in at 4.2% ABV and 20 IBUs,"  Servies says. "Each recipe change brings another hand drawn custom label from the Scarlet Lane Brewing artist Ian Mcvay. The 12-ounce bottle label is designed to hold an autograph of your favorite horror celebrity to display in your collection."
Scarlet Lane is tied to the horror genre for many reasons. Anyone who has tasted their beers over the years should be quick to recognize the not-to-subtle nods to OG horror writers, like Edgar Allan Poe and Oscar Wilde with beer names like Lenore Dry-hopped Ale and Dorian Stout.
"Scarlet Lane Brewing got into HorrorHound because we are all horror movie fans and we have a horror movie film director/writer on our staff," Servies says. "He reached out to HorrorHound because they have premiered his movies before. We then sat down together and designed a beer and launched in Indiana during the 2016 convention. That original recipe went to Cincinnati for the 2017 show. We will now take it to Columbus, Ohio for the November convention. 
"[Throughout the year] we continue to promote HorrorHound through the magazine availability in the tap room, we typically show macabre style movies/shows in the tap room, we have HorrorHound fliers and stock the HorrorHound Ale on draft and in bottles during all three conventions."
HorrorHound Ale Part 2 launched September 5 at Mass Ave Pub, followed by The Sinking Ship on September 6 with special guest and WWE star Kevin Thorn. Kuma's Corner Indianapolis will host a tapping party on September 7, which is the perfect chance to pair it with a heavy metal burger. And it will show up at its home, the Scarlet Lane Brewing Tap House on September 8.
Ticket giveaways and showings of horror movies related to the HorrorHound Weekend reunion of Friday the 13th Part 2, Goonies, The Lost Boys and Buffy the Vampire Slayer will surface during some of the tapping events, says Servies. He also points out that a limited number of kegs will be available before and after the event, as well as select locations carrying the 12-ounce 4-packs.