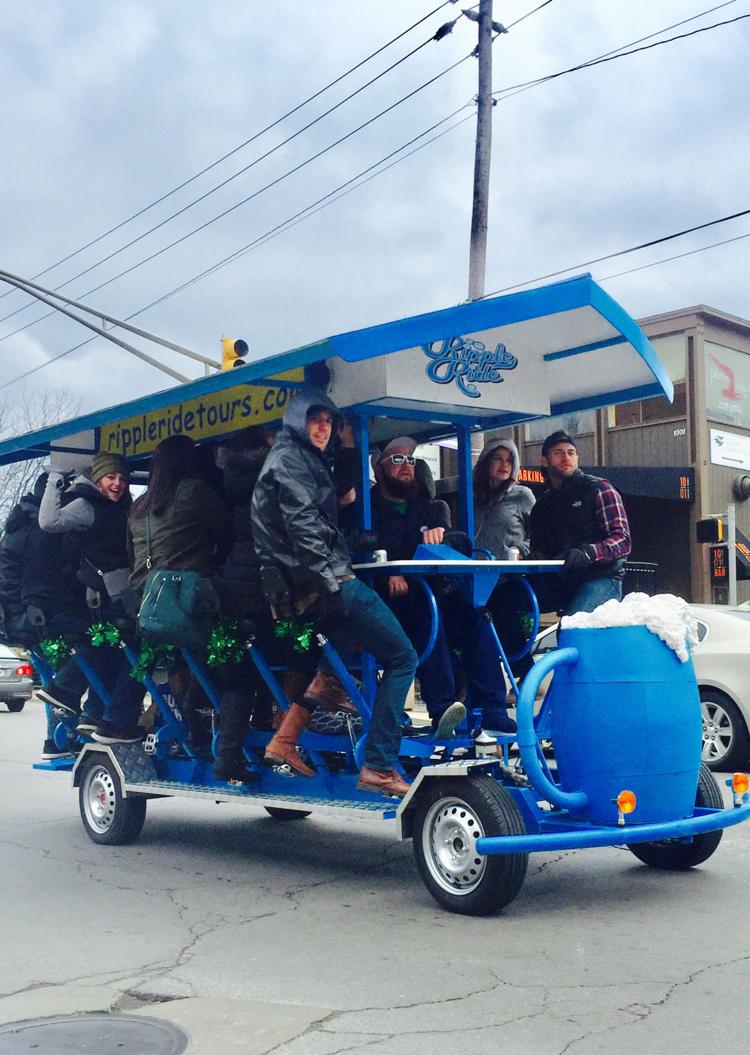 Today, my morning mail brought many surprises, including a message from Austin Dickey: "I'll get straight to the point. Would you be interested in doing a story on Ripple Ride beer bike, the newly launched party bike in Broad Ripple, Indianapolis?"
Austin continued with a pitch hard to refuse: "To give you a quick background on our business, my wife and I are young newlywed entrepreneurs who fell in love with the Broad Ripple scene, and wanted to bring a new experience to this unique town."
Here's the story:
Rita Kohn: Exactly what is Ripple Ride Tour?
Austin Dickey: Ripple Ride is a 15-person, pedal powered beer or party bike exclusive to Broad Ripple Village. Our passengers begin their tour at Triton Tap, and from there they can decide upon two or three other brewpubs, bars or breweries such as HopCat, Thr3e Wise Men, Broad Ripple Brewpub, Union Jack Pub, Flatwater and others.
Rita: What led you to start this enterprise?
Austin: We were out with some family and friends on a similar beer bike tour and they proposed the general idea that it would be fun to own a beer bike business. We pondered the idea for many months, researching the steps it would take to launch a beer bike business of our own and how people would react to it. We ended up deciding on Broad Ripple due to its recent growth, brewpub craft beer scene, the open market and our love for its unique atmosphere.
Rita: What in your collective background led you to believe Ripple Ride is a viable way to earn your living?
Austin: We've grown up around both sets of our parents owning businesses; so being entrepreneurs runs in our blood. We wanted to start a company with the purpose of making people smile while incorporating fitness, and since there was an open market, we have the opportunity to grow with the intention of making this our full time job.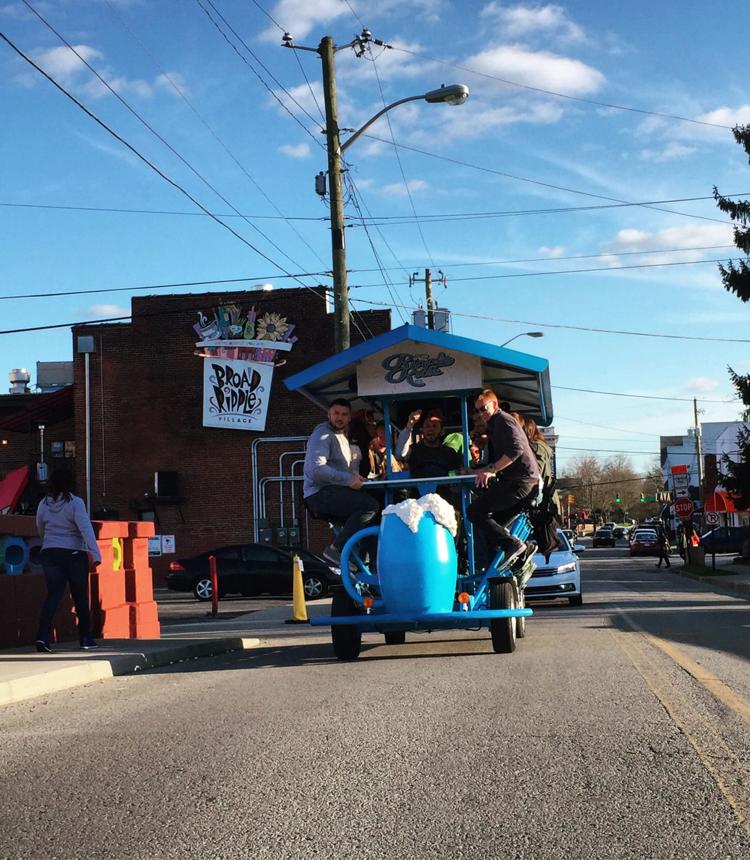 Rita: How can customers get more information?
Austin: Customers can visit our website rippleridetours.com or they can call us at 317-829-4968 to book a ride and get more information. The ride is bring your own beer or wine, [with] no liquor or glass bottles [allowed]. 
Rita: What happens when it rains? What happens in the winter?
Austin: We live in Indiana, everyone is used to a little rain and other unpredictable weather. So therefore, we do operate in the rain as long as there isn't any lighting, thunder or any other dangerous weather conditions. We do not operate in the winter; our operating months fluctuate due to Hoosier weather, but mainly from March to November.
Rita: What else do you want NUVO readers to know about Ripple Ride?
Austin: Broad Ripple, unlike the heart of Downtown Indianapolis, is slower-paced and more relaxed. That is exactly how you and your group will feel when riding with Ripple Ride. You won't be pedaling super hard to get to the next place, then chugging your drink and rushing to your next location. With Ripple Ride we want you to take your time, have fun, laugh with friends and enjoy the atmosphere that Broad Ripple offers.
Though Ripple Ride isn't necessarily a new idea for Indianapolis — with similar businesses like the Pickled Pedaler and Handlebar — it brings a fun and different way to experience Broad Ripple that is more exciting than stumbling up and down the sidewalks, hopping from bar to bar. It also adds to the most basic principle behind drinking beer, it helps bring people together.