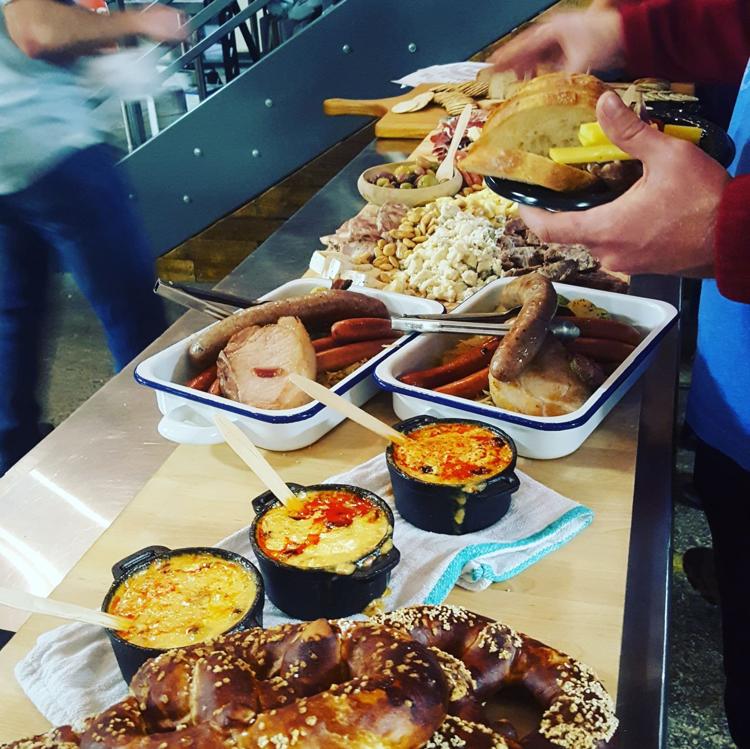 We're all fluttering around the picnic tables, our phones out capturing images of each sausage, beer sampler, baked potato, pretzel and cheese crumble before each of us separately decides we can't wait any longer and we have to dive into eating. 
It's like that final scene in Ocean's 11 when each schemer leaves the Bellagio fountain; "Clair de Lune" is dreamily scoring the moment, and finally they're all gone. Except in this Soderbergh flick it cuts to each of us shoving food into our mouths — and let's just say there is no glamorous way to eat sausage. 
It's media night at Oca, and we're all getting a first taste of the new eatery in Sun King Brewing's Downtown taproom. "Oca" means "goose" in Italian. That should tip you off to the team behind the food being dished out — Indy's beloved Goose the Market. Oca is truly a marriage of two of Indianapolis' culinary industry titans. And we'll be honest, it's the pairing we didn't know we needed, but we're so lucky to have. 
I've spent plenty of Friday evenings after work in the Sun King taproom, sharing a couple tastings and then grabbing a growler to go. Maybe you have, too. Sun King's co-owner Clay Robinson says, the plan with this addition to their tap room is to change the way people visit Sun King. 
"Craft beer fans have been visiting our tasting room to sample our fresh, flavorful craft beer for eight years. With Oca's delicious food and up to 16 Sun King beers on tap, we hope guests will come by more often to enjoy the tasty pairings," he says. 
Having been in for a taste, I'm pretty sure Oca changes everything. Now, not only will you not have to leave Sun King to get food, you won't want to. First off, parking's free — sorry Mass Ave. Secondly, there are few better food pairings in the world than sausages and a well-made beer. And this menu is pretty much a sausage fest. 
The menu offers five sausages made by Smoking Goose specifically for Oca: Weisswurst, salmon sausage, currywurst, Berkshire pork and octopus sausage and pheasant sausage. 
During media night, as we tasted each sausage in sandwich form, some clear favorites emerged. The Octo was my personal favorite; it paired spectacularly with Sun King's bitter, hoppy Wet Hopped and Sticky pale ale. The sandwich highlights the flavorful Berkshire and octopus sausage (which has rapini, pine nuts, fennel seed, anise seed and paprika) with an Italian-style addition of a spicy arrabbiata sauce, fresh mozzarella, rapini, pine nuts and orecchiette pasta salad. All of the flavors came together to create something wholly unique, yet completely recognizable and delicious. 
Another standout was the currywurst, which Smoking Goose's owner Chris Eley shared that he was actually kind of nervous about. He pointed out that a typical currywurst is a traditional sausage with the addition of a curried ketchup on top. At Oca, they've actually curried the sausage and the end product is all-around better. The mix of the spicy, pungent curried sausage with beet-potato hash, escarole and crab cocktail was fantastic, it was easily the quickest to disappear from the table. And tasted alongside Sun King's light and malty ESB, Bitter Druid, the Wurst One sandwich was made all the better. 
And while the sausages are definitely a highlight of the menu, there is much more to taste including more traditional Goose items put together on a charcuterie board. They also had the best baked potato that has ever been crafted, the Sasquatch. Pretty much anything with 'Nduja on it will pull me in. Add to that a duck egg and the ever-so-crispy pork rinds and you've got a dish I'll never forget.
But the standout of the night was a dish I've never heard of, but couldn't get enough of, the Choucroute Garnie. It's a dish from Alsace and while it's name references the "dressed" fermented cabbage warmed with riesling, it's the addition of three types of sausage: Nuremburg, Strasbourg and Knack and the king of the dish, the smoked rib chop that make it a thing of wonder. 
Corrie Quinn from Smoking Goose also is happy to share that even if you're not a meat eater, there are options for you as well and hopefully more on the horizon. "Oca is always happy to put together dishes for non-pork eaters, vegetarians, folks with food allergies/intolerances (gluten, nuts, etc.)," she says. She points out that if you have any food allergies or intolerances  you can always let them know and they will happily pull together something for you if at all possible.
She also points out, "The menu will be rotating, too, and Chris already has plans for vegetarian and vegan sausages working their way through the ever-changing menu."
What I love most of the dishes on the menu — other than the fact that I didn't ever want to stop eating them — is they are made to share. The food at Oca is meant to bring you and your friends together to enjoy some locally crafted beers, have some great conversation and eat to your heart's desire. It is changing a space from a spot to stop in for a beer or two into the true tradition of a pub that brings people in a community together for a convivial experience.