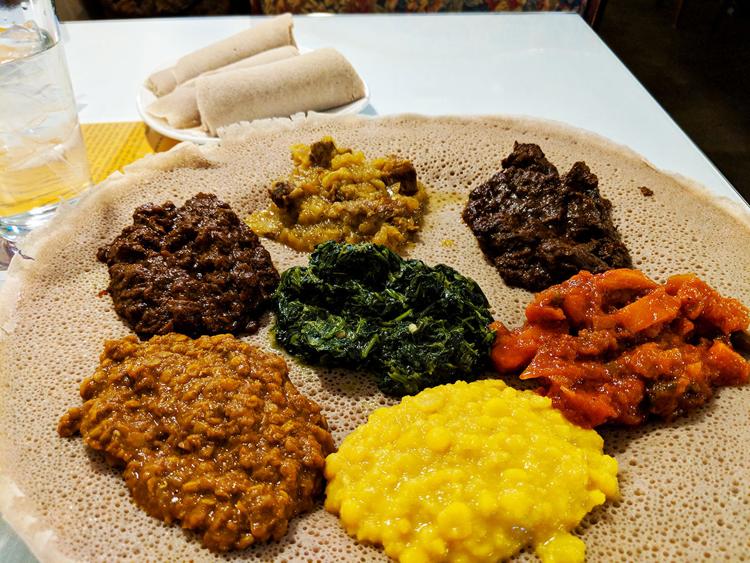 Most of the best cuisines around the world base their culinary creations on spices. There's a reason the spice trade was so important for such an extensive period of time in history. A trip to Abyssinia opens your eyes to the world of Ethiopian cuisine and the intense spices used in the country's dishes.
Though the menu is filled with intriguing and, for novices, overwhelming choices, the easiest way to get the best idea of what Ethiopian cuisine has to offer is to get one of the three Taste of Abyssinia options. The tastes have a curated blend of different options to get a full experience.
One thing Ethiopian cuisine is known for is its heat level, especially coming from the traditional Ethiopian berbere spice, which consists of a blend of chili peppers, garlic, ginger, basil, korarima, fenugreek and more. Abyssinia uses berbere in many of their dishes, but two standouts are the Yemisir Wett, red lentils stewed in berbere sauce, and Siga Wett, beef cooked in berbere and other spices. Of the dishes I tasted, these were by far my favorites, and I would happily go back for each of those on their own. 
One aspect of eating Ethiopian cuisine that will be foreign to the average American food-goer is eating with injera. Injera is a sourdough flatbread. It is reminiscent of a crepe but is softer and more porous, like a sponge. It is the standard utensil for Ethiopian food, and it's a tasty alternative to a fork or spoon. When you order, it comes out in rolls, similar to tape, and you unroll, tear it off, and pick your food up and eat it all. It adds to the experience of eating, making it more visceral—and less likely to hurt your teeth on those metal tongs, amirite.
Related: Eat your way around the world at these 22 international restaurants 
One important aspect of Ethiopian cuisine is the fact that it has a high percentage of vegetarian dishes, and this is seen on Abyssinia's menu, which boasts a strict vegetarian section of the menu and even a vegetarian version of the Taste of Abyssinia. With the various blends of spices, there is a good chance you've never had veggies quite this flavorful. As I said above, the lentils were maybe the best bite I had, and the spinach (Quosta) was pretty fantastic as well.
While the food is definitely the star at Abyssinia, for the full experience you're going to want to finish the meal with a traditional Ethiopian coffee. You may want to let your server know you are ordering it when you order your meal because it is a process that takes some time.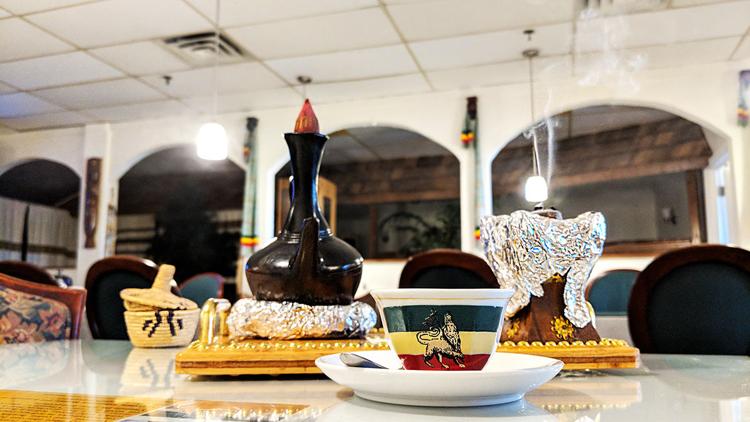 They roast the fresh coffee beans in a pot when you order the drink and bring them out for you to smell and see as the aromatic steam rises into the air. Once the beans are done roasting they are placed into a handmade pot and covered in hot water. The pot is placed on a tray alongside your cup and saucer and some incense, which is placed on a burning coal and brought to your table. The coffee itself is strong and yet, delicate in flavor. The entire drink is an experience.
Abyssinia is a rare restaurant for our city that is serving a cuisine that many people will be unfamiliar with. For anyone interested in expanding their palate and opening their eyes to a new culture, it is a must.
Abyssinia
5352 W. 38th St.
abyssiniaethiopianrestaurantindy.com