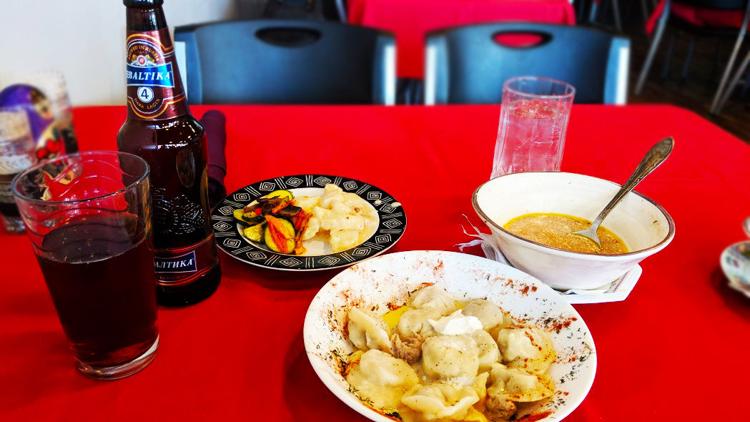 Russia—it's a touchy subject right now in America, putting people on edge, pushing people into heated debates about the election, the Trump Administration, Putin, collusion, and even sometimes, somehow, space lizards. But a trip to Gregory's in Castleton should be had with no preconceived notions, unless those notions are that Russian food is pretty damn tasty and extremely filling. 
Gregory's was started by Gregory and Deanna Baranovsky, a husband-and-wife duo from Minsk, Belarus—a country on the eastern border of Russia. On most nights of the week, Gregory, who is a virtuoso pianist with a doctorate in music composition and performance, entertains by playing classical piano. While Gregory plays, Deanna serves the food to customers. It's truly a charming establishment where the owners are genuinely interested in meeting and creating relationships with their customers. 
The chef, Richard Staletovich, tells me that while many things on the menu are Russian, he believes that it will feel familiar to most anyone from the northeastern region of Europe. For example, if you order the borscht—a traditional stew with beets, cabbage, and beef—you are actually getting a Ukrainian version of the dish. Staletovich does his best to know the history of the dishes he presents on the menu at Gregory's; that way he can make them as accurately as possible.
Related: Eat your way around the world at these 22 international restaurants 
The Stoli salad is the perfect starting place for a traditional meal, but you won't go wrong with the borscht or the pierozkis. One added bonus at Gregory's is the Russian beer they have available, all from the brand Baltika, which surprisingly is the second-largest brewery in Europe. With six different styles of beer to choose from, there's an option for most any beer drinker. They also have a nice wine list with various Eastern European wines.
When it comes to entrees, it's easy to find yourself, as I did, lost as to what to order. You may lean toward chicken Kiev, which is a safe bet and something you may have eaten, or at least heard of, before. And while Gregory's offers a fantastic preparation of that dish, it's more exciting to branch out and try something unique. As a lover of dumplings from all corners of the world, I went for the pelmenis, which are a standard dumpling, the meat inside a blend of beef and pork. 
Pelmenis are a perfect symbol of Russian culture because they are hearty and filling for the cold Russian winters. According to Deanna, they originate in Siberia, which is an icy, unforgiving area of Russia. The dumplings are a way to preserve meat through the winter. It is also a reminder of Russia's Asian heritage as they reminded me much of the Chinese dumplings I've enjoyed over the years, only instead of the spicy Szechuan spices, these are served in a light oil with some paprika, leading to a much lighter tasting dish. 
Will a meal at Gregory's completely alleviate your thoughts on the United States' relationship with Russia? Probably not. But a nice meal, a chat with Deanna, and Gregory's piano talents will leave you feeling happy, optimistic, and full, in your stomach and your heart.
Gregory's Russian Restaurant
6066 E. 82nd St.