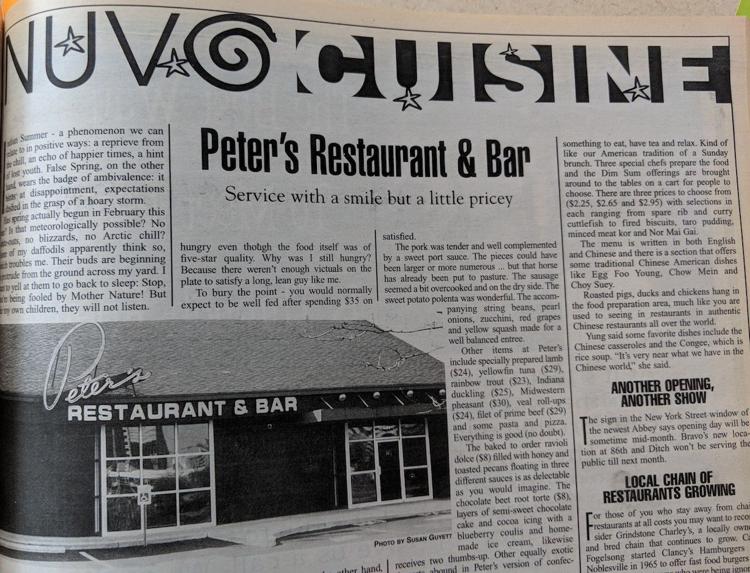 "Everything is right in the world when you eat at Peter's, except for one thing: the price." An anonymous NUVO cuisine writer wrote this in February of 1998, referencing the highly lauded restaurant of Peter George at Keystone at the Crossing. 
This unknown soul also gave us some extremely useful information by including the prices of nearly everything on the menu. And once I read through them, I found that the sentiment was correct but in reference to two decades later. 
Peter George, in case you are unaware, is now one of the owners of Tinker Street, a restaurant I am lucky enough to frequent. And as I read through the prices on the menu at Peter's, I was blown away because I know the prices at Tinker Street. Let's just say, with the inflation in the price of goods over the past two decades, we are getting an absolute steal when we dine out now, which is a good reason we are losing restaurants left and right because we refuse to pay for quality food.
For example, the article says yellowfin tuna costs $29; a quick glance at Tinker Street's menu shows that right now you can go there and get yellowfin tuna with tahini-cabbage slaw, smoked shoyu, mushroom dashi, and pineapple for how much? You guessed it folks: $29. Indiana duckling in 1998 cost $25; 20 years later, duck at Tinker Street is $26. 
Peter George thinks this has played a major role in the shuttering of so many businesses over the past few years. "I think our industry has kind of bastardized ourselves," he says. "And by that, I mean we've kind of played into the hands of the consumer instead of saying, 'Hey, this is what this costs, and if you want it you're going to have to pay for it. ... I think that's one of the reasons that we've seen a lot of the fallout; it's because we're not charging enough for what we're doing."
George rhetorically asks, "Can you imagine how much more we're paying for that yellowfin tuna now than we were then?" He then explains that since 1998, the costs of rent, utilities, employee wages, equipment, and, yes, the ingredients have all at least doubled. 
To give you perspective, the average cost of a gallon of gas in 1998 was $1.06; now, it's at least double and at one point was quadruple. Now, of course, the costs of food and gas aren't going to directly correlate, but they do have rather similar fluctuations because all of our food is shipped in vehicles that use gasoline.
Tinker Street's chef, Braedon Kellner, explains how they're able to keep the prices low and still squeeze a small profit out of items. "We got criticized when we first opened that everything was super small on the plates, and everything was small, but you weren't paying more than $20." Now, due to criticism, Kellner has had to up the portions of protein on the plate, in some instances double, so the prices had to be raised, but he was unable to double the prices.
So, Kellner says, they are forced to lose profit on some items. "There are some things that we know we might take a small hit on, but with the business model, we might be able to price item A little bit higher to cover for item B."
The fact is, there's no way that our local restaurants can continue to serve quality food at these prices and stay alive. It's laughable the margins at which restaurants are forced to work. As George says, "It has certainly given us pause and concern. It's a tough business right now and getting tougher." 
We, as consumers, must be willing to spend more in order to allow our bar and restaurant scenes to thrive. And if we learn anything from this, let's just say that everything is right in the world when you eat local, except for one thing: the price — it's way too low.