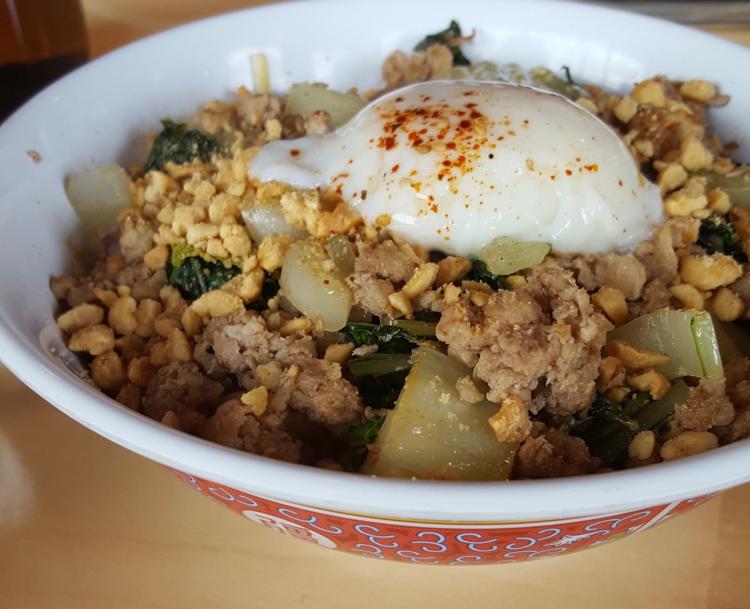 It shouldn't come as a surprise that I eat a lot, too much, in fact. But I have to know what the hell I'm writing about and so I eat. In 2017 I had so many fantastic meals, both in Indianapolis and outside of it.
So when I sat down to think up my best bites of the year it was no easy task. However, I whittled it down to ten dishes that blew me away and as you'll come to see I'm a sucker for spice, noodles and meat. 
Once your done reading, I suggest getting out there and tasting all of these.
A word of warning: Check restaurant menus before going, some of the dishes are seasonal and won't always be available. 
1 // Pork belly with jellied egg and toast at Love Handle
It's hard to pick just one dish as my favorite at Love Handle since all of them are delicious. But, this was the last bite I had before they went on hiatus during their transition from their original location to the new spot on Mass Ave. Few things are as heart-stoppingly yummy as Chris Benedyk's masterful approach to pork belly. Add to that the weirdly wonderful jellied egg (you gotta try it), the sweet and spicy honey drizzled on the thick and airy Amelia's toast, a Tinker cold brew and some lovely conversation with Ally, and you've got a nearly perfect meal. 
2 // The Octo at Oca
Octopus is one of my favorite foods of the sea, especially in sashimi form. So when I saw octopus and berkshire pork sausage on the menu at this new Smoking Goose and Sun King collab, I was beyond excited. While you lose a lot of the flavor of the octopus with the combination of pork, rapini, fennel seed and more, the additional toppings of spicy arrabbiata sauce and orecchiette alongside a sampler of Sun King brews made me love this even more than fresh slices of octopus.
3 // Cacio de pepe at Nicole-Taylor's Pasta
Indy has a serious lack of quality Italian food. But Nicole-Taylor's is an oasis of perfect, al dente pasta. Sure, you can go into this market and get all your Italian bits and bites to take home and cook yourself. But, you should stay and enjoy their version of the Italian classic cacio de pepe; it's bellisimo. Cacio de pepe literally means cheese and pepper and that's pretty much all the dish is, pasta with heaps of cheese, some butter and a healthy dose of crushed black peppercorns. The simplicity of the dish allows the ingredients to shine through. It's truly mesmerizing how much flavor is packed into each bite. 
4 // Dan dan mian at Rook
I fucking love this dish. So much so that I literally made the sojourn from Broad Ripple to Fletcher Place two days in a row just because I needed more. For my flavor profile, it is perfection in a bowl. What is it? It's a Sichuan dish that consists of noodles, preserved veggies, minced pork, Sichuan peppers, and the kicker, chili oil … so much tongue-tingling, mouth-scorching chili oil. If I had the money I would personally pay Carlos Salazar to make this for me for every dinner. It's savory, vinegary and oh-so-spicy. It also pairs pretty perfectly with a jaunt next door for an evening of light beers and gaming at Tappers. 
5 // Tamales elotes at La Mestiza
Some people love tamales, can't get enough of 'em; I am not on that list of people. For me tamales typically are too much bland masa and not enough flavorful filler. But these aren't your typical tamales, these use a sweet corn outside and it makes all the difference. Add to that the spices and seasonings and the unbelievably tender pork inside and you've got a dish that I think about often. 
6 // Lavender Provence at Gallery Pastry Shop
Much like tamales, I'm also not one for sweets. I do enjoy a dessert every now and again, but I'd much rather stuff myself with appetizers and entrees than save room for a slice of cake or pie — even though I do love me some cheese cake or any coffee-based dessert. But Gallery Pastry Shop is an exception for me. When I'm here, I'm here for the dessert and the lavender Provence is at the top of my list. The lavender and white chocolate mousse not only looks like a work of art, but is so creamy and light. And then you hit the macaron base and get a bit of crunch and it is just perfection.
7 // Ham hock rillettes at The Vanguard
There's a lot to love when it comes to the menu at this Broad Ripple spot. While I was tempted to put the fried chicken on this list, when it came down to it, this dish was the real winner for me because it was unique. Ham hocks aren't something you typically see used on menus, so when Adam Ditter crafted this dish I had to try. The ham is smokey and surprisingly tender in comparison to other ham hock dishes I've had, the additions of the roasted beets and spinach were a welcome side and the crunch from the crushed pistachios brought the whole dish together.
8 // App sampler at Elena Ruz
Here's a little secret: Some of the best Cuban food in the city is coming out of Black Circle Brewing and this sampler is the best way to get a taste of a lot of it. The platter features empanadas, croquettes, black beans and my favorite part, crispy plantains with a garlicky dipping sauce. This dish is the equivalent of a little taste around Cuba and you get to drink some Black Circle beer along with it, which is pretty damn fantastic. 
9 // Salami dashi ramen at Common House
Jeezy-creezy, this was the craziest dish I've had in a long time. When this came to the table during one of Alan Sternberg's pop-up dinners, Common House, I was beyond excited. The stock for the ramen was made using Turchetti Salumeria's pepperone, which was made using Becker Farms red wattle pork, and it was pure magic. The outcome was a bowl of ramen that tastes like liquid charcuterie with perfectly textured noodles. I doubt this will ever be made again, even once Common House opens as a restaurant sometime next year, and for that reason, and so many more, I feel beyond lucky to have tasted this dish. 
10 // Orecchiette at Pioneer
Pioneer is killing the game when it comes to unique and interesting pasta dishes. While I could have put nearly anything in this place on this list, I had to go with the one I fell in love with. The fennel sausage in this dish that really pulled me in. I almost put their house sausage plate on here because they make some pretty fantastic sausage, but you add the pasta, rapini, capers and garlic to the mix and it quickly becomes a dish you won't soon forget.