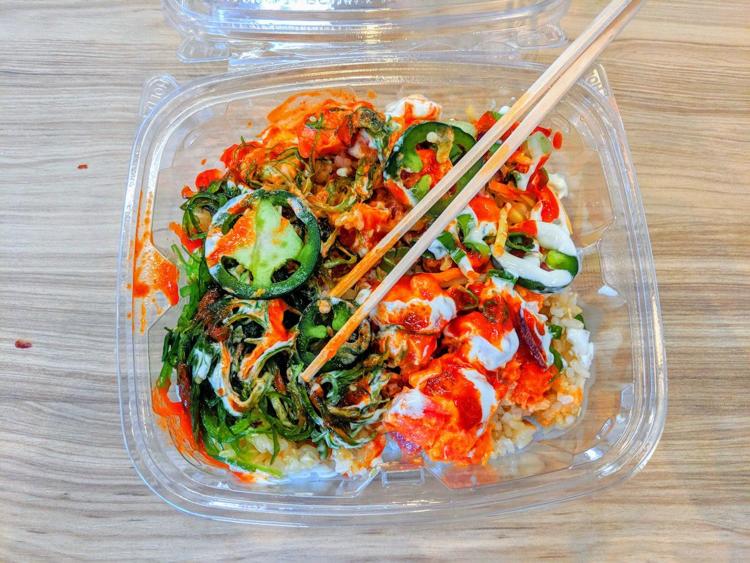 Now that the weather is consistently warm—hopefully—it's the perfect time of year to be out trying all the new spots that have popped up over the last few months. From Hawaiian-styled seafood-lover's paradise, to new brews, to a baked-goods spot with a beautiful mission, there are so many new places to eat and fall in love with in Indy.
Ale Emporium: If you've never had wings that begin with Herman-, you haven't been living life to its fullest. And now, if you live northeast of the city, they're closer than ever. The longtime Castleton favorite took over the space that used to house Casler's. Known for the wings, the pizza, the extensive beer selection, and the perfect spot to watch all the games, it is a great addition to Fishers.
11501 Geist Pavilion Drive, Fishers
Ali'i Poke: Sushi is a wonderful thing, but it takes quite the series of rolls or slices of sashimi to leave most people feeling satiated. Poke, which is a Hawaiian dish that, for lack of an easier description, is a sushi burrito bowl, has started to become quite the hit for those of us who love sushi and like feeling full when we're done. This spot just came in near IUPUI and is dishing out some killer poke bowls for all arrays of tastes. They have a mild house version, a sweeter tropical version, a minimal island version, or, a personal fave, the spicy version, which is loaded with fresh fish, veggies, and a miraculous honey wasabi sauce. Or, if you feel like it, they let you build your own bowl to happiness.
910 W. 10th St.
Burgerhaus: You may have eaten at this family-owned local chain at their scenic location on the canal Downtown or even at their original spot in Valparaiso, but for anyone who lives on the Northside, that can be quite the hike. This new location brings their fan-favorite burgers—such as the spicy, Cajun-inspired Baton Rouge, which must be eaten with their New Orleans pickle chips, and their unique Kyoto, which has perfectly seared ahi tuna on it—right into the heart of Carmel.
89 Veterans Way, Carmel
Related: Kimbal Musk's Second Indy Eatery Opens in SoBro
Conner's Kitchen & Bar: The new restaurant inside the Marriott Downtown serves up pretty standard American classics alongside some staples of Southern kitchens. As one would expect in a hotel restaurant, they serve three square meals a day with a standout breakfast bite of smoked brisket hash, and for dinner, it's all about the fried chicken. They also offer up a solid bar selection with quality craft cocktails, some local brews, and even a few local spirits. If you're looking for a place with something for everyone, the menu here is just what you're looking for.
350 W. Maryland St.
Happy Brewing Co.: Gotta admit, the NUVO team was maybe a little too excited about this place opening since it's directly across the street from our headquarters, and after-work beers are a real and wonderful thing. They have a solid beer selection with brews for any palate and their menu is pretty standard bar fare with nachos, hot dogs, jalapeño poppers, mozz sticks, and the like. An important aspect of this place is that it is bringing local beer to an area of the city that is lacking almost completely in the food and drink departments, and for that reason, it's a place to support. And while you're there, don't worry, be happy.
3902 N. Illinois St.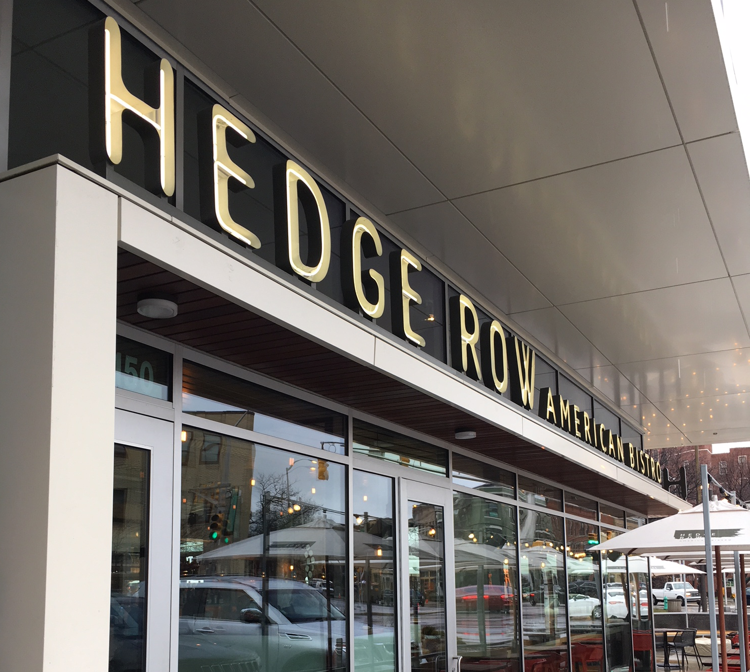 Hedge Row American Bistro: Kimbal Musk is trying to change the world we live in while his brother Elon focuses on the worlds above us. Musk's company, which he co-founded with Hugo Matheson, has recently set its eyes on the Hoosier state, and Hedge Row was the first of now two restaurants that they've opened in Indy. The menu is built to highlight the quality produce and animals coming out of Indiana's farms, with Fischer Farm, Miller Farm, Silverthorn Farm, and many more all showing up on the menu. The cuisine itself is classic American fare and is being crafted by local Indiana chef Brad Gates. With a cocktail menu to match and a welcoming space and staff, Hedge Row is a nice addition to the ever-changing landscape of Mass Ave.
350 Massachusetts Ave.
Next Door Eatery: Much like its sister restaurant Hedge Row, Next Door just recently opened and is laser-focused on locally raised and sourced food and building itself to support our local farmers. The menu at Next Door is similar to Hedge Row, but the prices are slightly more accessible. A major part of Next Door is that it is being utilized to support 31 local Learning Gardens that Musk's nonprofit organization Big Green has built around the city at many of our public schools. The restaurant is housed in an area that really lacks in restaurants of any kind and is a welcome addition.
4573 N. College Ave.
Related: Celebrity Chef Suddenly Closes Ironworks Burger Restaurant
No Label at the Table: Maybe the most wonderful food establishment in the state, No Label at the Table is a gluten-free and dairy-free baked-goods company based in Carmel with a strong and lovely mission: giving people on the autism spectrum a place of employment. They make everything from classic yeast dinner rolls to a black-magic chocolate cake with berry-balsamic glaze, and then either they will ship to you or you can stop by their shop for in-store pickups Tuesday through Sunday. A majority of people with autism are unemployed most of their adult lives, but this company is giving people on the spectrum a chance to learn a skilled trade, find steady employment, and take pride in the work they're doing, and that is absolutely beautiful.
111 W. Main St., Carmel
Sugarfire Smoke House: An award-winning chain BBQ restaurant with locations all across the country and a new locale smack dab in the middle of Downtown Indy. While they're known for their brisket and ribs, as they should be as a BBQ joint, they also have salmon and turkey that are tasty as well. Plus, with almost 10 sauces to choose from, each bite of whatever you choose can be a new little biteventure.
24 W. Washington St.