There are plenty of places around Indianapolis making killer seafood (much of it pulled out of the ocean less than 48 hours ago) and even options for those of us who love to prepare our meals at home. There is even an upcoming annual fest that will give you a chance to taste the best shellfish the ocean has to offer right here in Indianapolis. And we've got just a few of them here for you.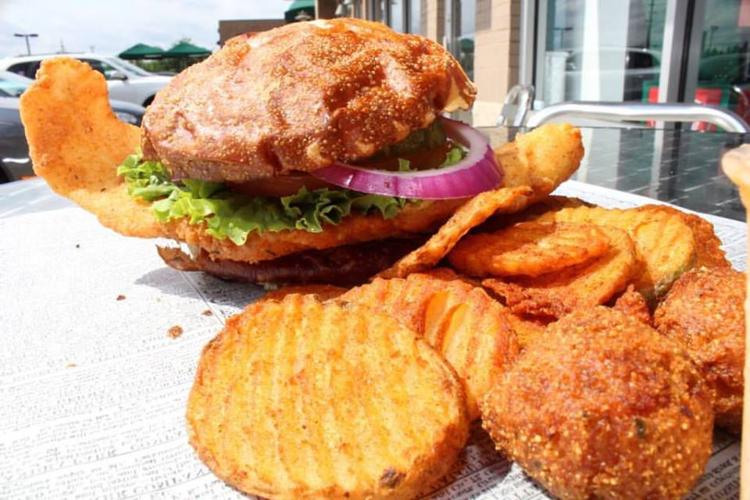 Caplinger's Fresh Catch - Caplinger's is truly a place of beauty, a rare gem to find in any city and we have two of them here. The team at Caplinger's brings in fresh seafood daily and their selection is outrageous. Whether you need some tuna steaks for the grill or some giant, sweet scallops to pan sear in herbed butter, all the way to whole red snapper or those seasonably hard-to-find, yet oh-so-good stone crabs they have just about any fresh seafood you can imagine. Plus, if cooking seafood scares you, their awesome staff is always happy to help explain the best ways to prepare any seafood they sell. If you don't want to cook, they have the best damn fish sandwiches you'll find pretty much anywhere.
Chef Oya's The Trap - Chef Oya is bringing #DeliciouslyDope seafood to an underserved area of the city. Once you get a bite of the loaded crab legs, or salmon, or lobster tail with shrimp, topped with Chef Oya's buttah and signature seasoning you're gonna be eating seafood 5 days a week. Meals come with corn, potatoes, broccoli and an egg, so you're going to be stuffed and smiling when it's all said and done. And you don't want to miss Lobster Roll Saturday, it'll be a truly magical day for you and your taste buds.
Bluebeard - Though not a seafood restaurant, few restaurants in the city keep as much seafood on the menu year-round as Bluebeard and every fish, oyster, scallop, sea urchin, etc. they serve is prepared in a unique and nearly perfect way. Though their menu changes regularly they continually have dishes like Meagre (a lowfat, white fish) with chanterelles, leeks, salsify and creamed spinach and bouillabaisse (a provençal fish stew) with clams, mussels, crab, ham, oyster mushroom, swiss chard, celery root parmesan broth — both of these dishes are on the menu right now and we're sure there will be more deliciousness in the coming months.
Cerulean - The menu literally spells it out for you by breaking down dishes by garden, larder, land and sea. The sea offerings are always interesting and Chef Alan Sternberg can prepare a fish as well as most any chef you'll find on either coast. One part that sets Cerulean apart in terms of its seafood offerings is the pairing them with local, in-season vegetables which should set anyone who recognizes the importance of supporting our local farmers at ease.
Kona Jack's - This Northside spot has been dishing out the freshest, high-quality seafood in the city for longer than just about any other seafood spot around. Their menu is chockablock full of options like lobster tails, crab legs, tuna, grouper, ono and much, much more. Their fish is flown in fresh daily and while they make some awesome dishes and have lots of live music to go along with it, you can also go to their fish market to purchase that fresh seafood and take it home to prepare any which way you please.
Noah Grant's Grill House & Oyster Bar - Almost a qualifier for a hidden gem, Noah Grant's is nestled in Zionsville. They just did a total re-haul of the place and it is ready to reopen and start serving Indy with some of the best seafood around. While they have plenty of non-seafood options, the real reason to go here should come as no surprise due to the name, treat yo'self to some oysters — lots and lots of oysters.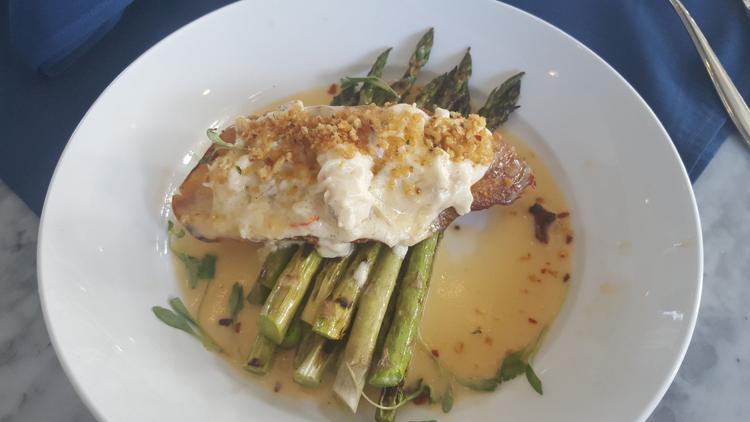 Salt on Mass - Mass Ave is starting to get fancy AF and this seafood room is one of the fanciest and it dishes out classic high-end seafood fare. They have fantastic tuna poké, which is possibly the greatest seafood dish there is. And while you could easily go with the vast selection of classics, maybe you should branch out and get some lobster poutine, because holy shit, it's lobster poutine.
Sitka Salmon Shares - If you cook and eat most your meals at home and you love fresh fish then this is the best service you could get into. We wrote a full article on them nearly a year ago and we're still in love. Using a small fleet of properly trained fishermen the company brings in all types of fresh, line-caught seafood from Sitka, Alaska. Then they send the fish through flash freezing process and ship it to your door along with recipe suggestions and sometimes even the fisherman who caught it. Their deliveries get the fish to Indiana within a day and depending on which service you get you can have black bass, Pacific cod, dusky rockfish, Sitka Sound king salmon, Copper River sockeye and tons more and the fish can be ordered in various amounts during various time periods from 3 - 9 months.
Chains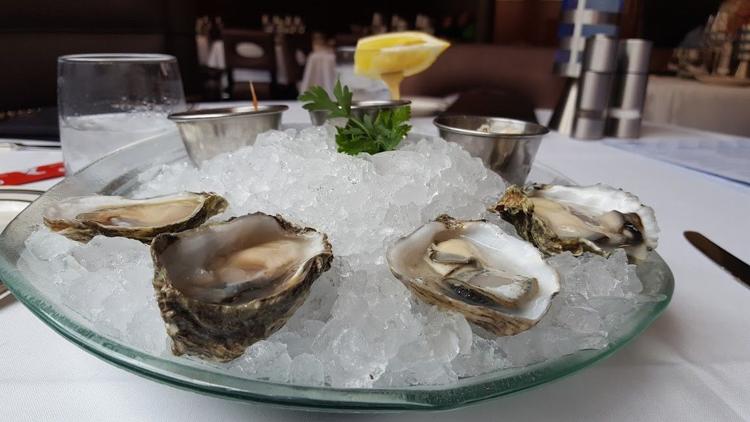 Oceanaire Oyster Bash - Consider the oyster. It is a thing of beauty and Oceanaire is recognizing it as such and throwing a whole party based around it. On Sunday, November 19, 2017 they will be celebrating at the Downtown Indianapolis location with wine, beer, spirits live music and, of course, oysters. The hors d'oeuvres menu includes: unlimited oysters on the half shell, oysters Rockefeller, oyster shooters, shrimp cocktail, bourbon cured skuna bay salmon, mini crab cakes, buttermilk fried calamari and even more. So much fresh and tasty seafood to enjoy all night.
Ocean Prime - A dinner here usually is in unison with a celebration, the food quality is high, definitely worthy of being an anniversary or birthday dinner, and the dishes are priced accordingly with an experience to match. If you're a true fan of shellfish they have the perfect option for you with their smoking shellfish tower which is loaded with all kinds of lovely bites from the sea. They always have a great selection of fresh-caught fish, but time and again I get the Lemon Sole, or lobster if I'm feeling fancy AF. Don't miss out on Surf & Turf Sundays if you like filet with your scallops or crab cakes.
Kona Grill - This is the place I first tried sushi. I was a hard sell on the idea when I was young and my mom took me here and loaded me up on Volcano Rolls, Las Vegas rolls and I even attempted a Rainbow Roll. My palate has come a long way since then and my love of sushi has taken me all around trying just about any raw fish I can find, but there is no doubt that Kona Grill has an insane amount of options when it comes to sushi and is a great entry point into sushi. They also happen to cook a damn-fine pan-seared tuna and their miso-sake sea bass is pretty great too.
Sushi - Speaking of sushi, not seafood list would be complete without those slices of fresh, delish fish. It is definitely in a league all its own. And while there are dozens of sushi spots littering the landscape and almost all of them having merit in some way or another these are a few standouts for us.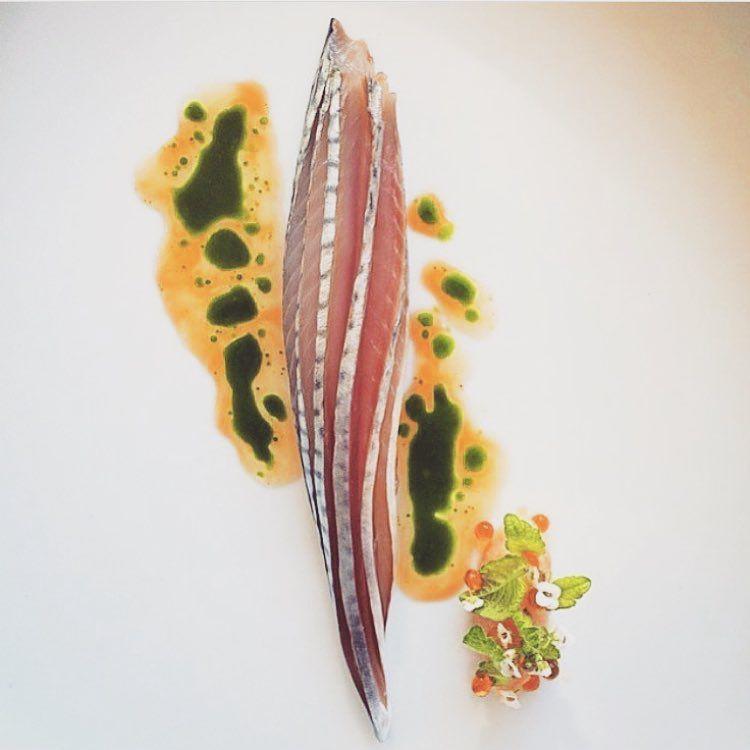 Sakura - It takes the top spot for Best of Indy nearly every year and it's because they do sushi right. The ambience is far and away the most enjoyable and comfortable in the city for sushi dining; while most places have a '90s white, clean, neon or black and red and neon feel Sakura feels like you're stepping into a warm, classic room Japan. Add to the ambience the incredible sushi offerings — might we suggest some soft shell crab, and you've got everything you could ask for. It gets busy, but they have a second location (even though the ambience isn't as nice) named Ocean World just about 10 minutes away.
Sushi Bar - Not a very SEO-friendly name for a restaurant, but this spot right in the heart of Broad Ripple is the perfect spot to sit outside, people watch and chow down on some fresh sushi. While they definitely have a nice selection of sashimi and nigiri they happen to make some unique and tasty rolls. And to top it all off, their beer prices are crazily inexpensive, not much goes better with sushi than a Kirin.
Tomo - If I could, I would eat at Tomo, like, 4 days a week. Their tuna is spectacular, especially if you happen to go for a bowl of chirashi and get the fatty white tuna — it melts in your mouth — they also serve the most generous portion of avocado you'll come across in their avocado salad or their spicy tuna avocado bowl. They also have some of the most tender octopus sashimi around, which, when it's done right, may be one of the best slices of fish out there. Plus, their Rockstar Roll has all sorts of tobiko on top and who doesn't love fish roe?
Ukiyo - This new spot isn't even open yet but we couldn't be more excited for what it will bring to Indy's food scene. The first reservations for December are now open on the restaurant's website and we're trying to be first in line for the Omakase option. From the images and descriptions of dishes that chef Neal Brown has released it looks like we're in for a caliber of sushi that we haven't really seen in this city and that is beyond exciting.
Watami - It's pretty simple why this place shows up on the list: They have all-you-can-eat sushi. And, surprisingly, the sushi ain't half bad either. If you're looking to stuff yourself to the brim this is the place for you.