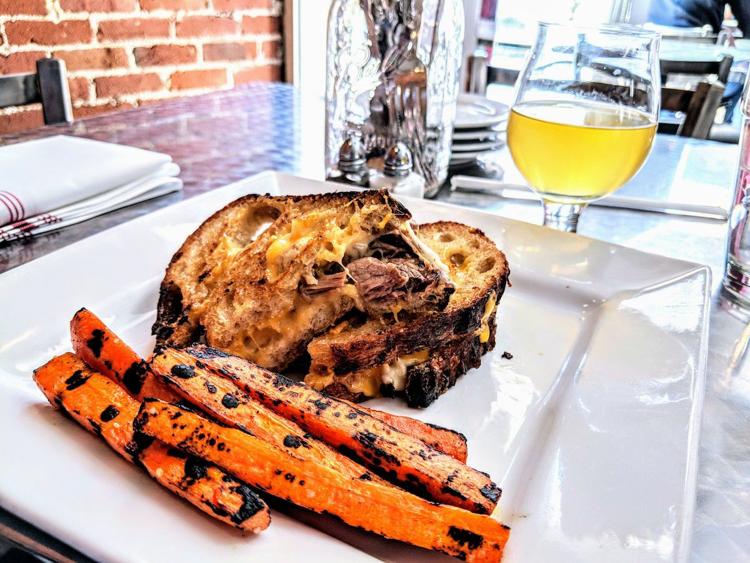 Two slices of bread and a few slices of cheese and a hot pan, fiery grill, or panini press and that's all you need to make one of the tastiest, most iconic bites in the world. Whether you like them simple with just cheese and bread, or all dressed up with meat and veggies, Indy's got you covered when it comes to grilled cheese.
Black Acre Brewing Co. - This Irvington-based brewery is lauded for its locally-crafted beer. While you should be sipping on one of those while you're here, it never hurts to have a bite to eat and their grilled cheese is the perfect accompaniment. It offers a smoky flavor from the mix of white cheddar, smoked gouda and provolone on the ciabatta. The addition of garlic and red onions sets it apart from your standard grilled cheese.
Cannon Ball Brewing - Another brewery with a damn good grilled cheese. Despite having no kitchen, Erin Kem has crafted quite a miraculous menu for this spot in Kennedy King and even though the grilled cheese is the simplest item on the menu, that doesn't make it any less delicious. This sandwich is pressed using a panini press and is served up with apples, greens and onions, which gives it a  greater depth of flavor than those Wonder Bread and Kraft slices Mom made when you were younger.
Daredevil Brewing Co. - Breweries seem to really love serving grilled cheeses, and it's no different in Speedway. But, Daredevil's is definitely the fanciest so far. It is layered with three different cheeses including cheddar, provolone, and a locally-made, mild, nutty Tulip Tree Haymaid. It's all grilled up on local Amelia's semolina. And the most exciting part of this sammie is you can add Claus' Sausage, Smoking Goose bacon, or a King David dog, for an extra meaty dish. Cheese, meat, bread, and beer make for one hell of a meal.
MacNiven's - Even though this is a Scottish Pub, that doesn't mean you have to get Scottish cuisine while you're there. If you're going to eschew the fare of the Scots, you may as well go for the grilled cheese. It's got a trifecta of cheddar, swiss, and mozzarella blended with sliced tomato, red onion and the key ingredient, a spicy red pepper aioli. Choose your bread, order a beer or whiskey and head on down to munch town.
Milktooth - This is about as far from your typical grilled cheese as you can get, and for that reason alone you should give it a try. It's also the easiest view into why Milktooth is lauded as one of the best restaurants in the country, it shows exactly what sets it apart. This majestic piece of work has a strangely alluring blend of cranberry walnut, geneva and raclette grilled cheeses and is topped with a mesmerizing black truffle honey and local sunny duck egg. It is truly one of the most unique sandwiches you'll ever have time and time again.
The Mug/Clustertruck  - Sometimes you have to go all out and order something that sounds so ridiculous that you know it's going to be an experience. The Savannah smokehouse grilled cheese Mug style from The Mug and Clustertruck is a cheesy, meaty monstrosity that basically is yelling, "Be still my heart." It is a mind-blowing mix of jalapeno pimento cheese, parmesan and cheddar mac with smoked pulled pork all stuffed between buttery Texas toast. This sandwich is a serious as a heart attack.
Pia Urban Cafe - This new spot has one of the more interesting flavors with minimal ingredients. Because of the  swiss and smoked cheddar there is a nice smokiness to the sandwich, but when you take those cheese and press them between two slices of sweet bread it creates a gooey and well-balanced sandwich. 
Porter Books & Bread -  Head to Fort Ben, bring your favorite book—or buy yourself a new favorite book—order a cup of coffee and then prepare to enjoy it alongside a Twain. The pickled serrano "pimento" cheese has a spicy and earthy flavor that is spread across a grilled farmhouse bread. It makes for a wonderful, cheesy afternoon.
Rooster's Kitchen -  They don't hide anything here when it comes to the name, you're getting a Damn Good Grilled Cheese. It starts with some local Amelia's City Loaf and pressed in between those slices is a mix of gouda, cheddar and havarti cheeses. While  the traditionalists could and should stop there, if you've ever been to Rooster's you know the homemade brisket here is fantastic and for a few dollars more you can add some. Once you've added the brisket, why stop there? Add a farm fresh egg and bite into the sandwich of your dreams.
Twenty Tap - Giving Milktooth a run for the money on the most unique, Twenty Tap's short rib grilled cheese is topped with some of the most interesting sauces you'll find in the city. First, we kick off with braised Fischer farms short ribs, already kicking this sandwich up a notch. Add to that some smoked gouda and havarti. Here's where we start to branch into the original, with a sweet, tart cherry bourbon glaze and a spicy jalapeño marmalade. FInish it off with some caramelized onion all amalgamated between two pieces of Texas toast and you've got a sandwich worth writing about.