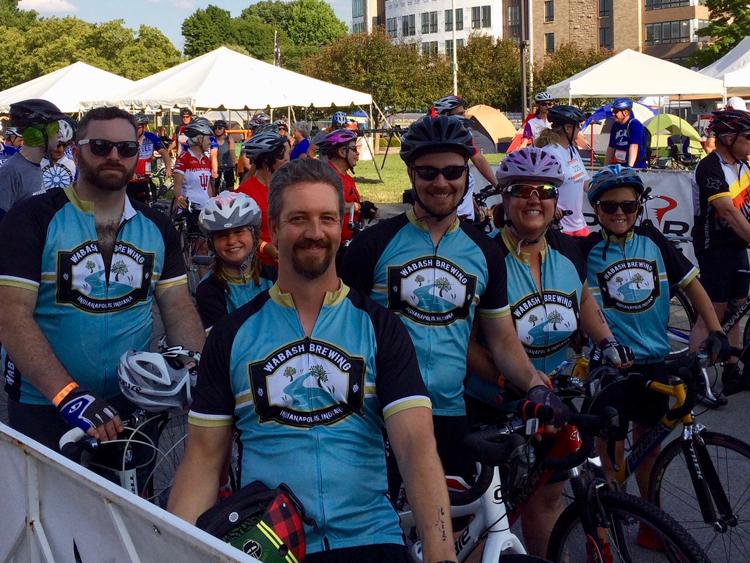 "Cheers" ran on TV for eleven seasons—Sept. 30, 1982-May 20, 1993. When Broad Ripple Brewpub opened in Fall 1990, we were well tuned to the routine of meeting up to socialize, eat, drink, relax. We knew the refrain: the pub is "where everybody knows your name." BRBP became the reality, and nearly three decades later it's still the model as nano-breweries across Indiana and throughout greater-Indianapolis are becoming the neighborhood gathering place.
When Wabash Brewing opened early 2015 as a nano-brewery, in a snug space at 5328 W. 79th St., craft beer pundits shook heads, rolled eyes, wished the home brewer team of Wabash College science graduates good luck, and waited for the demise. Instead, Wabash Brewing slowly won a solid patron base, and became the spur for Deviate and Traders Brewing to open in nearby industrial parks. It also led Black Circle and Round Town to jump into the industrial vibe of their respective locations across town from each other and within striking distance of downtown. Collectively, they're part of a special beer bus tour.
Three and half years later, Wabash Brewing has doubled its interior space, with a family friendly dining area that's also home-base for Liberation Coffee Roasting Company and Between Brews Foodwerks, respectively serving coffee and food on-site and for take away. Together, they form the 503 Artisan Project especially sourcing local and organic products, and working together to promote civic and neighborhood philanthropy and to showcase local artists and craftspersons. The pocket patio fronts the eye-catching facade setting the space apart from a row of look-a-like industrial offices. The bar area now has 12 taps, up from eight, featuring Wabash Brewing's favored house beers and revolving seasonals and specials.
When I recently visited, arriving at 9:30 a.m., a neighborhood group was in a meeting at a table in the not-yet-open-for-pouring bar area; in the family side, another group and one person working on her computer. Megan McCloud has been on site for coffee to be ready by 7 a.m. Between Brews would not open for lunch until 11 a.m. so they provide scones for Liberation to serve, along with muffins and brownies from Rail Epicurean.
Owner/head brewer Nic Stauch described how the site has developed into hosting "a lot of cross-over events, including business meeting in the morning, birthday parties and family gatherings in the evening, in addition to regulars for coffee stop in, lunch and dinner."
But the overarching reason for the invite to show up was the newest news.
Megan has added Wabash assistant brewer to her title as purveyor of Liberation Coffee Roasting Company. "Our first co-brewing collaboration, Origins Coffee American Pale Ale, features a double Mosaic dry hop along with Ethiopian beans.
Megan describes the flavor profile as, "nuanced coffee to complement, not overpower" the base beer. The range of fruitiness from this combo of beans and hops is akin to 'sipping a rainbow,' as in the spectrum of fruit colors. What to expect is an amping up from the original Origins coffee brew; to be poured at the upcoming June 23 Summer Solstice event.
Nic is full of pride as he describes the traditional Guild System in effect at Wabash Brewing. Along with "being up to her ankles in muck" cleaning out the mash tun from Nic's brew day, "Megan, on her own, designed her first small batch brew two weeks ago," said Nic. "And now, because Megan's next goal is to brew Sours, we're in contact with brewers who have solved how to brew Sours without contaminating a small brewhouse.
"We originally set up for Ales only, and now we're thinking Sours and barrel aging and Lagers. You never know what might be happening day to day."
Another 'never-know' tied to Wabash is their creation of seasonal house beers for Trader's Mill Grill & Bar at 5650 W. 86th St.
It just sort of fell into place is the answer I got, for how that happened.
Nic poured a less aggressive version of the original three peppers Cinco de Mayo brew now on tap at Trader's Mill. The perfect balance between malt, hops and peppers, makes this one of the nicest vegetable beers I've tasted.
"It's really great with almost anything," promised Nic.
The sample I took home indeed was compatible with a dish of brown rice and steamed vegetables with a drizzle of maple syrup. And then it was just as fine with spaghetti and meat sauce at supper. I've got some left to share—or cook with.
By 11 a.m. lunch-seekers were arriving, so it was time to head out, but not before I was reminded to mention Wabash Brewing's co-sponsorship for the June 29-30 event, 24 Foundation Ride or Stride and change the course of cancer.
Co-owner Matt Kriech emailed, "The ride starts around 6:30 p.m. at Butler on Friday June 29th. Lasts 24 hours. This year Doug Boles from the IMS is going to MC. The course is slightly different this year. Headed down Capitol and then back up Illinois like normal. Pizza party is at midnight! Then lots of activities throughout Saturday. Most folks start showing up around 3 p.m. on Friday.
"There is a walk option this year. I believe it starts at 8 a.m. on Saturday.
"We're looking to break records for attendance this year.
"Our beneficiaries will have tents as well. A really cool one is casting for recovery. They put on fly fishing workshops for breast cancer survivors. [Everyone is welcome to stop at the tents to get information about beating cancer.]"