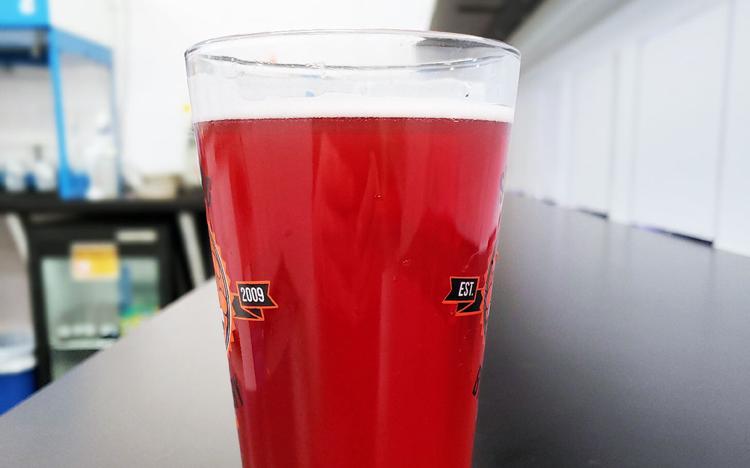 Megan Pelsor, who initiated a Pink Boots Society chapter in Indianapolis, convened a brew day at Sun King Brewery on International Woman's Day 2018, as part of a worldwide Pink Boots Society initiative.
"The brew day went really well," emailed Pelsor. "Everyone had a chance to be a part of the brewing process, lots of good questions were asked, and there was a lot of shop talk... so I think everyone had a good time. The goal of Pink Boots is connecting women in the beer industry to share their knowledge and experience with other women; this way we can all learn and grow from each other. I think we accomplished this on brew day and I hope we continue to do so at our tapping parties.  
"The tappings are a good way for the public to meet the women behind the beer, and talk with them about their journey's into the beer world, their knowledge of beer, specifics about Akala, hibiscus petals as a recent brewing specialty, etc.  
"Now we're sharing, and everyone is invited," added Pelsor, whose professional brewing journey with Sun King started over three years ago as part of the brewing team and now she works in the lab "doing QA/QC and microbiology/yeast."
Representing Central and Southern Indiana breweries on March 8 brew day were: 
From Black Acre: Sandy Cockerham, Lindsay Doyle, Kate Hastings, Holly Miller, Rachel Monroe; Cavalier Distributing: Devon Broadbent; Crasian Brewery: Michele Burlington; Four Day Ray: Brooke Killey; Indy Girls Pint Out: Amanda Wishin; Round Town: Max Schenck; Scarlet Lane: Eilise Lane; Sun King: Beth Belange, Kelly Brown, Gretchen Derringer, Wendy Johnson, Carra Kraft, Erin O'Rourke, Megan Pelsor; Taxman: Leah Huelsebusch; Tin Man: Sara Davidson. 
The news release announcing, "This year 260+ brewery teams covering 10 countries brewed different styles of beer using a special YCH Hops Pink Boots Blend made especially for this occasion.
Alex Rumbolz, Senior Customer Liaison at YCH Hops/Yakima Chief-Hopunion, LLC., replied to my email questions, starting with the donation.
Alex Rumbolz: For every pound sold to brewery customers of the Pink Boots Blend, three dollars per pound will be donated to Pink Boots Society. Sales began in January [2018] and have been ongoing since. We expect to reveal an exciting contribution during Craft Brewers Conference on May 1 in Nashville, Tennessee and hope to continue beyond 2018 for future collaborations.
NUVO:  What is special about this hops blend?
Rumbolz: Our customers are always looking for ways to give back to their community and we want to help provide them with every opportunity to succeed. The best way we can help our customers give is to provide what we know best…hops. The blend character is fruity with citrus and herbal notes. It consists of Simcoe®, Loral®, Citra®, Mosaic® & Palisade® and can be used for bittering, aroma and during dry-hop. 
We don't have a signified Blend Development Team. However, along with a diverse group of Pink Boots ladies, we have an enthusiastic group of strategic planners, technical specialists, marketers, brewers and experienced sales representatives who contributed to the selection of the blend. Last fall, we all came together with Pink Boots Society to select the hops.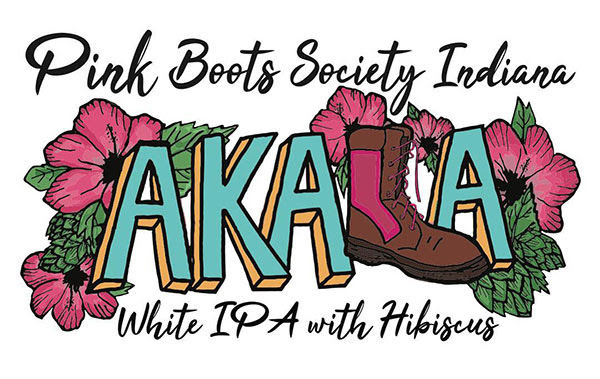 NUVO: Is it a one-off blend?
Rumbolz: This is our first time doing a blend with Pink Boots Society. However, we are very passionate about our partnership and hope to continue working with them in years to come.
This wasn't a test. This was an authentic hop blend specifically created for a purpose. Pink Boots Society was created to assist, inspire and encourage women beer industry professionals to advance their careers through education. YCH HOPS is proud to support their mission by selling the blend.
NUVO: 260+brewery teams internationally requires a lot of distribution logistics—how do you make it work?
Rumbolz: Women brewers around the world were free to participate at their own will. We handled the blend just like we handle our various products and varieties; through one-on-one sales with our team, structured distribution and unparalleled customer service.
In late 2017, national and international members of Pink Boots society joined representatives from YCH HOPS (at GABF) and selected hops for a special Pink Boots Society hop blend. The unique selection opportunity was a wonderful bonding and educational experience for the participating members and led to the strategic formation of our partnership with Pink Boots Society.
We will continue to expand our Community Blend program in which uniquely crafted hop blends are used to brew beer, with a portion of both the beer and hop blend sale benefiting a featured not-for-profit organization. 
NUVO: How are you getting to taste the multiple brews so you at YCH Hops can determine the viability of the blend for the myriad of styles that now are surfacing?
Rumbolz: We love any opportunity to try different beers associated with this blend. Though we cannot try every beer with the blend, we are passionate about educating our customers on anything related to hops.
NUVO: What else should NUVO readers know about the hops blend & YCH Hops?
Rumbolz: Our mission is to connect family hop farms with the world's finest brewers. And through this partnership with Pink Boots Society, we did just that.
Locally, a portion of all pint sales at the tapping parties are being donated to the Pink Boots Society. 
If you miss a tapping party in Indiana, ask for Akala IPA at one of the participating Central and Southern Indiana breweries  and at your favorite bar and restaurant.