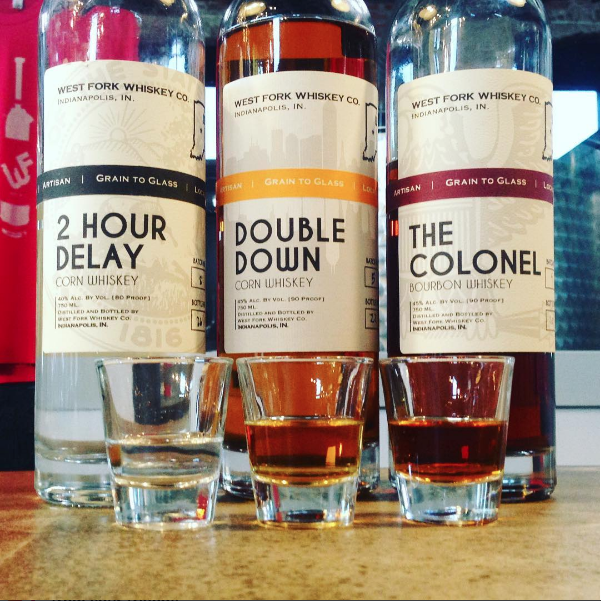 When NUVO was first introduced to West Fork Whiskey and the team behind it, they were based out of an industrial area in Zionsville. The young company had one major focus that co-owner Blake Jones expressed in our first meeting. "We just want to be really, really good at making whiskey." 
And while they were making all the right moves to reach that goal, it isn't an easy task to get the public behind a product they've never had the opportunity to taste. When I initially asked how they did tastings, co-owner Dave McIntyre quickly quelled that idea. "It is illegal for us to do tastings from this facility," he said, before sarcastically following up with, "Thank you, laws." 
And so, about a year later, another milestone popped up for the team to reach: Open a tasting room. That happened last Friday, right in the heart of the Kennedy King neighborhood. 
I got the opportunity to see the place the day before the grand opening and let's just say it is a far cry from where they were before. 
The building they have crafted into their tasting room has come a long way as well, "When we saw this space about a year ago we loved the bones [but] it was actually kind of falling down," says Jones. "Next thing you know, we're walking through here with dirt floors and the ceilings falling in and we're, like, 'This is the space for us.'"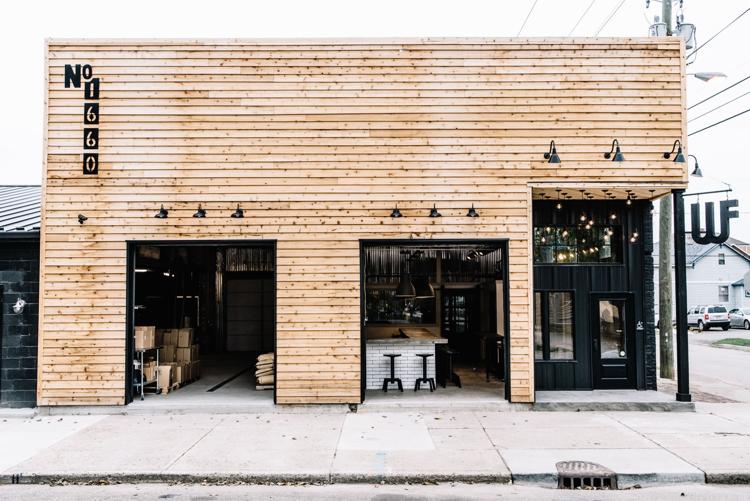 Those bones are still intact and exposed, keeping an industrial feel. But the space is completely upgraded. The horizontally-timbered facade has two garage doors that slide up to reveal the tasting room itself with high, raftered ceilings, a long, white-tiled bar with a cement top, and the original exposed brick walls. Add to that hundreds of barrels, some empty, waiting to be filled, some with varying forms of whiskey going through the aging process and the massive whiskey still and mash tuns and it makes for a room any whiskey-lover will feel happy in. 
The unique look is due in part to the co-founders' significant others, "My wife and David's fiancé did all the design work and picked out all the textures," Jones says. "The concept was that we wanted people to feel like they're in this, a little bit modern, whiskey cocktail bar, but in the middle of a production whiskey distillery." And while the design of the place is definitely inviting, the most important aspect of any distillery is the booze that they're crafting. 
After tasting West Fork's products a year-and-a-half ago and a few times since then, it's been fun seeing just how much more mature and developed the whiskey has become. One major change they have made to the whiskey to produce a better overall product is doing grain-in fermentation, which means the grain stays in the product throughout the fermentation process. 
"We think it makes the best whiskey," says Jones. McIntyre adds, "It stays with the product longer and helps with the flavor profile." They mention going around to some of their favorite distilleries and decided to go in that direction after not initially doing it. The biggest reason why not all distilleries do grain-in: "Logistically it's a nightmare," says McIntyre with ample nodding in the background from their Master Distiller (and Blake's older brother) Julian Jones. "It's Julian's favorite thing," says Blake, with a laugh.
Julian retorts, "Hate it!" while filling a mash tun with Indiana grains from Sugar Creek Malt Co.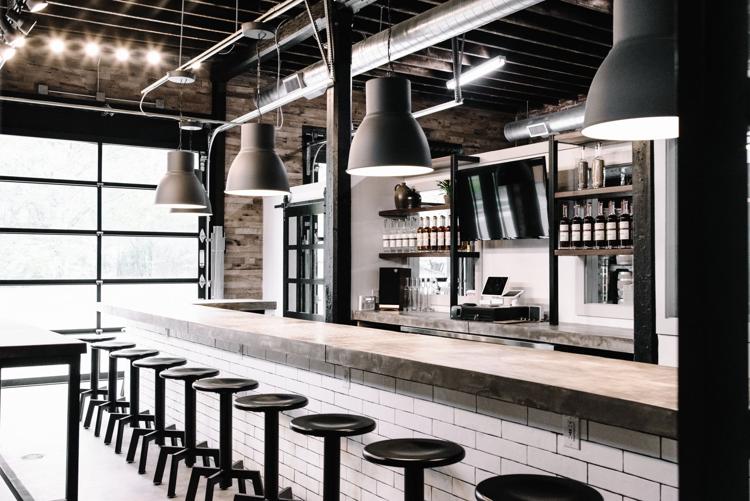 McIntyre explains that the grain-in adds a long and messy step to the process where they have to pump out the leftover grain and separate it. But, despite the mess and having tons of grain to throw away — "We're looking for a pig farmer to give it to if you know any pig farmers," Jones adds — they know it's worth it for the better end-product. 
Sitting at the bar with a taste of their three whiskeys in front of me — 2 Hour Delay, an un-aged corn whiskey (sometimes known as White Dog or White Lightning); Double Down, an aged corn whiskey; and The Colonel, a bourbon —  I'm blown away by the depth of flavor in all three offerings.  The Colonel is my favorite to drink neat, but they point out how well the lighter 2 Hour Delay would go in a Bloody Mary and I can't wait to give that a try. 
"We're about to release three more," says McIntyre. "In the next month, probably in the next two weeks we will have two additional products here." Jones follows, "We have Third Degree coming out, which is a cinnamon-infused whiskey." They wanted to craft a cinnamon whiskey that was made of more natural ingredients than your typical options, so they made one with only four ingredients: whiskey, cinnamon sticks, simple syrup and dried red chilies. They also have a rye-based bourbon, B-Street Blues, coming out and a traditional rye whiskey to follow.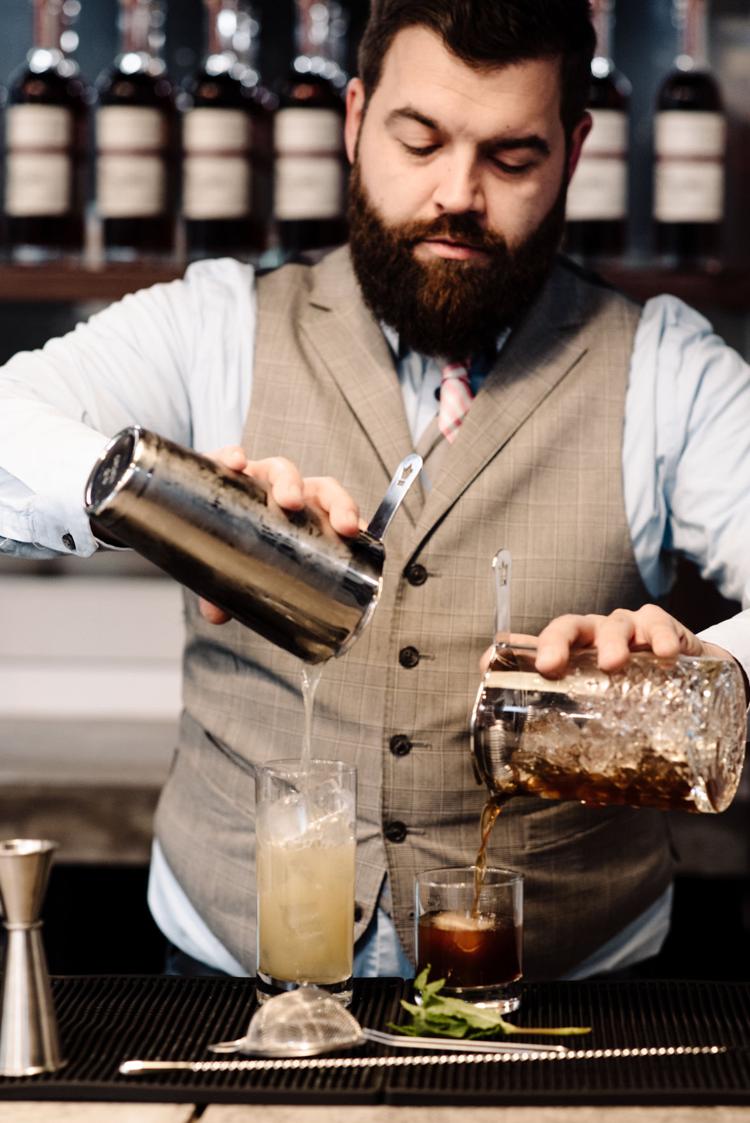 They're joining the Kennedy King neighborhood at an exciting time. In the past year the area has seen the addition of Festiva, a Mexican restaurant from the Tinker Street team. Hotel Tango added its event space just up the road from the distillery. And just across 17th Street from the distillery sits Cannon Ball Brewing. 
The brewery's chef, Erin Kem will provide West Fork with food options including a custom bar mix. "It's a simple, but good menu," says Jones. "It will have a couple paninis, some appetizers, a couple desserts." They even mention a possible dessert being made with one of their whiskeys. 
While Jones describes the menu, McIntyre mixes up their house old-fashioned; it's damn good and different than any other old-fashioned I've had because they aren't able to use any alcohol that they don't make themselves. Their bar manager, Nate Purcell, formerly of North End BBQ, is blending all of the in-house bitters, squeezing fresh juices, and making house syrups for all of the cocktails. And they're doing their best to make cocktails affordable. 
"We're jumping on the Thunderbird train and doing the 'Death to the $12 cocktail'," Jones says. All 10 of their whiskey cocktails run $8 and whiskey flights and tastes are inexpensive as well. And, they sell all of their products in the tasting room, so you can grab a bottle of whiskey from $24.99 to $32.99.
The icing on top of the cake: "We can do Sunday sales."