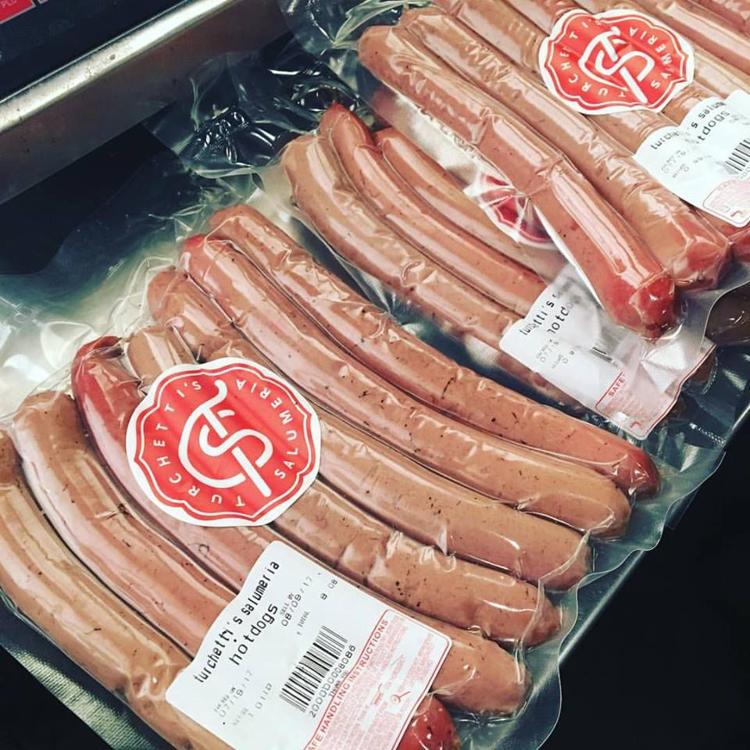 To say that Turchetti's Salumeria is bringing something new to the city when it opens this fall would be a lie — but not a total lie. 
What the new shop is bringing to Indianapolis — whole animal butchering — is something man has done for thousands of years. But in recent times we have moved this process behind closed doors.  
George Turkette and Doug Esopenko want to change that. 
"The idea is that you can come in, and everything is transparent," Turkette says while seated at the bar in the company's soon-to-open space at 1106 Prospect St. in Fountain Square that was most recently home to Marrow. "I want everybody to be able to see every part of the process of what we do." 
Bringing the butchering out of the back and to the forefront is something that Turkette believes is an important aspect to bring consumers closer to the meat that they are eating, and subsequently bring more respect to the animals. 
"You'll be able to see a whole pig, or lamb or side of beef hanging there and hopefully that will pique people's interest," he says. "We'll be working only with whole animals, and you'll be able to watch that whole process. The animal will come in, we will list the farm and we will rotate through different stuff. 
"Ideally you'll be able to come in, look at the case, and say 'Wow, there's an ossobaw tenderloin, a berkshire tenderloin and a duroc tenderloin,' and be able to visually see the difference. You get to pick which heritage breed you want and what farm it came from."
The owners hope transparency will create a more appreciative and knowledgeable public in Indianapolis when it comes to the food that we eat. 
"A big part of the environment I'm trying to create here is educational learning and a very positive environment," says Turkette.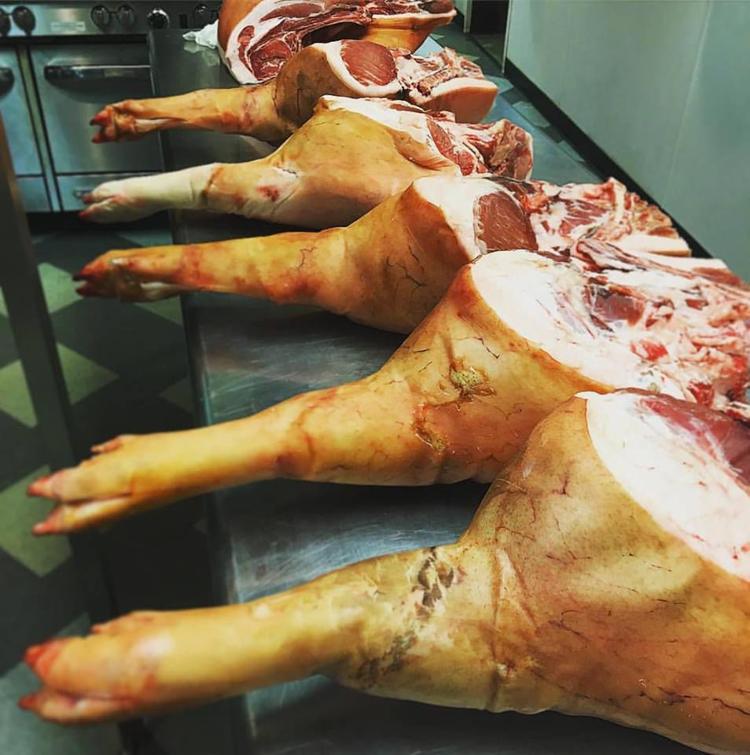 Turkette has spent his four years in Indianapolis learning about the process of butchering and curing meat. When I initially spoke with him for a story about another business he had in the works that fell through, The Pig's Tale, he said "I opened the Downtown location [of Pizzology, now Stella] as executive chef. From that point on, every restaurant I've worked in I've let them know of my interest in charcuterie. 
"At Cunningham [Restaurant Group] I took over their pancetta program and had some fun with it. Then, I went over to Mesh and Cerulean. From there, I knew what I wanted to do, so I started my apprenticeship at Smoking Goose. I signed up for an 18-month charcuterie apprenticeship and only did 10 months there."
Now, with another year under his belt and a new partner, Turkette's vision and skills are even more developed for the business he is hoping to bring to Indianapolis. 
Much like any meat counter or butcher customers will be able to come in and pick up pork chops, ribeyes, sausages, city ham and Turchetti's incredible hot dogs, but they will also be able to get a taste of Turchetti's line of dry-cured meats at their charcuterie station which will include salami, 'nduja, pepperoni snack sticks and more. 
A full working kitchen and bar is another aspect that sets Turchetti's apart from other meat markets in town. 
"We will do sandwiches — the plan right now is during lunch," says Turkette. So how will Turchetti's be different than Goose, the current gold standard in delicious meat sammies? "The biggest thing here that is different from Goose is I am compacting everything that they do into one space." He adds the full service kitchen will allow Turchetti's to expand into different types of food, although it will remain quick service at a counter.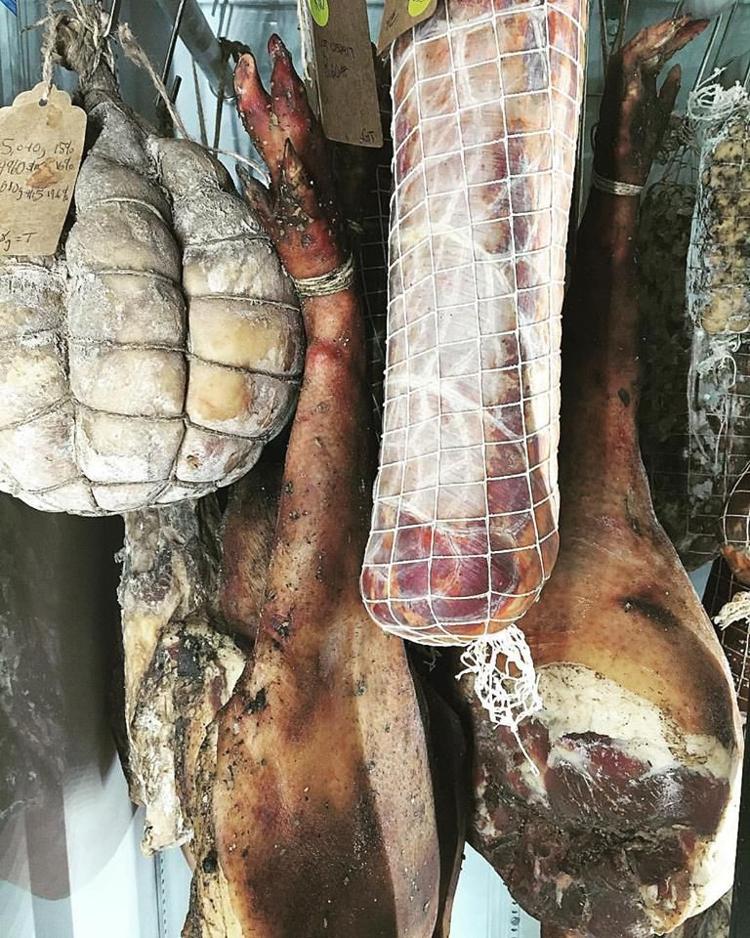 The bar, on the other hand, will be extensive, but despite the space coming with a three-way liquor license (allowing an establishment to serve wine, beer and liquor) Turkette says he does not plan to serve cocktails. 
"Fountain Square doesn't need another cocktail bar. I can walk out the door and count five places that I can go get a cocktail from; I don't want to step on their toes. That's the last thing Fountain Square needs, so we're going to do beer and wine only. We have this six draft system and Amanda Devary — who is at Vida right now — she is going to be our general manager. So she will be doing our wine lists and we will partner together and do beers as well."
While Turchetti's Salumeria storefront isn't open yet, the team has been pushing out hundreds of pounds of product a week throughout the city over the past year, including at Garfield Park Farmers' Market.
"That is where we started to create our first buzz and get our first return customers," Turchetti says. 
They are also available at Broad Ripple Farmers' Market. He tells me some of their most popular products have been the beef summer sausage, city ham, cappicola and hot dogs, which continually sell out. 
While markets are a place for them to get out and sell to and meet the public, Turchetti's products are also available in many different restaurants around the city including Milktooth, Oakley's Bistro, Bent Rail, IMA Beer Garden, Italian House on Main in Westfield, Cardinal Spirits, New Day Meadery and Wildwood Market.
For Turchetti's Salumeria, the goal is to create a business that supports and connects its community in every aspect from beginning to end. 
Turkette says, "Over the past four years in Indy, I've networked with enough farmers that I've collected a solid pool of people that I've worked with and continue to work with." 
Supporting these farmers is where it all starts. It's a major reason why the business is doing whole-animal butchery, to give local farmers a way to make sure that these animals they've carefully raised are not going to waste. (Ironically, Turchetti's has already weathered a social media campaign by local animal rights activists who have accused the business of being a negative addition to the community and propagating the "lie" of sustainable and humane local animal farming,  which Turkette prefers not to give further attention on the record.) 
Turkette says he also hopes to be able to create awareness in the community about local farm products and have shoppers become more connected to their own local food systems. 
 "I want people to come in, whether they are totally experienced or not, and feel comfortable and walk away having learned something." If they happen to eat something delicious as well, that's all the better. 
And he's taking great care with his non-pig shop occupants, too. 
"For the employees, I want them to also be learning all the time," he says. "We just want to pay people a liveable wage all across the board, back of house and front of house and create a great place for people to work."