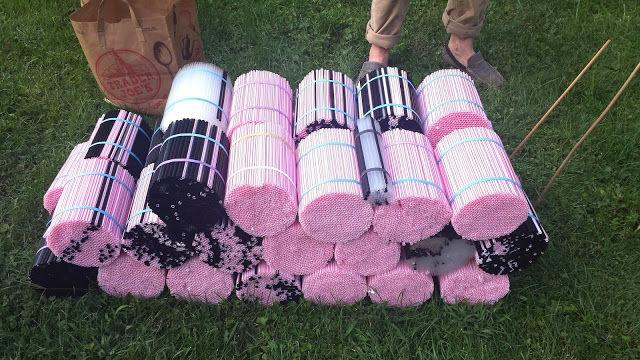 Straws. 
Those tiny plastic tubes that come in nearly every beverage we consume. 
We don't ask for them, but invariably they are there, waiting for us to suck our soda, water, tea, iced coffee, etc. through. Then we toss them in the trash, or the recycling bin. Or you're a complete asshole and we throw them on the ground or out of our car window. 
The fact is, no matter where we throw them — even if we're eco-conscious and make sure they go into the recycling — they inevitably end up in our environment. In America, according to the National Park Service, 500 million plastic straws end up going into our landfills every day, which in turn end up most often in our waterways. For the mathematicians out there, that is 175 billion a year pouring into our creeks, rivers, lakes and oceans. 
Jim Poyser, former NUVO managing editor and current executive director of Earth Charter Indiana, learned this and it infuriated him. If you know Jim, it doesn't seem like that's a common occurrence — he's a pretty chill dude, especially when you're sitting on the comfortable back porch of his home with the birds chirping and the White River trickling in the background. But he's also a passionate environmental advocate, and that pushed him to try and get Indianapolis restaurants to make a stand against plastic straws. 
He calls the project Strawbale. 
"The inception of Strawbale, I believe, was actually in a restaurant," Jim says. "I don't remember which one, but I was sitting there and thinking about big issues, like climate change, and how intimidating they are and how we're going to talk to each other about it. And I looked out across the sea of this restaurant and there were straws out of every single glass, and I just thought, 'That is so silly. That's just a lot of straws that are going to end up somewhere they shouldn't end up.'"
From there he decided he would do what he could to impact this ridiculous use of straws in the restaurant industry. "It popped into my mind as a visual pun, the idea of taking those straws and putting them into a straw bale," he says. 
And so, "I began to collect straws," he says, describing the simple beginnings to the project. He reached out to some restaurants around the city and asked if they could keep the straws that they went through and he would come by and pick them up. He tapped someone he knew shared his views on unnecessary waste to kick the project off.  
"The first person I contacted was Neal Brown," the owner of Pizzology in Carmel, Libertine and Stella on Mass Ave, and the soon-to-open Ukiyo in SoBro.  
"He was immediately excited about this project," continues Jim. "I collected most of my straws for the first Strawbale from Neal and his Downtown Pizzology (which is now Stella)."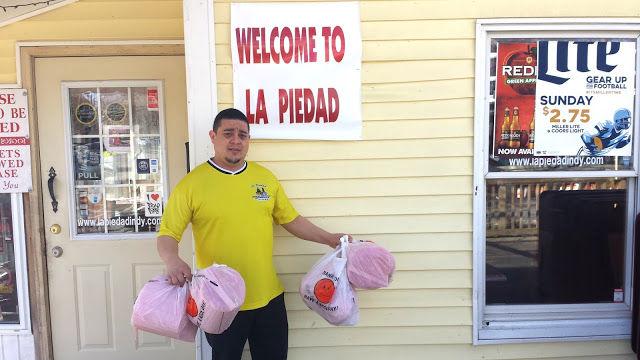 For Brown it was a no-brainer, "Strawbale was proposed to us as a mobile art installation to inspire restaurants to reduce their waste," he says. "It seemed like an easy and impactful place for us to start reducing waste."
After many bike and bus rides around town collecting straws, Jim crafted the first Strawbale. 
"The first Strawbale succeeded in creating a visual pun of used straws, but it was ugly as it could be," he says with a laugh. "That's because I'm not an artist; I'm not a sculptor. I'm a person who hates straws, and I like to take my anger about things and sort of sublimate it and work it through writing, visual art or whatever."
From that first artwork, the initiative has grown, with the subsequent Strawbale being more presentable since Jim worked with a professional artist, Nate Garvey, a graduate of the Herron School of Art. 
And while the sculpture is still the centerpiece, Jim quickly recognized an issue. "It's kind of beyond me to do this on my own," he explains. "There are a lot of restaurants out there. So, what I did in Broad Ripple is find a local school to help me. I approached Broad Ripple Montessori School."
Bringing in children from the local school, Jim gets them to have mini parades with the sculptures. They trek through neighborhoods to the different restaurants and ask the owners and managers to sign a resolution saying that they won't hand out straws unless they are requested. 
He says he likes working with the children because, "when kids get involved and they can see the impact of their actions in the surrounding community, this fulfills numerous Indiana standards, incidentally, it also fulfills the intrinsic desire of kids to work on and solve problems."
And for the restaurants, it makes a positive impact on their businesses. According to Brown, "It has reduced our disposable cost over the three years we've been participating. We're integrating this policy into all of our restaurants. We've already introduced paper straws at Libertine."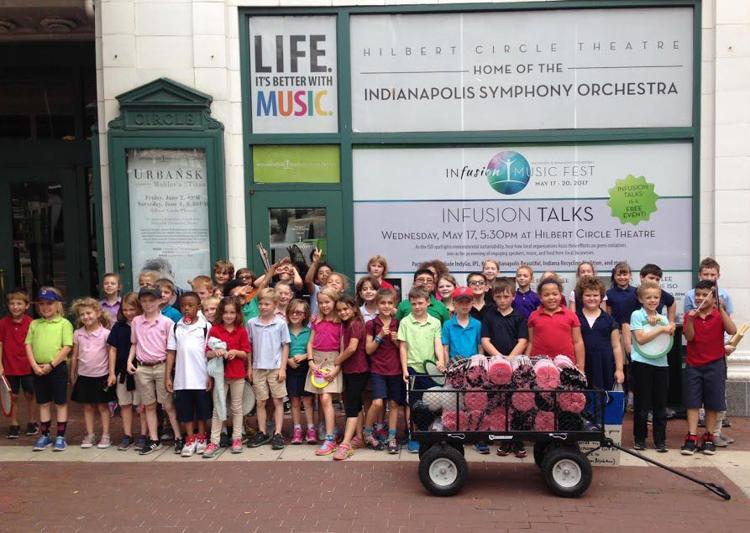 And that brings up something Jim wishes could happen everywhere. As much as he hates straws, he understands that some people need to use them, whether it be due to disabilities, tooth sensitivities, or, you know, if you're an astronaut. But, he wants to push alternatives to the classic, wasteful straw.
"There are paper straws and there are reusable straws," he says. "I know so many people now that will walk up to me and show me, proudly, their reusable straws. I'm like 'Yes! Give me a hug.'"
As for the Strawbales, they still go on parades, but they are also being shown around the city at events and art galleries. 
"It was displayed at one of the Big Car galleries recently, " says Jim. "It's been invited to appear at the Indiana Recycling Coalition ... I know the White River Alliance has some plans for it, they'd actually like to display it along the White River to call attention to the waste that is getting into the White River." 
"It's frustrating when you think about how much we have to do to keep this planet livable for all of the species on it," Jim says while the birds chirp in his backyard. "For me, there is just so much we have to solve and the Strawbale is just the start."