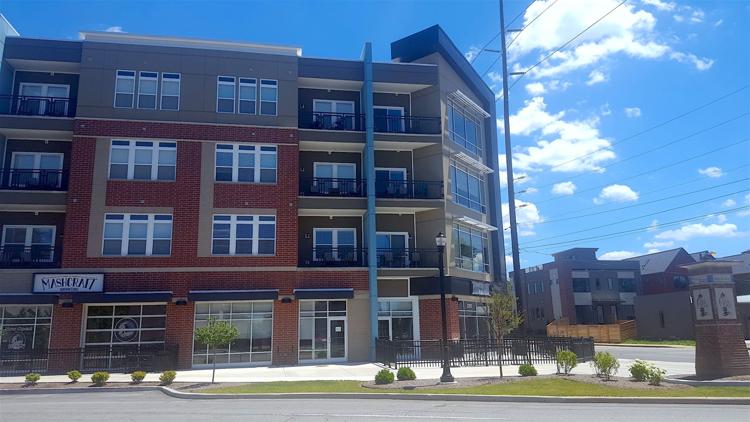 Restaurants around Indianapolis are closing. And while these closings are leaving people in the industry and diners alike wondering, "What's going on?" The answer is as unclear as the question:
"There are probably a hundred reasons of why we can say things went wrong."
John Herndon, chef of the recently closed 22nd Street Diner, sits with me at a table in Calvin Fletcher's alongside his sous chef, Josh Baker.
While Herndon is obviously referencing the closing of the diner, it's the not-so-simple answer to all of these closings. And while we could take an in-depth look at any of these restaurants, we're focusing in on the diner.
On November 15, 22nd Street Diner joined nearly 40 restaurants and bars, including Recess, The Owner's Wife, B's Po' Boy, Cadillac Ranch, Boogie Burger, Spice Box, and many more that have shut their doors since 2016. Some of those — including the diner — have lasted less than a year.
For the 22nd Street diner, though, the decision to close, amidst the hundreds of reasons, came down to one simple fact.
"There could be plenty of finger-pointing," Herndon continues, "But, ultimately we didn't have the business to support that place. Things cost too much and we weren't pulling in enough money."
Of course that cost included the large space that housed the restaurant, the maintenance on the space, the cable, the Internet, etc. and Baker says, "You know, it just adds up."
But the real cost in a place like the diner is the focus on sourcing food as locally as possible.
"It is awesome that these are local hogs, that these eggs were laid just miles down the road," says Baker. "But, if that's not translating to be worth the meal for the price you pay, or if it doesn't taste good, you get one chance and then no one is coming back."
Herndon adds, "It's hard to find the balance between being affordable and still giving people quality ingredients, done well, and worth coming back for. Finding that balance is something that I think all restaurants struggle with."
[Also read: 22nd Street Diner to open in former LongBranch spot]
And while cost is a huge issue, Herndon approaches a similar, but slightly different issue that they ran into. "There's a lot of talk that Indianapolis isn't ready for totally raw, genuine concepts all the time," he says. "But, I don't necessarily believe that, because my family would come into the diner a lot and they would try things that were different. And they're..."
"Salt of the earth," Baker interjects with a laugh.
"Yes, they're salt of the earth people," agrees Herndon. "They do not go out to the top ten restaurants in Indianapolis to eat. They're people who, if they're not making their own food at home, they're grabbing a quick bite from a fast food place on the way home.
"The real issue is getting people to eat out all the time costs a lot of money, and we just don't make a lot of money [in Indianapolis]."
Baker jumps in: "There's, like, maybe a thousand people in Indianapolis who do go out like once a week to exciting and new restaurants and until that number grows all you can do is be, like, "Hey, thanks!" And make the food taste good."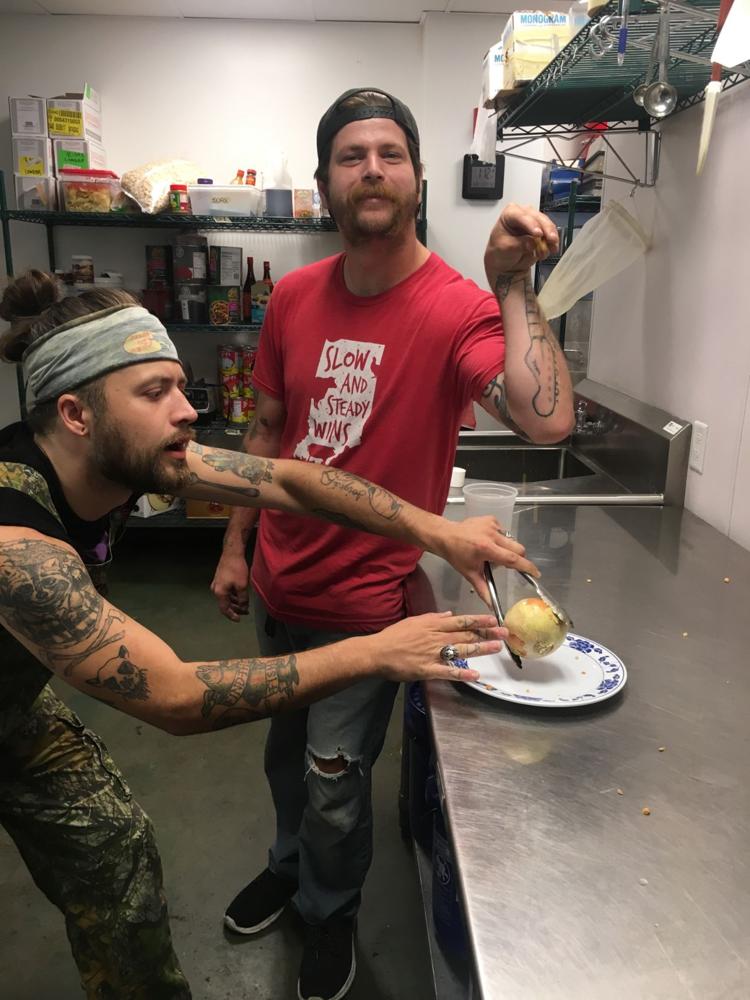 And that's exactly what the duo and their three other kitchen employees attempted to do with 22nd Street Diner. When the diner took over the space where Asian-inspired LongBranch had opened and closed in less than a six month run, it seemed like it would last, especially with the menu being what it was: family-friendly diner food.
They served breakfast and brunch standards, but, as Baker says, "It's really hard to be passionate about pancakes, just plain pancakes. That doesn't mean we're not gonna make them taste great and cook them well and everything like that."
But, with a creative and passionate group of people in the kitchen they tried to put their own spins on these classics in an attempt to get people to branch out and try something new.
"You know, we can turn the syrup on its side a bit, or give you a little different butter and try to get you to a point where you'll say, 'Hey, I will trust these guys next time.' That's what we were doing with the classics, just adding something a little bit different to get people to trust us," says Herndon of their approach.
They even had a "Trust Us" section of the menu. Herndon says, "That [section] was completely collaborative dishes between all five people that worked in the kitchen." And that section is where their passions lay.
But the number of people ordering those inspired dishes wasn't enough.
Combine all of those ingredients together and you have a recipe that just doesn't work, and that meant 22nd Street Diner's doors had to close.
And while Herndon, Baker and the rest of their team could look back on their experience with negativity, they don't.
"You can always look back and think about what you did wrong, but I mean, I don't think we would've done anything differently," says Baker. "I think there would have been little things, like different attitude shifts. Being more neighborhood specific, maybe..."
[Also read: Two surprise Indianapolis restaurant closings]
Herndon joins in: You know, ideology can separate us, but hard work and dreams are what bring us all together and that's really where I left it. That's what we were doing; we were working hard and following what we thought was right.
"I know for me I have never worked with a better group of people than I did at the Diner. There were many times where some of the problems that we faced there could have easily divided any one of us from each other, but we didn't. We didn't do that. We held each other up…
"That to me — I've been cooking professionally for 17 or 18 years, shit — but for me, I had never had that before and that is something I'll take with me long past when I forget the diner was a thing."
Baker reiterates this feeling of camaraderie, not only in the group that worked at the diner, but also within the larger Indianapolis community. "Any adversity we had only made us band together better, which was awesome," he says. "And as much as it sucks that the diner closed, the amount of support from the community and industry is just reinforced more and more.
"It's, like, this person I haven't talked to in a couple months is reaching out and saying, "Hey, I heard about the diner, let me know if there's anything I can do." It's just that simple stuff of community."
As to what's next, that's still up in the air.
Baker says, "The amount of time and sanity that we invested into the diner, it's really nice to just take a couple of days and just be like,  'Oh, man, I'm not waking up in a cold sweat to the sound of a ticket running. Or hearing someone yelling, 'Fire!' '86!,' 'On the fly!,' " he finishes with a laugh. "It's kinda great just taking a couple of days off. I've been in the woods way more than I should, but it's calming me down."
Herndon says he knows that'll everything will turn out okay, "From Wednesday morning when we found out, it was just, "Okay, let's make sure everyone has a place to go." So, I've spent this time finding jobs for everyone and making sure they're okay and doing well. I know Josh is going to land on his feet. Every single one of us is extremely capable and extremely talented."
He continues with a wry smile, "For me, I'm hanging out with my daughter and getting my Heelys on," he points to his shoes with in the heel. (I didn't know they still made Heelys, even though I had my own pair in sometime around 6th grade.) 
Baker jumps in with a laugh, "That's right, we all got Heelys...We bought Heelys to recapture any sense of joy."
"Heelys to escape our feelys," says Herndon. 
They both know they'll end up back in a kitchen and that they will bring the knowledge and skills that they learned while running 22nd Street Diner and their food truck, Tongue N' Cheek.
"The food truck made us think about the whole 'no waste' concept and that's still something that, to the grave we will push that. Using whole animals. Using off cuts," says Baker.
"We love what we do and respect the ingredient from start to finish and we're not going to tarnish any of that just to fuck with you. We're not going to do that, that's a waste of all of our times." As for what the future holds, "For me it's always been the same. I just want to cook good, honest food with people I can stand next to for 12-14 hours out of a day without going crazy."