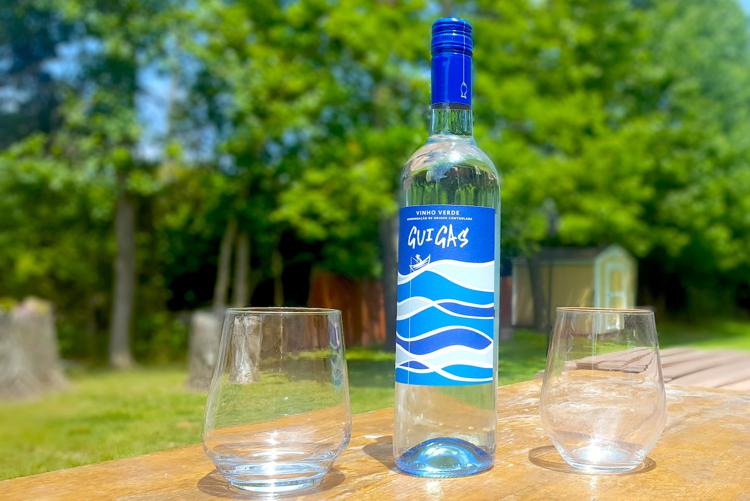 During these hot, humid months in Indiana, lighter and refreshing expressions of wine bode best for patio pounding and meal companions alike. Pinot Grigio, Sauvignon Blanc and unoaked Chardonnays are all popular selections for the dog days of summer. As much as I enjoy selling these wines, I grow tired of this narrow summer wine arsenal. Here is your next summer wine to pick up at your local shop. Meet Portugal's Vinho Verde.
Literally translating to "green wine", Vinho Verde is best consumed young and fresh. Dry to off-dry (off-dry being a term for a drier style wine with little to moderate amounts of residual sugar), refreshing and lower in alcohol (8.5-11%), this is a great choice for day drinking, when you don't want to put yourself to bed too early. Vinho Verde typically has a slight fizz and effervescence to it, exuding a crisp mouthfeel backed with plenty of acidity.
An actual region as well as a wine, think of Vinho Verde as a type of wine that can be made from about a half dozen varietals, namely Alvarinho (Albarino in Spain) and Loureiro. Taste profiles definitely vary, but expect some combination of peach, apricot, sweet citrus, green pear, lemon and lime. The wine's razor sharp acidity and minerality can be compared to Riesling. I could go on and on about how wonderful and versatile of a grape Riesling is, but that's for another time.
Another reason to embrace this wine is its affordability. Expect to be well under $15 per bottle, many times under $10. One of my suggestions is Octavo Vinho Verde, which can run under $7. This style of wine is a serious value and will accommodate many different palates and preferences. Pour this alongside some fresh seafood and you've got yourself an excellent duo.
Merely suggesting one new to wine to try this summer doesn't do justice to all the other great summer whites out there. However, if you are looking to change your mundane wine purchasing habits, give Vinho Verde or something else out there a try.
There are countless fun and interesting wines to discover! Which one will you try next?
Chris Wildeman has lived in Indianapolis his entire life. He is a Certified Specialist in Wine and is the Wine Buyer for SoBro Spirits located in South Broad Ripple. Value and uniqueness are two principles of wine he enjoys sharing with others.