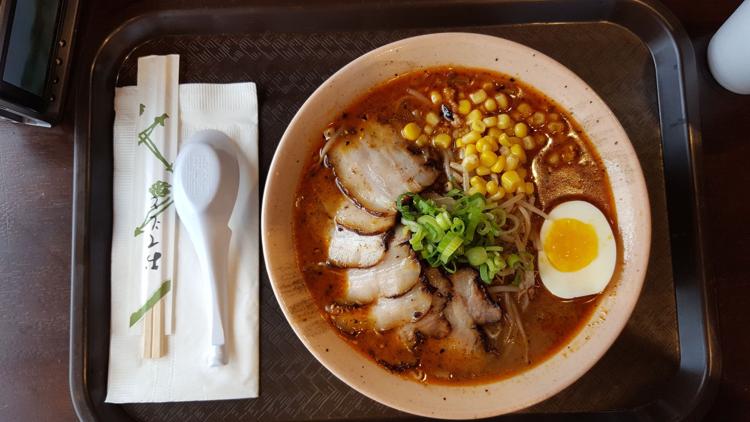 If I had to choose one dish to eat for the rest of my life, there is a good chance it would be bowls of noodles from — name a country is Eastern Asia. One of my absolute favorites of those bowls is ramen.
No, not Maruchan's dehydrated packets with granulated bouillon, but true ramen, a style of noodle soup that takes years of training to truly master.
From slowly and laboriously crafting the broth over many hours, to preparing the noodles to just the right texture, to the seemingly simple task of boiling an egg to the point where it is cooked enough but the yolk is still runny, ramen is an art. And the team at
Ramen Ray
, at 5628 E. 71st St., has invited a master of this art, Mr. Ishida, to cook in their kitchen.
Mr. Ishida is making the sojourn from his hometown, the bustling city of Sapporo in Hokkaido, Japan, to share is masterful recipes with Indianapolis this weekend. He will be at the restaurant Friday through Sunday, January 26 through 28. 
Paul Yu, general manager of Ramen Ray says the restaurant got in contact with Mr. Ishida before they ever opened. "Jun, [Ramen Ray's] owner, went to Japan and got training from him before he opened up Ramen Ray." 

The reason Jun chose to learn under Ishida is simple to see once you know Ishida's history. According to Yu, "[Ishida] joined a Nishiyama Seimen in 1985, a large ramen company in Japan. He also held ramen cooking classes and helped open up 100 ramen restaurant in Japan alone.
"He's also opened restaurants in Australia, Singapore, Hong Kong, Europe and America, restaurants that specialize in ramen."
When Yu mentions Nishiyama Seimen being "a large ramen company," it's easy for Americans to misunderstand just how large the company is. According to the Eater article, "Anatomy of a Noodle: Daikaya's Supplier Talks Ramen," the company provides ramen to nearly 2,000 restaurants in Japan, and 4,000 worldwide. 
It is due to this massive amount of ramen knowledge that Ishida can be called a ramen master. Yu explains, "It is a title that is earned, but not official. With his track records of helping open hundreds of restaurants, Mr. Ishida has implicated his standards and knowledge to help establish these businesses."
With a wealth of knowledge gained from his time training training with Ishida, Jun returned to Indianapolis and set about opening the restaurant, which has been opened since January, 2016.
Now, Ishida is coming to share his knowledge with all of Ramen Ray's workers. "We are excited to learn the techniques and methods he will bring so we can improve our ramen and restaurant," says Yu.  
What this means for us as residents of Indianapolis? We get to taste ramen as we never could have before without going to Japan.
Yu says Ishida will bring a different perspective to ramen, "With his years of experience he has learned how to cook ramen in many ways. He also uses very high quality ingredients that can't be found in the US."
If you want to ramen the right way this weekend, Yu says to try "our star dish, the miso ramen." With Ishida in the kitchen, it "will be cooked differently with his techniques and methods."

Yu finishes: "Our ramen is from Sapporo — Mr. Ishida's hometown — it's a [style of] ramen he has perfected over the years."
Now, get out there and taste masterful ramen.