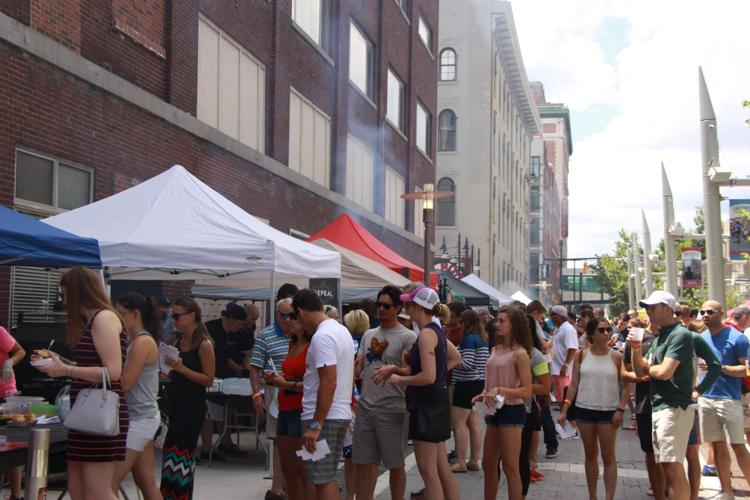 "We're not your typical throw a burger on the flat top. It's all wood-burning and we mix it all up with a little oak flavor and have some apple chips in there, and then we grind our own beef," Henri Najem, owner of Flamme Burger says, while seated at a table in the Fisher's location. 
First thing you should know: yes, it's pronounced flame. 
I tried my first Flamme Burger — the eponymous signature burger — last year at two separate burger-based events, and it won awards at both of those events. 
According to Najem, the award-winning status comes from the beef they use.
"I think the most important thing is being able to taste the quality of the beef," he says. "You don't want to smother it with sauces and different types of cheeses and all kinds of condiments. I think the important part is tasting the quality of the beef and simplifying it from there."
Flamme Burger has two locations; the original Fishers spot, where I chatted with Najem and a newer location in Whitestown. 
One of those events where I tasted Flamme Burger was the Indy Burger Battle. Najem tells me he will be competing in the battle again this year when it returns on August 5. Indy Burger Battle pits over a dozen restaurants against each other in a competition to create the tastiest burgers to serve to hundreds of hungry Hoosiers on Georgia Street. 
Organizers of the event are Building Tomorrow, an Indianapolis-based non-profit that focuses on building and maintaining schools in Uganda. They expect Indy Burger Battle, now in its fifth year, to be larger than ever, especially with new sponsors like Red Gold. 
Last year saw close to 700 people making their way up and down Georgia Street, chatting, laughing, tasting and ranking burgers, as well as sipping on some local brews. Those 700 people cast their votes and Weber Grill's Weber Way Burger — a beef patty topped with smoked brisket — was announced as the People's Choice winner. (Full disclosure: I was one of the three judges last year alongside Liz Biro of the Indianapolis Star and Myles Turner of the Indiana Pacers and our votes led to Flamme Burger being the Critic's Choice winner.)
According to Najem, winning the Critic's Choice last year was a boost to his business. "It gives you a sense of being the best," he says. "When I created Flamme Burger I wanted to be the best at what I do, and I think people got to understand what Flamme Burger is all about."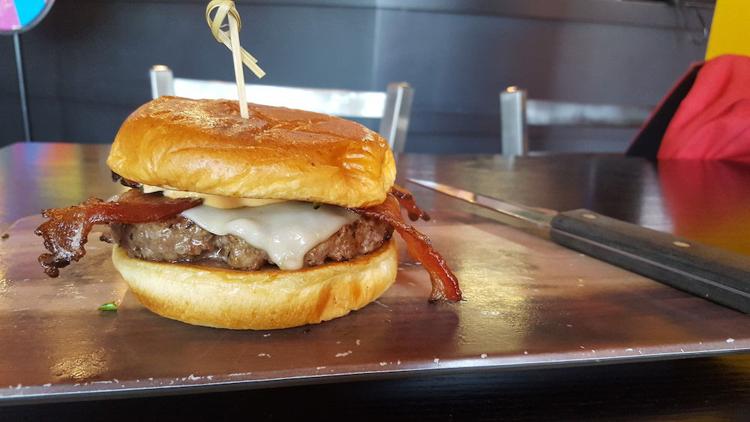 Najem says Flamme Burger is gunning for the Critic's Choice again and hoping for the People's Choice this year too. He'll most likely be bringing the same award-winning burger again this year. His Flamme Burger has roasted serrano peppers, swiss cheese, applewood-smoked bacon and sriracha mayo. "I really want to do the Flamme Burger again because I think it's a great combination and it's sort of our signature, but I'm looking at two other items," he says. 
The Building Tomorrow team told him it anticipates 20 percent more attendees this year. Because of this he'll be bringing way more supplies than last year. He says that last year, "we prepped for 400 or 500 [people] and we ran out of burgers by the last hour of the competition. This year I won't run out of burgers. I really want to win that People's Choice and we may have last year — if we hadn't run out of burgers."
According to George Srour, the founder of Building Tomorrow, this year, "We hope we can get to 1,000 [attendees], but we also realize we may be at a point where we have to start limiting the number of people that can get in."
Bringing enough supplies and energy to make 1,000 burgers is going to be a challenge for the vendors, but attendees can expect a few changes this year to help make it easier on vendors. Srour says, "We're thinking about a few things in terms of how we will handle that. We may give access to some people to come in earlier with a sort of VIP pass that lets them stay a little bit longer. We're also trying to work with the vendors, because we're also conscious about waste and we don't want to have people come in and have so much waste that is created from the event, so we're trying to be as responsible about that as we can be."
Srour began the non-profit, which builds schools in rural Uganda, after graduating college in 2006. In the ensuing years, the organization has been able to build and staff 60 schools, impacting over 35,000 kids in the country.
Indy Burger Battle is one of the organization's biggest fundraising events. According to Srour the event raised $17,000 last year through ticket sales. 
Srour says, "Basically 100 percent [goes to Building Tomorrow]; our vendors come and do so at no cost to us. We have a little bit of expense involved with the rental of Georgia Street, and stuff like that but for the most part that's covered by sponsorships. So everything we're getting, everything we make in terms of profit from ticket sales, goes straight to the work we do."
For the vendors like Flamme Burger this is another huge draw to participating in the event. 
"The most important thing is being able to help them raise money for something they believe in and that's what is great," says Najem. "Like I said, I love being able to give. We're tied to charities; we have a shelter here in Hamilton County that we're tied to as far as giving proceeds and we try once a month to do fundraising events. It's the same thing in Whitestown; there was a new [shelter] in Boone County that opened up for battered women.
That's an important part of it, for me the success of a business isn't measured by how much revenue you do, or how many customers you have, it's about being a part of the community. And that's why I love doing these events, it gives you a sense of the idea that you're doing your part. Because I think everybody needs to do their part." 
Tickets are available now through Building Tomorrow.