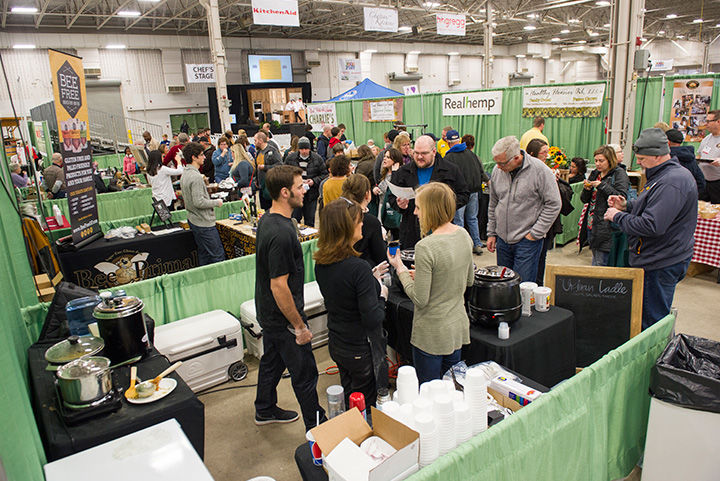 Now in its third year, Fantastic Food Fest, which was created by Circle City Expos and presented by Indiana Grown, is coming back to the Indiana State Fairgrounds on Feb. 10 and 11. The event brings numerous local and national movers and shakers of the food and drink industry into one room and gives the public an opportunity to get an up close and personal look — and taste — at important brands and trends in the industry.
One of the prominent guests making an appearance this year is the fan favorite Top Chef contestant, Casey Thompson. Thompson, a renowned chef and resident of Napa, California, has competed on Top Chef three times. She also opened and ran her own restaurant, Aveline in San Francisco and worked on upgrading the menus at restaurants like Brownstone in Fort Worth, Texas and The Inn at Rancho Sante Fe in San Diego.
Thompson will be at Fantastic Food Fest all weekend as one of the event's main speakers, as well as giving a demonstration and running a cooking class.
After finishing her most recent stint in San Diego, Thompson says she's ready for her next venture. "This year I'm looking at doing a fast-casual, which I've never done." She says she is moving into the fast-casual realm because it is, "highly popular right now." She also says it excites her because fast-casual is all about "chefs doing their technique with really good ingredients and bringing it to a lower price point with more accessibility."
The fact that it's bringing her work closer to home and moving her away from the intense work that goes into crafting tasting menus is just another added bonus. "I love tasting menus, but it's a lot more fun doing fast casual food. I'm looking forward to a little more fun this go around."
When speaking about her interest in attending events like Fantastic Food Fest, she says, "Food is a funny thing; we all need it, we all love it, and to get to kinda know the people who are making it for you is kinda fun."
Anyone coming to hear her speak can expect some Top Chef talk. "I can't ever really avoid that," she says with a laugh. "I think people have a lot of questions about it, especially since I've done it three times."
Thompson feels that Top Chef, and the numerous shows that have popped up in the years since it first began in 2006, have made a major impact on the food industry. She thinks the shows have knocked a veil down that kept the inner-workings of professional kitchen shrouded in mystery and has allowed the public to understand and have a higher sense of respect for the work.
"Top Chef [brings] executive chefs doing their thing around the country into a situation in which we can watch and learn and see some of these things that we're exposed to in restaurants, but in a real life situation," she says. "Unlike a cooking show where someone is just standing there teaching you something, this is a whole different realm."
"I hope that what Top Chef has done … is bring integrity to the hardworking chef. And, if nothing else, we can, as chefs, get some notoriety out of it and also exposure."
While Top Chef will more than likely lead the conversation, Thompson says she will also touch on topics like the evolution of chef culture and finding longevity in a tough industry.
"I kind of let the audience dictate what we'll talk about, but it's usually about these topics and let them have some fun with it."
Her demo and class will be more Indiana focused, using products like local duck. Thompson says her food "can be super casual and fun," "whimsical and surprising," or "really homey and good; and I think that's more my niche and just showing people ways of of doing things a little better is what I enjoy teaching." And that's what she says guests who attend can look forward to learning at the festival.
She says one of the things she hopes to teach guests, "is just learning a true, beautiful, Parisian gnocchi that you can do at home really easily. I'm just showing you how to do that light and fluffy Monday night meal."
She says while she enjoys teaching, events like this are also exciting for her because, "[it's] a new place, a new group of people that have certain food styles and ingredients that I'm excited to learn about and work with. I know they're bringing in a lot of local companies and purveyors. So, I'm excited to do something fun and learn about a new place."
One of those local purveyors is Lathay Pegues, an Indiana Grown member who will be sharing his Indiana-made BBQ sauce, JohnToms BBQ, at the event. This is Pegues' third year and he says he thrives on events like this because, "I just love engaging with people and talking about BBQ."
He loves these conversations so much that his business partners give him a hard time about it from time to time. "They say I invest a lot of time in people at these shows. They'll tease and say, 'We're over here doing the selling and you're over here talking,'" he says with a laugh. But, it's a joke because they'll tell me that that's what people remember."
Pegues says that's all good and well, but he doesn't have the conversations as a business tactic. "Even if they don't buy anything, I love talking to people. I mean, we sell BBQ; we have such a fun, unique product that we sell. Most people are into BBQ, most people are into grilling, a lot of people are into smoking. So, to sit and talk about BBQ, that's my job, that's what I do for a living."
He then shares a story about attending a farmers' market in Ft. Wayne where he met a family who loved the BBQ sauce. By the end of a 45 minute conversation he had convinced the dad of the family to buy a smoker. "I drew out diagrams and everything," he says. "I gave him my cell phone number and told him, 'When you finally buy a smoker and if you have questions, do not hesitate to call me."
A little time later he received the call and talked him through smoking his first ribs. "And he said he's now a lifelong fan of JohnToms," Pegues finishes.  Those are the things that I really, truly enjoy and I think my customers and potential customers can sense that in me … I'm trying to share an experience with you."
JohnToms, which was named Indiana's Favorite BBQ Sauce by Indianapolis Monthly, is named after Pegues' grandfather, the man who taught Pegues everything he knows about BBQ. "You know how some families, they're a soccer family, or a basketball family, or a hockey family? We were a BBQ family," Pegues says.
"I just remember summer weekends I would wake up to the smells of the smoke," he says. "My grandpa, he'd be outside and he'd have his pig going, and you'd wake up to that smell and he'd have meat on the smoker and sauce on the stove … That's one of my favorite memories. Waking up to that, getting my clothes on, and going out and sitting on the patio with him. He did that all the time."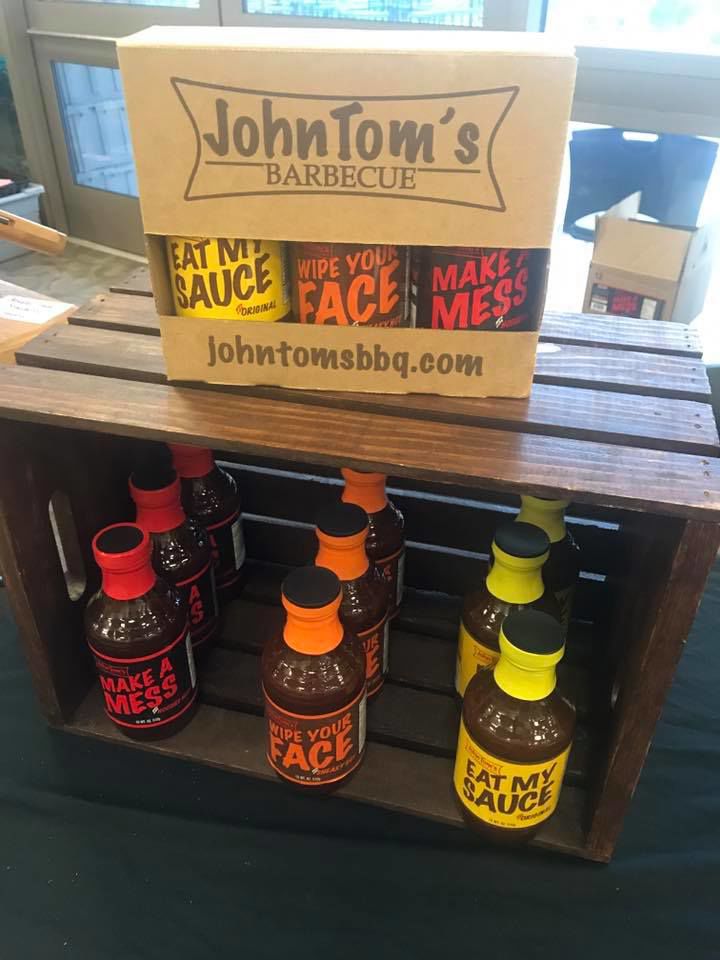 Memories like this are what led Pegues to making his award-winning sauce while he was a student at IU. "I never intended to start a BBQ sauce business, I was simply trying to recreate my grandpa's sauce because he never wrote it down," he says before explaining that JohnToms isn't his grandpa's recipe, but he was the inspiration for it.  
"I don't think anyone who has done this can imagine what's going to happen or how it's going to happen," Pegues says of the success of his product. "Everyone has this dream and has hopes, but I don't think anyone can imagine how it's going to happen."
He says in all of this, his biggest wish is that John Tom was still here to see it. " I just wish he could see all of this; I wish he could've lived to see this."
Pegues' goals at Fantastic Food Fest are to share his stories, his product, his grandpa's legacy, and to represent his home state of Indiana. "The truth is, people like BBQ everywhere," he says, laughing. "So, why can't we be the purveyors of Indiana BBQ. We want to be proud that this product is from Indiana and no matter how far we go we will boast that."
Thompson says her goal is about educating the public: "I hope that once they come to an event like this, they learn some sort of a wine that they didn't know about … maybe an ingredient they've never had a chance to try … but maybe they try it and decide, 'I actually like this and next time I see it on a menu I might be more interested in ordering it.'"