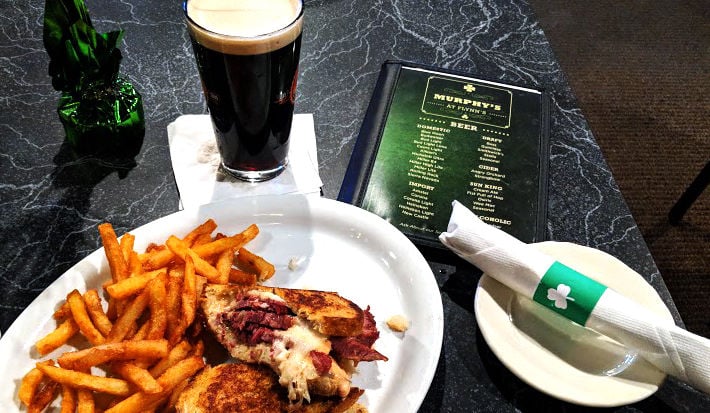 Sometimes, as a writer with a weekly story to write, you suffer from writer's block. There's no real way around it. There may be a hundred stories worth telling, but when you start brainstorming, nothing comes to mind, nothing stands out, and you're left with an empty mind while staring at a keyboard and an empty screen. And then, somehow, through a series of random encounters, you find the story, and it feels as if it was meant to be there all along. 

With St. Patrick's Day just around the corner, I've had the Irish pubs and bars around the city on my mind. I also have an Ireland trip coming up in May, so I've found myself drinking more Irish stouts at Irish pubs.

And as much as the modern places such as Nine Irish Brothers, McGilvery's Taphouse, and Brockway Pub intrigue me and can pour as good a pint of Irish as any other bar in the city, when it comes to Irish fare, I like places with a little history under their belt. And so I found myself and my family drinking some Guinness at my neighborhood Irish bar that happens to have some history behind it, Murphy's at Flynn's.

Murphy's at Flynn's is a combination of two longtime loved establishments in the city, both with strong Irish ties and fans all around the city. The juncture of these two Irish staples was possibly the best thing that ever happened to either establishment.

It just so happened that, while researching last week's story for NUVO's 28th anniversary, I was reading the NUVOs from 1999. I saw that our writers had, in March and May of that year, separately reviewed the two longtime eateries that four years ago came together to become Murphy's at Flynn's: Pat Flynn's Public House and the now-closed Murphy's Steakhouse.

When Murphy's closed in 2014, it had been in the same building since 1974 and had garnered a loyal clientele. When NUVO writer Mark Williams wrote about it in March 1999, he said, "Customers who first visited Murphy's as kids know and recognize the place because the decor hasn't changed a bit. … It's pure kitsch." In 2014, it still hadn't changed much, but the owners found themselves looking for a new location. They needed to find a place that would feel like home for longtime customers. They found that comfort and familiarity in Pat Flynn's.

Flynn's was an Irish pub that had opened in 1997; the menu was no frills and had a few Irish staples and classic American bites. When Susan Guyett wrote about it in May of '99, she wrote, "Walk in the door and the first thing you notice about Pat Flynn's is everyone seems to be having a good time. … A feeling of good cheer permeated the place." She also said of the food that it was "Satisfactory but not extraordinary." Murphy's brought to the merger a more highly esteemed menu. The combination of good food and good cheer makes for a wonderful spot for both patrons and the owners.



During our chat with Flynn, he shared his love of Irish music and his excitement for the bands that will be playing throughout Murphy's at Flynn's two-day St. Patrick's Day Celebration.  

With that, I had my story.

That good cheer, good food, Irish music, and good beer will be on full display this Friday and Saturday, March 16 and 17, for Murphy's at Flynn's St. Paddy's Celebration.

As with every year, the Rogues Pipes and Drums will be making appearances with their traditional Irish music, and this year they will be there Friday and Saturday. Other musical acts include Patchwork, New Augusta, and the highly popular Gordon Bonham Trio.

To go along with those musical acts, there will be plenty of food and drink to go 'round, including some Irish classics. While it's not typically on the menu—except in Reuben form, which will also be available during the celebration—there will be corned beef and cabbage available, and having eaten it last year, I can attest that it is well worth a try. They also bring out Flynn's Irish stew, which was a staple on the menu before the merger. You can also expect fish and chips to go along with your Guinness or Smithwick's.

Nearly every St. Patrick's Day Celebration around the city shares another common thread: a wonderful bevy of locals having a good time. As Guyett wrote in 1999, "Pat Flynn's slogan is Céad Míle Fáilte, which translated means "a hundred thousand welcomes." And on St. Paddy's Day, everyone is welcome—a hundred thousand times welcome.
A 2-day St. Patrick's Day celebration featuring Irish pints like Guinness and Smithwick's alongside corned beef and cabbage, reubens, fish and…
A 2-day St. Patrick's Day celebration featuring Irish pints like Guinness and Smithwick's alongside corned beef and cabbage, reubens, fish and…