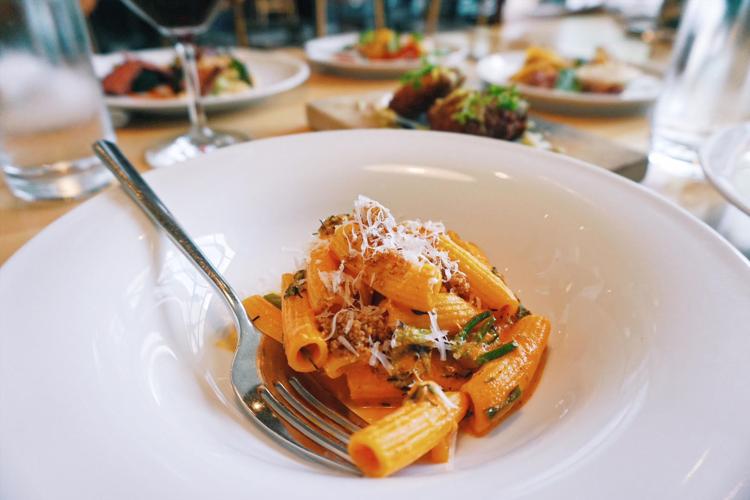 The last night of 2017 was the last night to get a taste of the food from James Beard-nominated chef Alan Sternberg at Cerulean's Downtown location. After five years in business, Cerulean shut its doors, not because it had to, but because, according to Sternberg, "It was the right time."
"We were at our five years with the lease," Sternberg says. "We had our chance to renew, or don't and move onto a new project. We, Audra [Sternberg's wife and business partner] and I, started Common House [a pop-up dinner series] this year and attentions started to wane a bit and it just seemed to make sense."
When I ask how he feels about the closing, all he can say at first is, "Overwhelmed." 
But then he adds: "I've spent so much time here for the past four years. I mean, I've spent more time here than at home, definitely. 
"It's going to be bittersweet when we close the doors. It's really weird. Bittersweet is definitely the easiest way to sum it up. I've had chef friends reach out and ask how I'm doing. I even had Hardesty reach out and say he knows it's bittersweet, but it's probably the best thing I'll ever do."
Sternberg started as chef at Cerulean four years ago, after the restaurant had been open for just a year by restaurateur Caleb France; France also owns multiple operations in northern Indiana including another Cerulean location on Winona Lake. 
Early on, Cerulean was known for its experimental small bites ranging across most any and all styles of cuisine, served bento box style. But as time progressed, with its location in a high end hotel, it gained more of a reputation as a fine dining establishment and the menu followed suit. 
Sternberg says that his time at the restaurant allowed him an incredible amount of personal growth. 
"I was 27 when I started this job, and I'll be 31 in January," Sternberg says. "I think anybody who is fairly ambitious in this career has a dream to open a restaurant. I had talked about it and said, "I want to get here," and [France] said "I want to help you get there.""
"As the conversation progressed, the idea that I was going to move on and do my own thing started. We knew the end was in sight."
And while it's the end of Cerulean in Indianapolis, it's just the beginning of Sternberg's next venture. He plans on turning his pop-up dinner series into a full-fledged restaurant with the same name, Common House.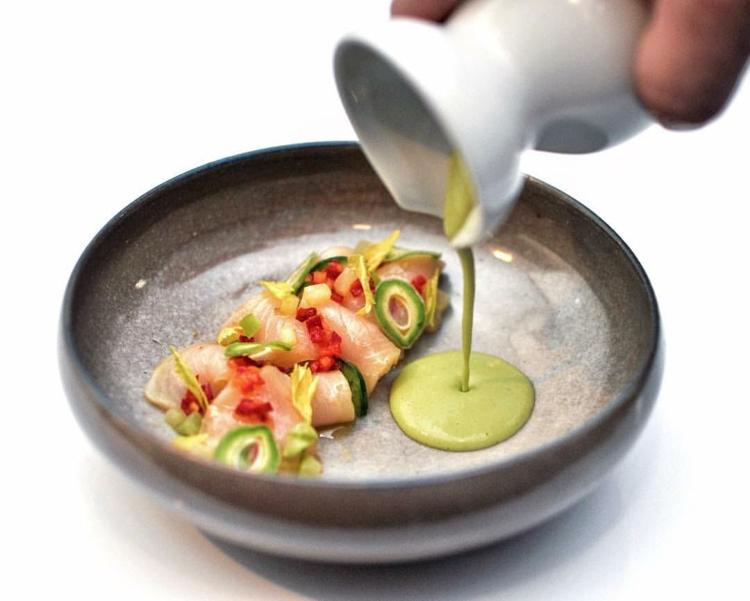 "Common House has been a lot of fun. It's been a completely different experience and a real eye-opener in a lot of ways," he says of his time doing the dinner series. "Getting to play with a lot of things that I don't get to play with here because of the clientele and their expectations when they walk in the door."
He mentions that people have viewed Cerulean as a fine dining establishment and, as such, people expect fine dining food. With Common House he'll move away from that mindset. "The next place I want people to feel comfortable; I want it to be warm and fun and approachable."
"I want it to be an American restaurant with a huge focus on pasta," says Sternberg. He quickly reiterates that it's not an Italian restaurant, but he just loves working with pasta. 
"There's something, sort of, primitive about watching the dough come together in your hands and going from flour, egg, oil and salt to some beautiful shaped pasta. It's a very rewarding experience...Now I can read it, like, what the dough needs. It's very personal to me."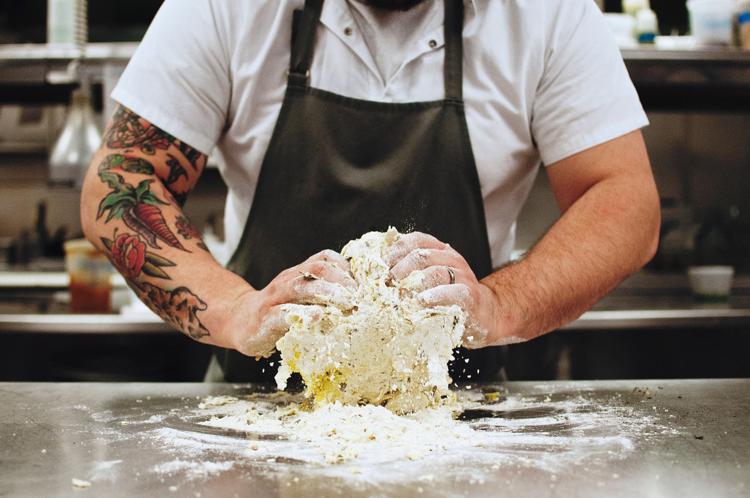 He adds that he wants to also have plenty of crudo on the menu — fresh slices of fish — and whiskey, lots of whiskey. 
"The bar will be whiskey-focused. That's what I like to drink. I mean, we've got an ungodly amount of whiskeys here," he says, referencing the underappreciated whiskey selection that was always behind Cerulean's bar. "I want it to be very true to the things I care about."
He comes back to this point time and again — the fact that he wants Common House to be the restaurant he loves and that he would go to regularly. "I just want it to be exciting for me, and every time I roll pasta I get excited about it. Everytime I cut fish I get excited about it," he says. "Those are the things I'm excited about and I want to do food that I will forever be excited about. I think that will translate to the guest and to the whole dining experience."
He's quick to add that this transition isn't something he is doing all alone, "Audra has been helping a lot with everything," he says. "She has been working pretty tirelessly behind the scenes, getting in contact with people, setting up meetings. I've been so busy here she's been doing all the organization and everything behind the scenes
"There are days when I think she cares about the whole thing more than I do," he says with a laugh.
"She is a planner and has good initiative and gets things done. I plan, and plan, and plan and don't get anything done and she is a wheels turning and "Let's go!" person. That's the reason Common House started in the first place. I had an idea and she was the one that made it happen."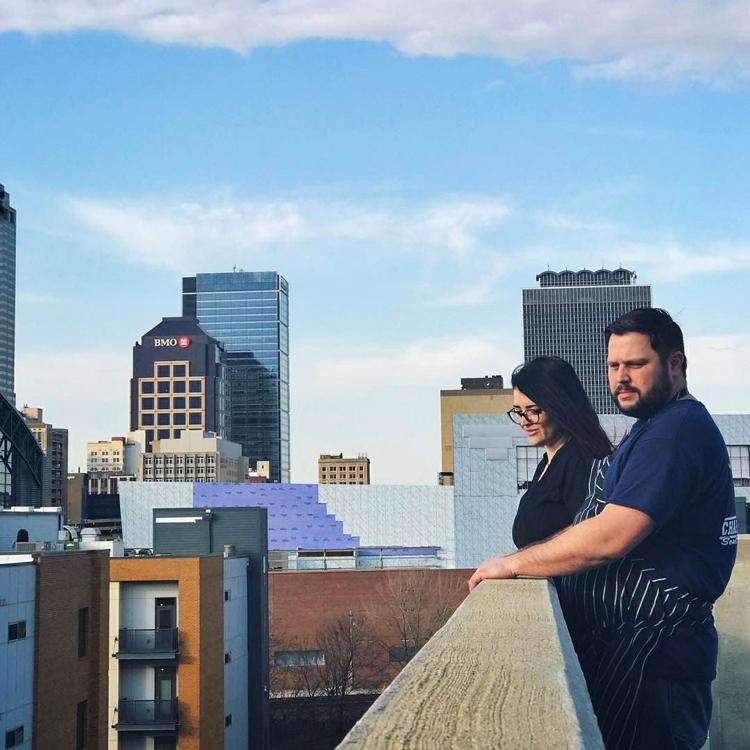 Now they're working together to make the Common House restaurant a reality. "We're looking at spaces now; I'd prefer to be Downtown," he says before finishing. "From dealing with contractors, coming up with branding and getting equipment, all of those things are in motion right now. So, there's a lot, the next step will be a lot of steps all at once."
"We'll do preview dinners," he says. He already knows pretty much how the menu will shake out and has been talking with the over 30 Indiana farmers and producers he used at Cerulean in making sure he can keep it as local as possible. Sternberg says, "It's what we think is responsible." 
But at the moment, he's more focused on making sure service will be as close to perfect as possible. "When we open we will take it slow, get it right, and make sure that we are getting the guests taken care of...The mantra I walk in with everyday is 'My job is to make people happy.' And I take it very personally if we don't do that. It doesn't matter if I'm here or not, I take responsibility for it. 
"It's hospitality. It's all about taking care of guests...That's the way you're successful in this business. Make sure your numbers are in line and take care of the guest."
Other than that he says he can rely on one fact, "I feel like there are a lot of whiskey and pasta fans in the world and in this state."