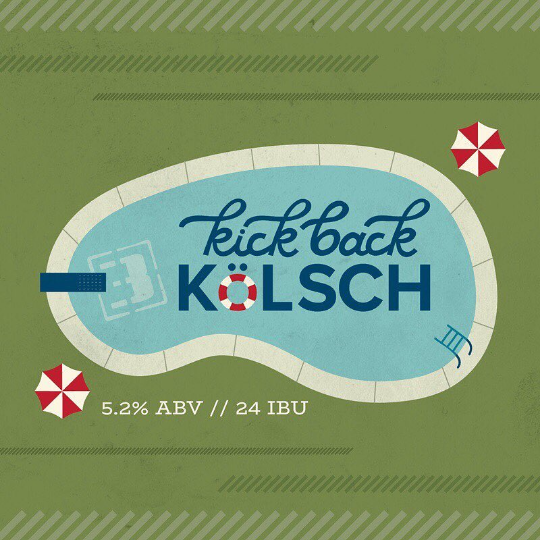 Head Brewer Keely Tomlinson reports Kick Back Kolsch is Thr3e Wise Men's new Flagship beer. When Kick Back launched on June 22, 2017, the verdict was laudatory from the patrons filling every bar stool and ringing around behind them. At 5.2% ABV, 24IBU, it's a crisp German Pilsner with Hallertau hops, ready to compliment or contrast foods and cooking styles particular to Thr3e Wise Men. General Manager Aaron Crawford commented, "This is the beer we were looking for, for battling macros. The German Pilsner malt character blends well with fruity flavors of Hallertau Blanc hops."
Crawford talked about the role of a general manager in a craft brewery restaurant. "We have to balance what's familiar to people coming for food and a beer, with what's new about the beer."
Taking the long view, with the inheritance founding brewer Omar Castrellon in mind, Crawford commented on how Keely Tomlinson and her brewing crew have made the beers their own while paying homage to the roots of Thr3e Wise Men as a craft brewpub.
When Crawford refers to a summer of "Shaking things up," he's referring to introducing "our house beers" to people who know the taste only of a macro. "We are trying to be more beer forward, changing the line up, freshening up with a focus on getting getting beer grin our brewery into the hands [of our patrons]."
That means having what's referred to as 'gateway beers'.
"We are very happy with how the Kolsch came out, and I am excited to have it on tap all the time," said Tomlinson.
Shane Pearson reports Daredevil Brewing Co. "added a new shiny stainless steel tank to our brewhouse to save us 45 minutes per kettle flip. The whirlpool tank receives wort from the brew kettle after the boil has completed. This allows the next batch of wort to be transferred from the mash/lauter tun to the kettle without waiting for a transfer through a heat exchanger to a fermenter. The first batch we used the new whirlpool on was our NEX IPA #3 and now we are working on integrating it into our processes for all of our hop-centric beers. With a dedicated whirlpool tank we get more temperature control with hop additions post boil before transferring to a fermenter. We really like the initial results and look forward to utilizing it more."  
Summarizing results from the Craft Beer Festival in Speedway, Pearson said, "This year we raised more than $6K for our charity partners. The 2018 date is August 18. 
Taxman Fortville is now open at 29 S. Main St., describes itself as an "Indiana brasserie and tap room committed to artfully pairing the highest quality local ingredients with house-made craft beers, wine and cocktails." Expect "seasonally evolving, globally inspired localized cuisine" from ingredients sourced from artisans and farmers "around the region."  
Sun King now is available in Chicago with Wee Mac, at 5.3%ABV, particularly gaining high marks from local beer writers who credit the dark-brown, malt-forward Scottish Ale as approachable and excellent for pairing with heartier foods, thus making SKB's outreach seasonally smart. The Chicago Tribune advises all three SKB core beers [including Sunlight and Osiris] are "available in six-packs of 12-ounce cans at better beer stores." 
Jeff Eaton, Owner/Brewer of Deer Creek Brewery & Barley Island Brewing Co. emailed, "Jason Hepley joined us Aug. 2 as a brewery sales representative. Jason brings a wealth of experience in distribution and craft brewery sales to our team." Along with that, "Rhoades Beverage is now Deer Creek/Barley Islands' full product lineup distributor in central and southern Indiana, focusing on liquor stores. Deer Creek Brewery will self-distribute to on-premise accounts. Indiana Beverage and Five Star Distributing distribute in northern Indiana."  
Deer Creek Brewery describes itself as "Brewed with adventure and nostalgia."
Union Jack-Broad Ripple now has a food truck and it's a regular at Metazoa Brewing Company at 140 S. College Ave. 
Union Jack owner Chelsey Wetzel emailed NUVO, "The truck has an ever-evolving menu, but some staples are Pulled Pork Nachos, BBQ Jackfruit Sandwich (Vegan), Pretzel Breadsticks, Our Famous Fish & Chips, Burger of the Day, Cheese Curds, and more. You'll find us there Tuesday evenings for Metazoa's Trivia (~6:30-9 p.m.), Thursday evenings (~6:30-9 p.m.), Friday evenings (~5-9 p.m.), Saturdays (~2-9 p.m.), Sundays (~2-8 p.m.). Additionally, for all Colt's watch parties — bring your dogs to Metazoa and enjoy Union Jack food (often times Kegs & Eggs style). We take both cash and credit card on the truck. We just finalized the exterior truck wrap design so look for that in the coming weeks."
There's no signature Union Jack pizza for now, "But there are some fun specials that are truck exclusives," said Wetzel. We have some of our vegan offerings and the menu is diverse so we think there is something for everyone."
Because the Metazoa taproom is dog friendly an interior kitchen is not allowed, but you can bring food in or enjoy food and beer [a cooler offers an array of other beverages] in the spacious beer garden.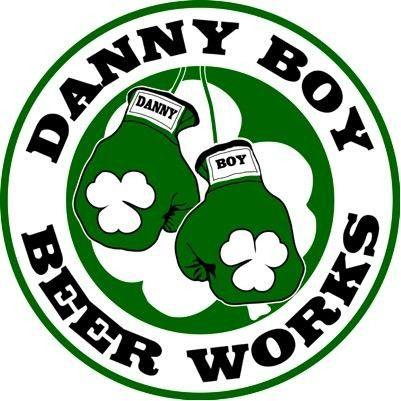 Danny Boy Beer Works announced a new venture in spirits, Danny Boy Distilling Works, "The latest innovation in the creative crafts that Danny Boy has mastered. The Distilling Works is now in operation at the brewery in the Village of West Clay, located in the Tank 13 building. With this new distillery, we have taken the art and creativity of making wicked awesome craft beers and applied it to making a great lineup of spirits," said Kevin "KP" Paul, owner.
Buddha vodka is available in vintage bottles to go. Coming up are: Danny Boy's Black Strap Molasses spiced rum, Doctor's Orders whiskey and bourbon and The Sons of London a citrus infused dry gin. "These creations can be enjoyed at Danny Boy Beer and Distilling Works, Danny Boy Draft Works Notre Dame and the Brockway Pub located in Carmel. Carry out purchase is also available," said Paul.
Sun King Brewery's approximately 15,000-square-foot craft distillery and tap room in Carmel is projected to open in spring 2018.
Dave Colt, Sun King's co-founder and head brewer, completed his distiller's education at the Distilled Spirits Epicenter in Kentucky. He will oversee a 250-gallon still that will be used to craft high-quality, handcrafted, small batch spirits, according to a news release. First up will be Sun King's artisan moonshine, gin and rum. Small batch whiskey will be aged in Sun King barrels for several years. Seasonal spirits will be available at limited times throughout the year, similar to Sun King's seasonal brews. Customers will be able to purchase beer, spirits and Sun King's unique mixers at the distillery in order to recreate and enjoy Sun King's unique cocktails at home.
Big Woods Hard Truth Cinnamon Flavored Vodka in 750 mL bottles now is available exclusively and in limited quantities at all Big Woods restaurants including: Big Woods Speedway, Big Woods Franklin and Big Woods Brewing Company, and the distillery at Big Woods Bloomington.